Throwback Thursday: Christmas Tree Edition
Each week we'll be posting a photograph from University Archives that shows a scene from KU's past. We've also scanned more than 34,800 images from KU's University Archives and made them available online; be sure to check them out!
A lot was happening at KU fifty years ago! Spencer Research Library opened for researchers on December 2nd, and about a week later a dramatic, holiday-themed event took place across the terrace in Strong Hall.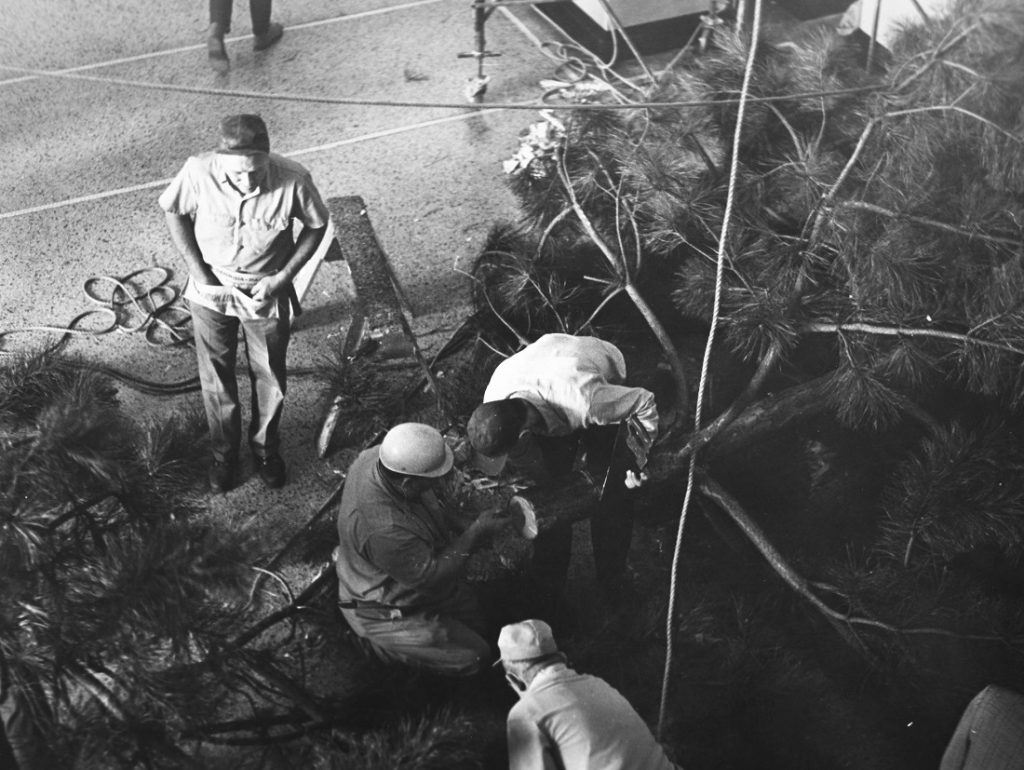 The Chancellor's Christmas tree in Strong Hall, December 1968. University Archives Photos.
Call Number: RG 0/24/1 Christmas 1968: Campus: Areas and Objects (Photos).
Click images to enlarge (redirect to Spencer's digital collections).
An article in the University Daily Kansan on December 13, 1968 – entitled "Strong Hall Tree a Giant Nuisance" – describes the scene shown in the photos above.
Most people have enough trouble with the small Christmas tree they put up in their homes, but the Buildings and Grounds crew had giant-sized problems with the Chancellor's tree yesterday.
First of all, the tree was too large for the doorway to Strong. A 20-foot tall Scotch Pine had been cute from the site of the new Humanities Building [Wescoe Hall]. The tree's branches extended laterally about half its height, so workmen disassembled the center section of the double doors to make room for the tree's entry.
The tree then proved too big for the ceiling of the Rotunda, so the bottom was sawed off.
Erecting the tree was accomplished by laying a scaffolding across the observation deck and hoisting the tree into position.
The tree revolves in its stell base and the balancing operation is delicate. Harry Buchholz, superintendent of the physical plant, said the balancing of the tree was the most difficult part of the entire job.
Over 475 lbs. of lead weights balance the tree as it revolves twice each minute.
The decoration process seemed easy. Workmen used a portable extension ladder to reach the topmost branches, then plugged in the tree and let it wind the lights and streamers around itself.
Spencer Research Library will be closed from December 22nd through January 1st. We will reopen on January 2nd and look forward to sharing more of our collections with you in 2019!
Caitlin Donnelly
Head of Public Services

Tags: Caitlin Donnelly, Christmas, Christmas tree, holidays, KU History, photographs, Strong Hall, Throwback Thursday, University Archives, University history, University of Kansas