Throwback Thursday: Assassination Commemoration Edition
Each week we'll be posting a photograph from University Archives that shows a scene from KU's past. We've also scanned more than 34,800 images from KU's University Archives and made them available online; be sure to check them out!
This week's photograph commemorates the fiftieth anniversary of the assassination of Dr. Martin Luther King, Jr.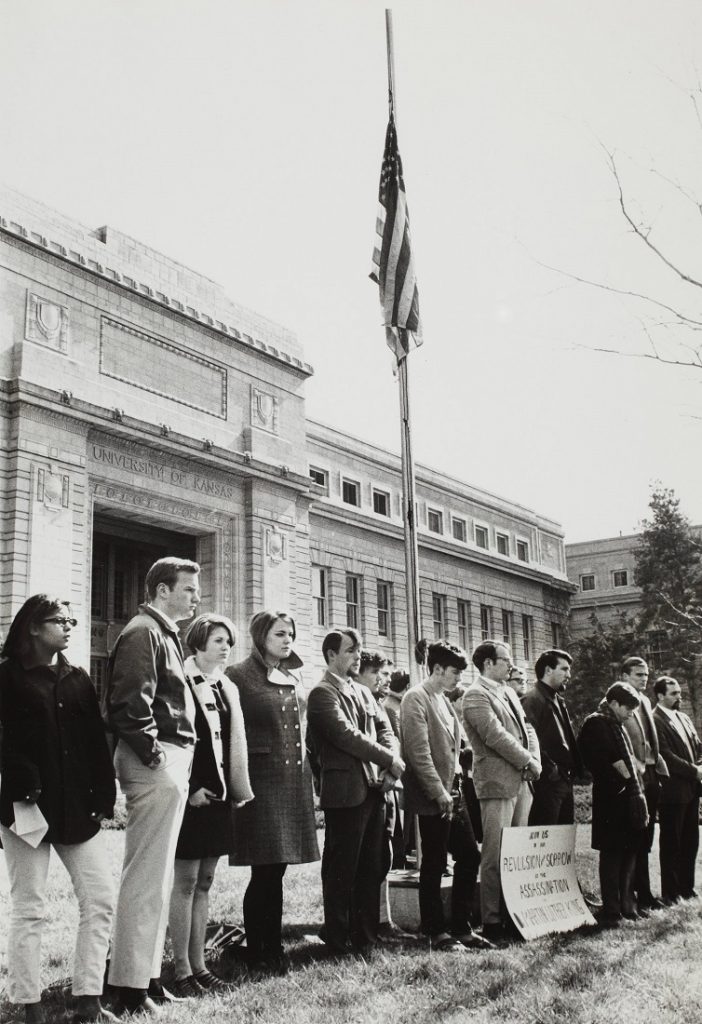 KU students in front of Strong Hall honoring Dr. Martin Luther King, Jr., April 5, 1968.
Lawrence Journal-World Photo Collection, University Archives Photos.
Call Number: RG LJW 71/18 1968-04-06: Student Activities:
Student Protests (Photos). Click image to enlarge (redirect to Spencer's digital collections).
The sign the students are holding – more visible in other photos of the events that took place on campus and in Lawrence on April 5, 1968 – says "Join us in our revulsion and sorrow at the assassination of Dr. Martin Luther King."
An article in the Lawrence Daily Journal-World described the events of the day.
About 700 persons, mainly Kansas University faculty members and students, this morning participated in ceremonies honoring Dr. Martin Luther King Jr., the nonviolent prophet of the civil rights movement who was slain Thursday in Memphis, Tenn.
The vigil in front of KU's Strong Hall began at 9:10 this morning as seven KU students lowered to half-staff the flag in front of the university administration building. They held a sign which said "Join us in our revulsion and sorrow at the assassination of Dr. Martin Luther King."
By 10 a.m., there were 22 persons standing in front of the lowered flag. The group swelled to 61 by 11:15 a.m., and to about 100 persons by 11:20 a.m. Then, as classes changed, hundreds of persons approached the area to participate in a previously-announced memorial service sponsored by the KU Religious Advisors.
The final attendance estimate was made by Rev. Tom Rehorn of the Methodist Wesley Foundation.
Nicholas Gerren, Wilberforce, Ohio, junior at KU, read a eulogy, which said in part: "My black brother is dead. His only sin was a desire for peace, his only wrong was a love for the black man. Here in America, the land of the free press, the land of free speech, he took a stand, fought, spoke, and died for what he believed."
The 15-minute ceremony ended at 11:45 this morning as Rev. Rehorn announced there would be a silent march in Dr. King's honor. The march which began at Strong Hall ended in South Park. Leading several hundred persons en route down Mass. St. were two KU students who carried a sign which said "Martin Luther King –1929-1968."
Earlier this morning, a group of KU students set up a booth in the main lobby of the Kansas Union, where they urged passers-by to send telegrams urging passage of civil rights legislation to their congressmen. The booth was placed in front of a large sign which said "Let's Make This Tragedy Work for Peace – Help Pass the Bill."
Tom Miller, Paola senior at KU, said he and Ned Valentine, Clay Center senior, organized the "telegram movement" Thursday night. He said they telephoned friends at various colleges around the nation, asking students to send telegrams to congressmen using passage of civil rights legislation bottled up in a House committee.
Students for [Democrat Eugene] McCarthy and Students for [Democrat Robert F.] Kennedy [in the 1968 election] both are helping with the "telegram movement," Miller said.
While Miller and others were busy in the Union, a group of 36 Negro students were marching down Jayhawk Boulevard singing "We Shall Overcome." The students, some wearing black armbands, gathered in front of Strong Hall for silent prayer at about 9:20 a.m. The brief ceremony ended at 9:30 a.m.
Caitlin Donnelly
Head of Public Services
Tags: Caitlin Donnelly, Dr. Martin Luther King Jr, KU History, photographs, Strong Hall, Student protests, Students, Throwback Thursday, University Archives, University history, University of Kansas