Throwback Thursday: Apparition Edition
Each week we'll be posting a photograph from University Archives that shows a scene from KU's past. We've also scanned more than 29,500 images from KU's University Archives and made them available online; be sure to check them out!
In honor of Halloween, this week's photograph shows a spooky shadow haunting The Outlook, the home of Jabez and Elizabeth Watkins that became the Chancellor's Residence in 1939. (From 1894 to 1939, the chancellor lived at 1345 Louisiana, located at the northwest corner of 14th and Louisiana streets. Douthart Scholarship Hall currently occupies that location.)
But, two notes on the back of the photo provide a logical explanation for the apparent apparition. The first one reads: "Mrs. Watkins' front hall, looking into dining room. Her niece from Louisiana was taking a time exposure [photograph] and I thought I could walk through without its showing, but I did (in line with dining room arch). Gary Bennett, 1924." In reply, someone else has written "So you thought a 'slip thru' would not show – 'I told you so.'"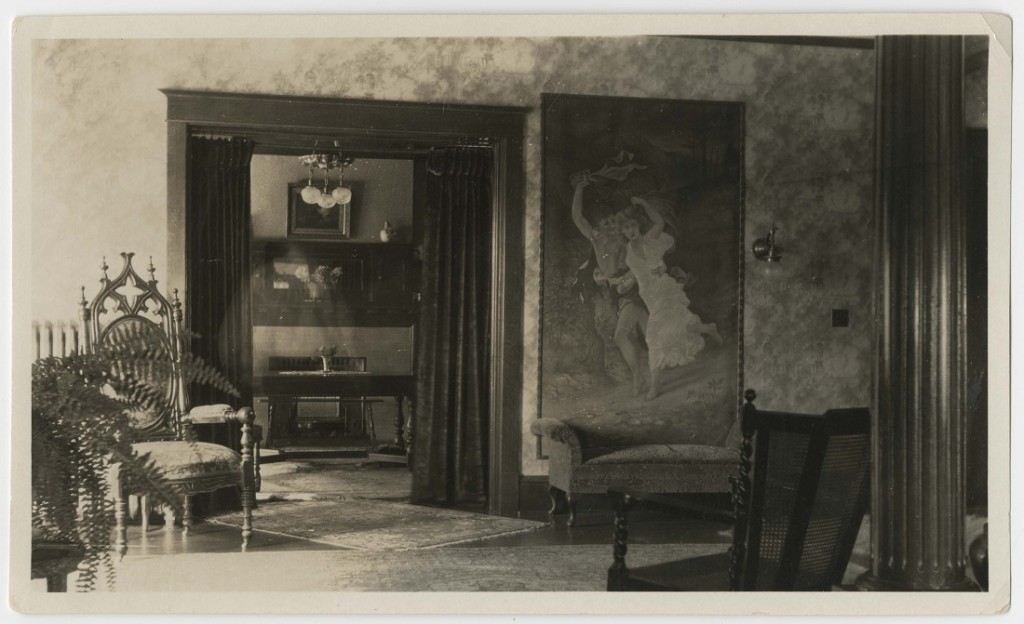 Interior view of The Outlook with a shadowy figure, 1924. University Archives Photos.
Call Number: RG 0/22/11/i 1532 Lilac Lane 1924 Prints:
Campus: Buildings: Chancellor's Residence Interior (Photos).
Click image to enlarge.
Caitlin Donnelly
Head of Public Services
Melissa Kleinschmidt and Abbey Ulrich
Public Services Student Assistants
Tags: Abbey Ulrich, Caitlin Donnelly, Chancellor's Residence, KU History, Melissa Kleinschmidt, photographs, Throwback Thursday, University Archives, University history, University of Kansas