November 15th, 2018
Each week we'll be posting a photograph from University Archives that shows a scene from KU's past. We've also scanned more than 34,800 images from KU's University Archives and made them available online; be sure to check them out!
Today is America Recycles Day. Did you know that in the early 1970s KU operated a small recycling facility under Memorial Stadium? The centerpiece of the Reclamation Center was the Whomper, which acquired its name from the sound it made when crushing cans and bottles.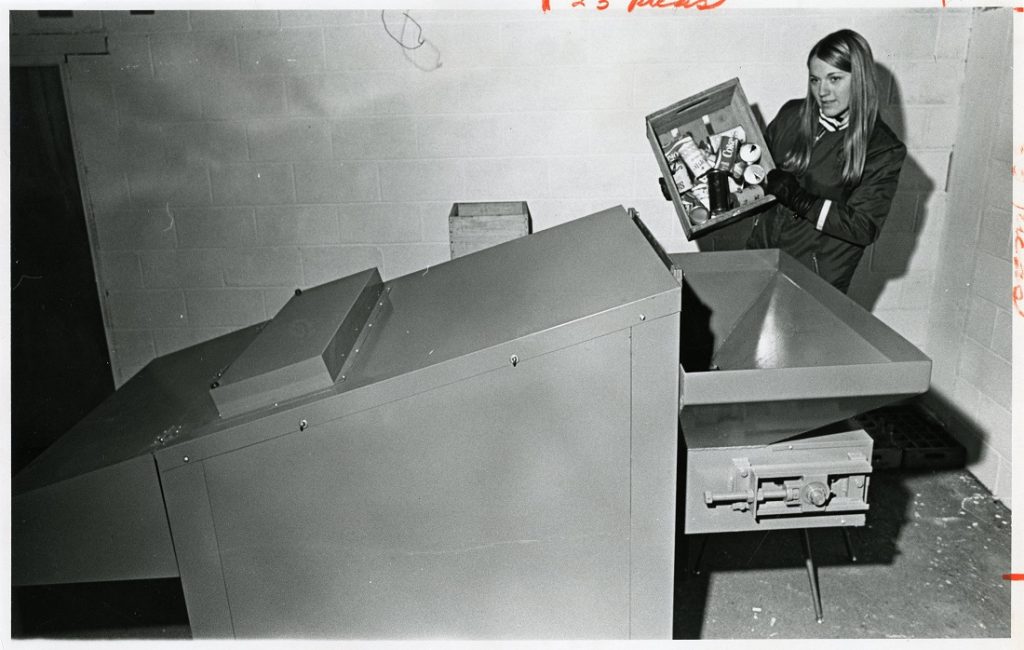 The Whomper recycling machine at KU, 1971. University Archives Photos.
Call Number: RG 0/24/1 Whomper 1971 Prints: Campus: Areas and Objects (Photos).
Click image to enlarge (redirect to Spencer's digital collections).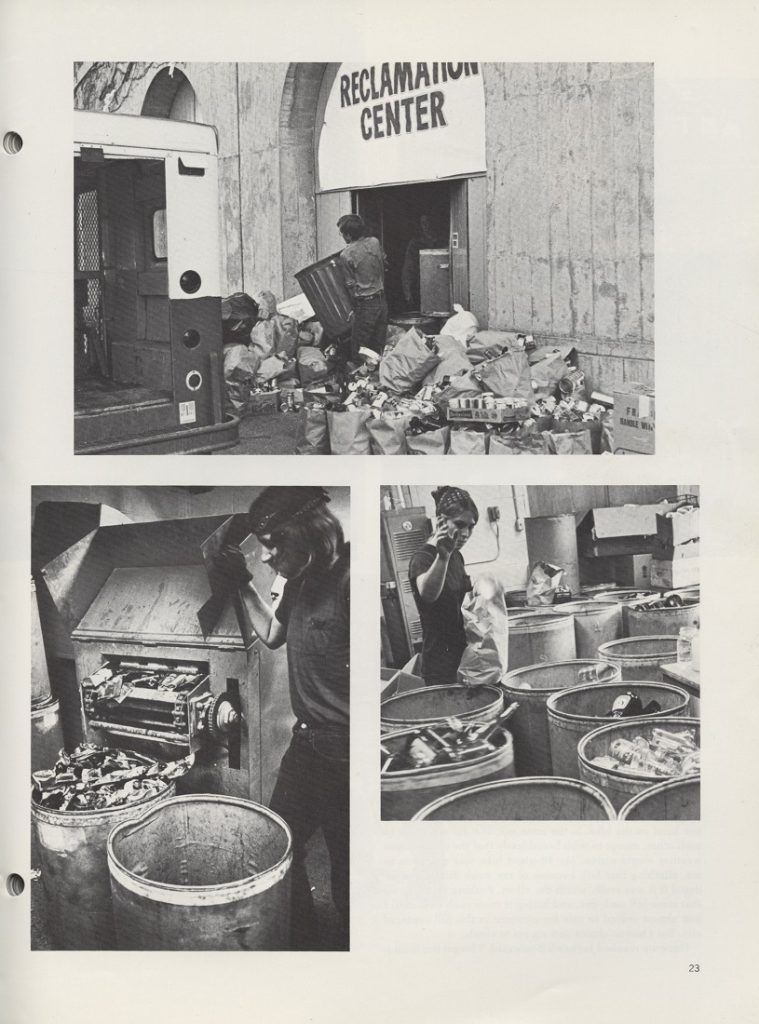 Photographs of the Whomper in the Jayhawker yearbook,
Fall 1972. University Archives.
Call Number: LD 2697 .J3 1929. Click image to enlarge.
A group of KU students started the campus recycling program in January 1971. According to the Fall 1972 Jayhawker,
In the fall of 1970, Steve Emerson, then a Topeka junior, introduced a bill to the Student Senate which, if it had been accepted, would have banned all vending machines from campus. From this humble beginning the University of Kansas "Whomper" was born.
The Reclamation Center was the brainchild of the Coca Cola Company and the Union vending service. Because the banning of vending machines would have meant tremendous losses of revenue to both companies and because both were environmentally concerned, they agreed to finance the project. The Coca Cola Company agreed to loan the machine to KU indefinitely, and the vending service financed the installation of the Whomper in Memorial Stadium…Both companies continue to provide support for the Reclamation Center…
All funding for operations comes from outside the University with the exception of Student Senate support for pick-up service and for a reclamation director.
According to an article in the University Daily Kansan on September 16, 1971, students and others could "bring glass and cans to the Reclamation Center from 12 p.m. to 6 p.m. on Thursdays and Sundays when the [Whomper] is actually in operation, but there is a chute at Gate 22 at the north end of the stadium for material to be deposited at any time."
The Reclamation Center faced several challenges and was plagued by debts throughout its nearly six year history. The project relocated from Memorial Stadium in May 1972 and lost its Student Senate funding in late 1973. A nonprofit organization called Whomper Inc. continued the recycling program at various locations in Lawrence before it closed in late 1976.
Caitlin Donnelly
Head of Public Services