October 17th, 2016
Many a 20th century herpetologist credits his or her early interest in herpetology to the books of Raymond Ditmars. He published eight books on amphibians and reptiles for children and adults alike and, although many professionals consider him merely a popularizer and a showman, his scientific and public contributions to herpetology were substantial. When he was hired as Assistant Curator in charge of reptiles at the Bronx Zoo in 1899, his personal collection of reptiles formed the nucleus of the zoo's collection. Later on in his career, he was active in developing techniques for curing reptile diseases, produced nature movies, created a clearing house for distribution of antivenins produced in Brazil, and co-founded an American antivenin institute. He was a popular lecturer as well.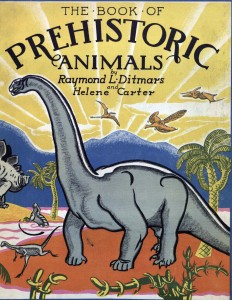 Raymond Lee Ditmars. The Book of Prehistoric Animals, 1935. Ellis Omnia D50
Although this volume (and several others authored by Ditmars) is from the Ellis Collection of natural history, the Department of Special Collections also has a collection of children's literature, more than 7,000 volumes from the late 18th to early 20th century, including lots of natural history. In fact, books for children, from a 16th-century gardening manual to 20th-century science fiction, turn up in almost all of our collections, and in them, herps abound.
Sally Haines
Rare Book Cataloger
Adapted from her Spencer Research Library exhibit and catalog, Slithy Toves: Illustrated Classic Herpetological Books at the University of Kansas in Pictures and Conversations