Anger
Aesop's fables are directly descended from the 11th century Physiologus of Theobaldus and other medieval bestiaries, or treatises on birds and beasts who were blessed with certain moral, physical, and mental attributes.They were largely the creations of early Christian teachers and were a mix of natural history and Gospel Truth with snippets of folk-lore, travellers' tales, and dimly understood scientific ideas thrown in, served up with all the authority of the Church behind them. They have continued to be popular long after they ceased to be used for religious instruction, and as has oft been pointed out, there's a lot of "zoology" in them, and thus, they do deserve a niche in the history of science.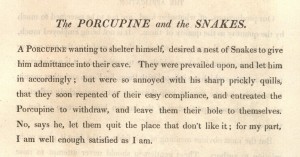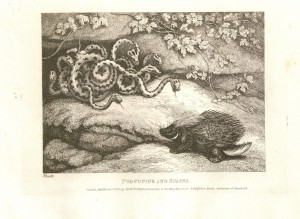 Text excerpt (top) and accompanying plate (bottom) from Howitt, Samuel. A New Work of Animals, 1818.
Call number Ellis Aves E102. Click images to enlarge.
Among the chief emblems of the original Physiologus were numerous herps including the sun lizard, viper, serpent, sea-tortoise, crocodile, frog, and salamander. In this fable about porcupine and snakes, there's no bias against snakes; both herp and mammal behave badly.
Sally Haines
Rare Books Cataloger
Adapted from her Spencer Research Library exhibit and catalog, Slithy Toves: Illustrated Classic Herpetological Books at the University of Kansas in Pictures and Conversations
Tags: Aesop, Herpetology, Physiologus, Sally Haines, Samuel Howitt, Theobaldus