Imagination; Or, the Herp is in the Eye of the Beholder
When it comes to creating an exhibition of illustrated books with a biological theme, a fabulous sea monster can be almost anything in the eye of the creator, and by power of suggestion, in the eye of the beholder. Some historians of biology have suggested that the basis-in-fact for the Scandinavian sea monster, Bishop Pontoppidan's kraaken in this case, was a whale, so the image was used in a past show of whaling books in the Spencer Library. But Moby Dick's author, Herman Melville, as well as marine biologist Jacques-Yves Cousteau, thought it more likely that the real basis for the legends was the giant squid. For purposes of this post, it's a sea serpent, but we intend to keep it in mind for our up-and-coming Squid Exhibit.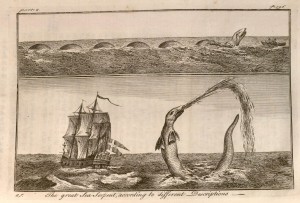 Image from Erik Pontoppidan (1698-1764). The natural history of Norway. London: 1755.
Call number Ellis Aves E333, Special Collections.
The Danish original of this natural history was published in Copenhagen (1752-1754), and is of interest chiefly for its accounts of the myths connected with whales and other natural curiosities such as the fabeled kraaken.
Sally Haines
Rare Books Cataloger
Adapted from her Spencer Research Library exhibit and catalog, Slithy Toves: Illustrated Classic Herpetological Books at the University of Kansas in Pictures and Conservations
Tags: Erik Pontoppidan, Herpetology, natural history, Norway, Sally Haines, Sea serpent