August 6th, 2015
Each week we'll be posting a photograph from University Archives that shows a scene from KU's past. We've also scanned more than 5,700 images from KU's University Archives and made them available online; be sure to check them out!
The fall semester may be right around the corner, but it's not too late for a fun family vacation!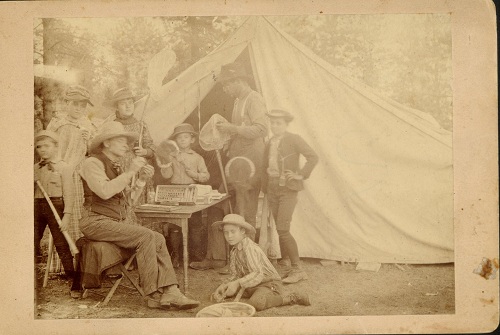 Chancellor Francis Huntington Snow and family on a summer specimen-collecting expedition
in Estes Park, Colorado, circa 1876 to 1900. Also a professor of natural science at KU,
Snow led twenty-six such expeditions, accompanied frequently by his students and
sometimes his family. University Archives Photos. Call Number: RG 2/6/6 Prints:
Chancellors: Snow (Photos). Click image to enlarge (redirect to Spencer's digital collections).
Caitlin Donnelly
Head of Public Services
Melissa Kleinschmidt, Megan Sims, and Abbey Ulrich
Public Services Student Assistants