July 16th, 2015
Each week we'll be posting a photograph from University Archives that shows a scene from KU's past. We've also scanned more than 5,700 images from KU's University Archives and made them available online; be sure to check them out!
Today's photo combines two things we love at Spencer Research Library: ice cream and KU basketball. This week, especially, we're celebrating the Jayhawks' gold medal at the World University Games (as Team USA) and National Ice Cream Day, which is Sunday.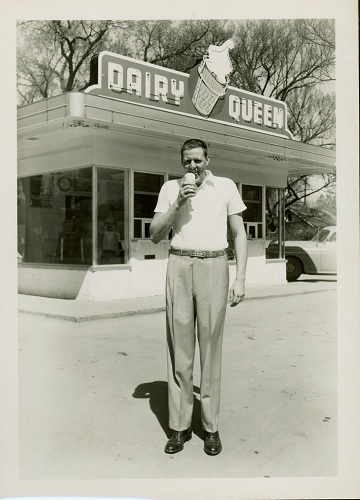 KU Hall of Fame basketball player Clyde Lovellette in front of a Dairy Queen
eating an ice cream cone, 1952. University Archives Photos. Call Number:
RG 66/13 Clyde Lovellette: Athletic Department: Basketball: Players (Photos).
Click image to enlarge (redirect to Spencer's digital collections).
Caitlin Donnelly
Head of Public Services
Melissa Kleinschmidt, Megan Sims, and Abbey Ulrich
Public Services Student Assistants