Jayhawks on Display
Have you ever wondered what steps are involved in mounting an exhibit? We recently completed installation of "100 Years of Jayhawks: 1912-2012," curated by University Archivist Becky Schulte, with assistance from Letha Johnson and Sherry Williams. The exhibit celebrates the evolution of the Jayhawk, the mascot of the University of Kansas, from the first, long-legged version drawn by Hank Maloy to the present design. This is the first exhibit to be mounted in a newly renovated space in Spencer, in the former location of the Special Collections reception area.
Becky Schulte retrieved many items from the stacks and determined the theme of each of the five cases. Assistant Conservator Roberta Woodrick and I covered the exhibit case bases with the cloth Becky had selected. Once the cases were ready, Becky laid out objects in the cases in rough configurations, determining the best location for each item while considering the flow of the exhibition "story."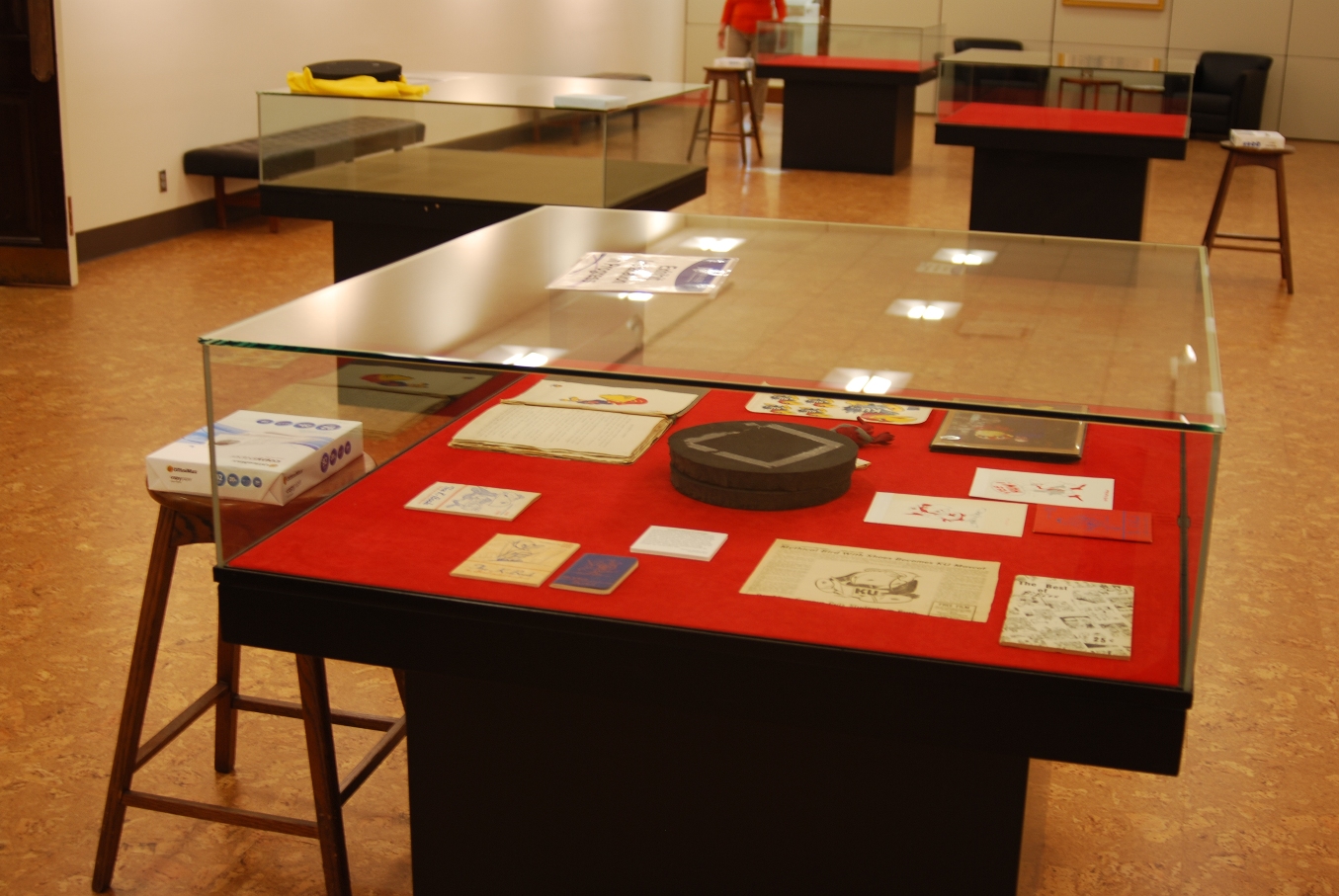 Initial layout of materials in the case. Click image to enlarge.
After items were placed in the cases, we constructed mounts for materials in order to elevate, highlight, and soundly support them during the course of the exhibit. For this exhibition we selected archival matboard and Volara polyethylene foam as mount materials, both of which are inert and will not chemically or physically damage objects on display.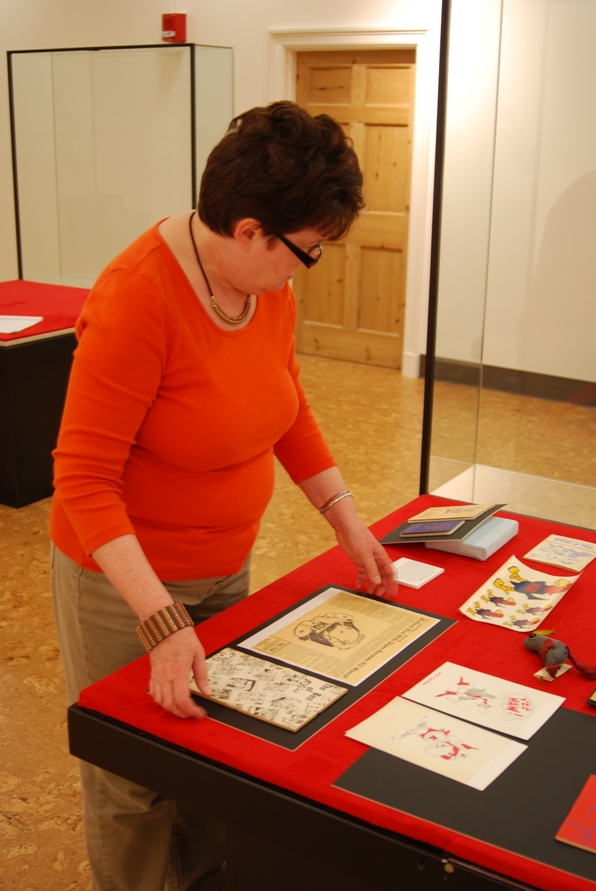 University Archivist Becky Schulte positioning an item on matboard within the case.
Click image to enlarge.
Once the labels and mounts were finished, the Jayhawks were placed in the cases. We measured and determined safe lighting levels for the exhibition space to limit light exposure to objects on display.

Finished Product! The final version of one of the exhibition's five display cases.
Click image to enlarge.
The exhibit will be on open through March and may be viewed during regular Kenneth Spencer Research Library Hours:  Monday-Friday, 9:00am-5:00pm, and (when regular classes are in session) Saturday 12:00pm-4:00pm . Please visit and let us know what you think!
For images from the exhibition's opening celebration on Wednesday, December 5, please click on the thumbnails below.
Whitney Baker
Head, Conservation Services
Tags: 100 Years of Jayhawks: 1912-2012, Becky Schulte, conservation, Exhibitions, Jayhawks, Mounting an exhibition, University Archives, University of Kansas, Whitney Baker