November Scene, Circa 1520
How better to end November than with a manuscript leaf depicting swineherds knocking acorns off trees for pigs to eat, a typical November activity in late medieval France? The leaf is from a calendar of feast days that was formerly part of a book of hours (a volume of devotional readings). The Latin text was copied onto vellum (treated calfskin) by a scribe and then richly decorated with colored and gold pigments. This particular leaf dates from approximately 1520. It demonstrates the persistence of manuscript book production more than half a century after the Gutenberg Bible was printed using moveable type (circa 1455) in neighboring Germany.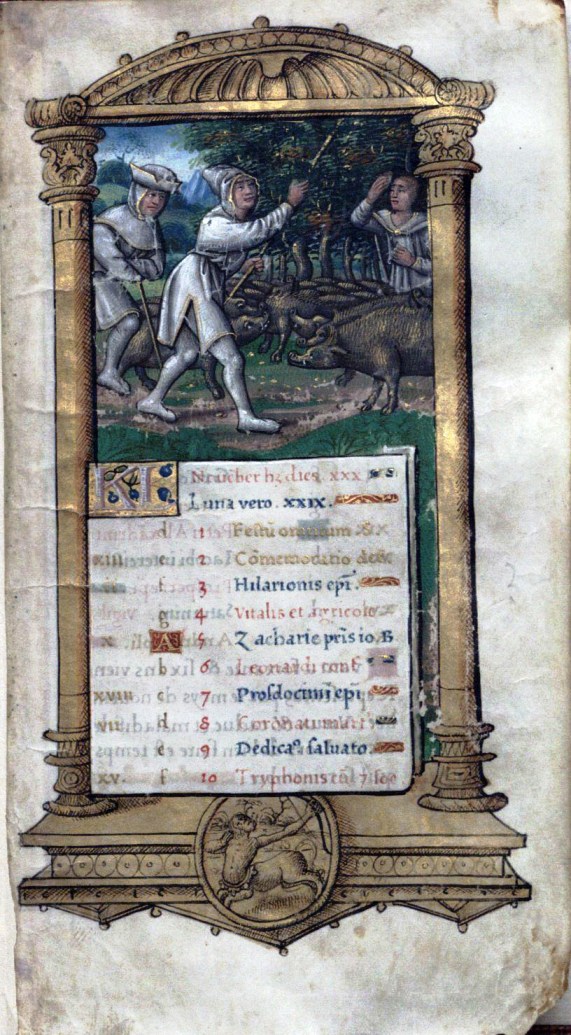 Leaf from Calendar for November (likely from a Book of Hours). France, vellum, ca. 1520?
Call number: MS A28. Click image to enlarge!
Karen S. Cook
Special Collections Librarian
Tags: acorns, books of hours, calendar of feast days, Karen S. Cook, manuscript book production, medieval manuscripts, November, pigs