World War I Letters of Forrest W. Bassett: May 14-20, 1918
In honor of the centennial of World War I, we're going to follow the experiences of one American soldier: nineteen-year-old Forrest W. Bassett, whose letters are held in Spencer's Kansas Collection. Each Monday we'll post a new entry, which will feature selected letters from Forrest to thirteen-year-old Ava Marie Shaw from that following week, one hundred years after he wrote them.
Forrest W. Bassett was born in Beloit, Wisconsin, on December 21, 1897 to Daniel F. and Ida V. Bassett. On July 20, 1917 he was sworn into military service at Jefferson Barracks near St. Louis, Missouri. Soon after, he was transferred to Fort Leavenworth, Kansas, for training as a radio operator in Company A of the U. S. Signal Corps' 6th Field Battalion.
Ava Marie Shaw was born in Chicago, Illinois, on October 12, 1903 to Robert and Esther Shaw. Both of Marie's parents – and her three older siblings – were born in Wisconsin. By 1910 the family was living in Woodstock, Illinois, northwest of Chicago. By 1917 they were in Beloit.
Frequently mentioned in the letters are Forrest's older half-sister Blanche Treadway (born 1883), who had married Arthur Poquette in 1904, and Marie's older sister Ethel (born 1896).
This week's letter focuses on the uncertainty of Forrest's future ("we are still here and still at loss as to what the next move will be") and Marie's concern, presumably about him going to Europe ("you simply must not feel sorry that I am going").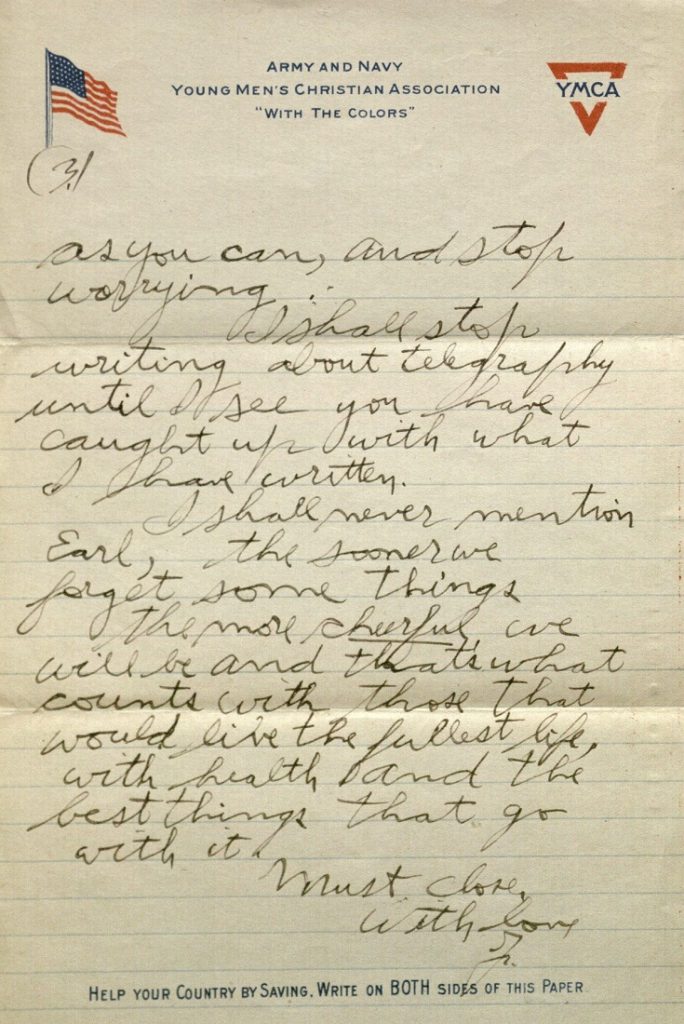 Click images to enlarge.
May 14, 1918.
Dear Marie,
We are still here and still at loss as to what the next move will be. Everything is all set for a quick move, and while the bets seem to be even, I think that we will be here for a while yet and want you to keep on writing.
But be sure to write only in answer to each of my letters for a while, and I will try to write often, but of course it will be hard telling how often.
We had a big parade after supper and were reviewed by all the high officials of the Post.
We thoroughly scrubbed out the barracks today. Are still allowed to go to town.
Now Marie, you simply must not feel sorry that I am going; it will do neither of us any good and will do you harm if you persist in thinking and worrying about it. If you don't completely change your way of thinking you will surely regret it.
Be as happy and contented as you can, and stop worrying.
I shall stop writing about telegraphy until I see you have caught up with what I have written.
I shall never mention Earl*, the sooner we forget some things the more cheerful we will be and that's what counts with those that would live the fullest life, with health and the best things that go with it.
Must close,
With love,
F.
*Earl Treadway was Forrest's older half-brother, born 1881. Last week's letters suggest that Earl had recently been ill; he died around May 10 and was buried on May 12, 1918. He was thirty-seven years old.
Meredith Huff
Public Services
Emma Piazza
Public Services Student Assistant
Tags: Ava Marie Shaw, correspondence, Emma Piazza, Forrest W. Bassett, Fort Leavenworth, Kansas Collection, Meredith Huff, World War I