Throwback Thursday: War Declaration Edition
Each week we'll be posting a photograph from University Archives that shows a scene from KU's past. We've also scanned more than 34,500 images from KU's University Archives and made them available online; be sure to check them out!
The United States entered World War I on this date one hundred years ago by declaring war on Germany. Shown here is the front page of the University Daily Kansan from April 4, 1917. This was two days before the declaration, but war seemed imminent.
On April 2, 1917, President Woodrow Wilson went before a joint session of Congress to request a declaration of war against Germany. Wilson cited Germany's violation of its pledge to suspend unrestricted submarine warfare in the North Atlantic and the Mediterranean, as well as its attempts to entice Mexico into an alliance against the United States, as his reasons for declaring war. On April 4, 1917, the U.S. Senate voted in support of the measure to declare war on Germany. The House concurred two days later (U.S. Department of State, Office of the Historian).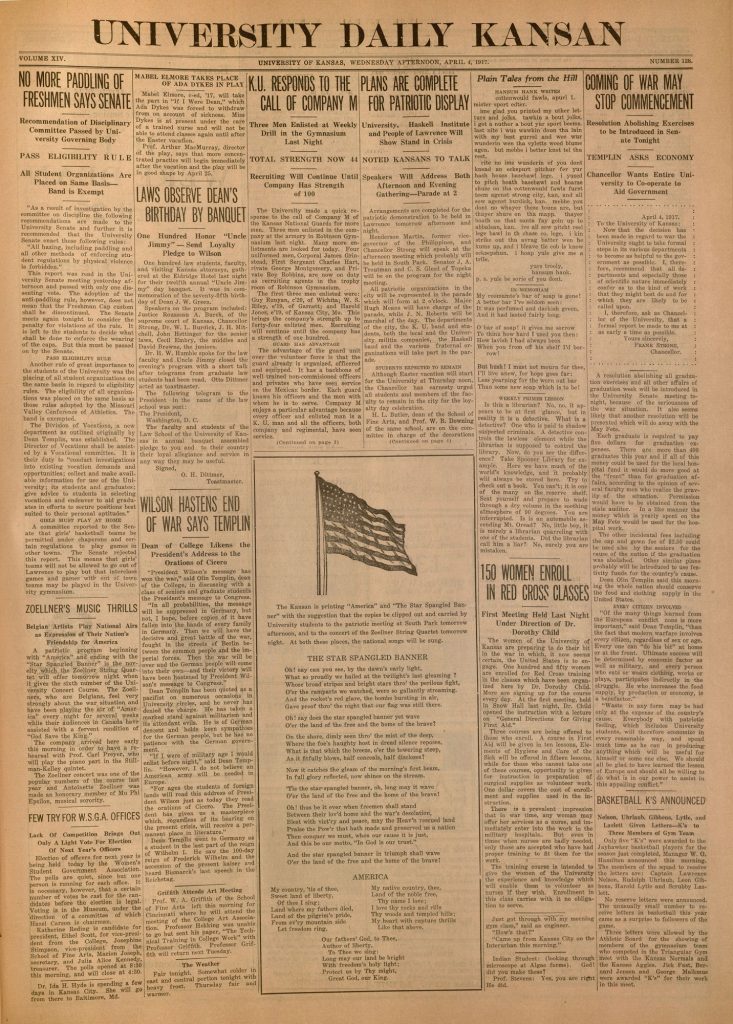 Front page of the University Daily Kansan, April 4, 1917.
Note other headlines unrelated to the war,
like "No More Paddling of Freshman, Says Senate."
University Archives. Call Number: UA Ser 69/2/1.
Click image to enlarge.
Caitlin Donnelly
Head of Public Services
Melissa Kleinschmidt and Abbey Ulrich
Public Services Student Assistants
Tags: Abbey Ulrich, Caitlin Donnelly, KU History, Melissa Kleinschmidt, Throwback Thursday, University Archives, University Daily Kansan, University history, University of Kansas, World War I