Throwback Thursday: Kansas Relays Edition
Each week we'll be posting a photograph from University Archives that shows a scene from KU's past. We've also scanned more than 34,800 images from KU's University Archives and made them available online; be sure to check them out!
The 91st Kansas Relays began yesterday and will be underway through Saturday. Are you attending any of the events?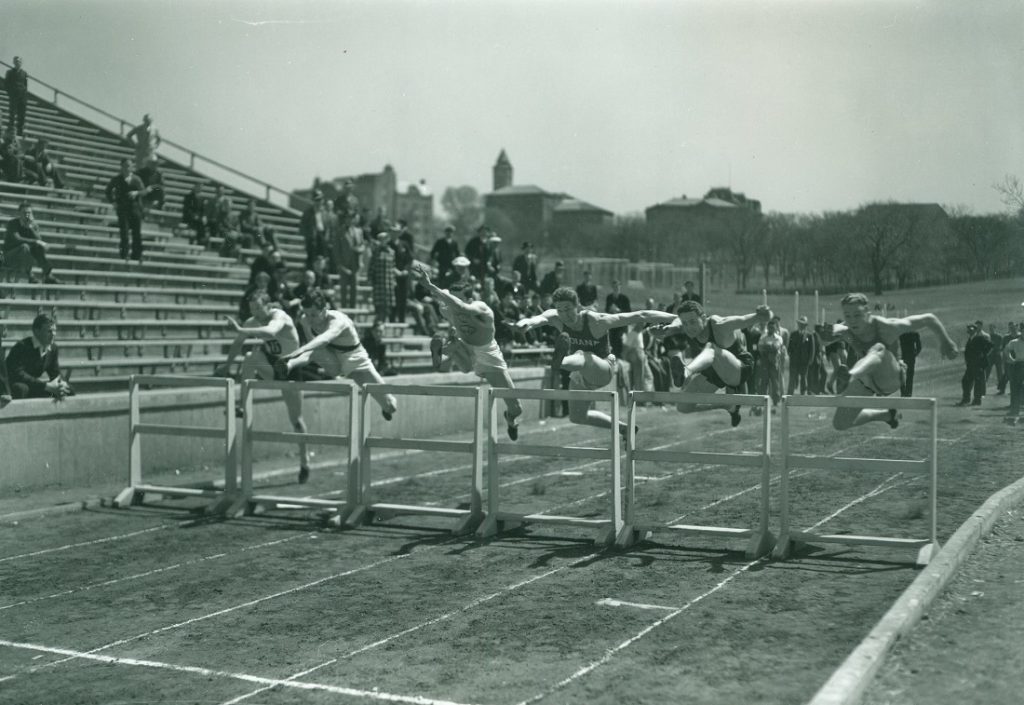 Six athletes running the hurdles at the Kansas Relays, 1936.
The event took place at Memorial Stadium, which hosted the Relays
from 1923 through 2013. University Archives Photos.
Call Number: RG 66/19 1936: Athletic Department: Track (Photos).
Click image to enlarge (redirect to Spencer's digital collections).
Note the campus buildings seen in the background of this week's photo; from left to right, they are the Kansas Union, Dyche Hall, Old Green (now Lippincott) Hall, Old Fraser Hall, and Watson Library.
Additional photos of previous Kansas Relays are available online through Spencer's digital collections.
Caitlin Donnelly
Head of Public Services
Tags: Caitlin Donnelly, Campus, Dyche Hall, Fraser Hall (Old), Kansas Relays, KU History, Lippincott Hall, Memorial Stadium, Memorial Union, photographs, Throwback Thursday, Track and Field, University Archives, University history, University of Kansas, Watson Library