Throwback Thursday: Friendship Edition
Each week we'll be posting a photograph from University Archives that shows a scene from KU's past. We've also scanned more than 27,700 images from KU's University Archives and made them available online; be sure to check them out!
This week's photograph combines several things we love: good friends (in honor of National Best Friends Day), summertime fun, and a cold soda on a hot day.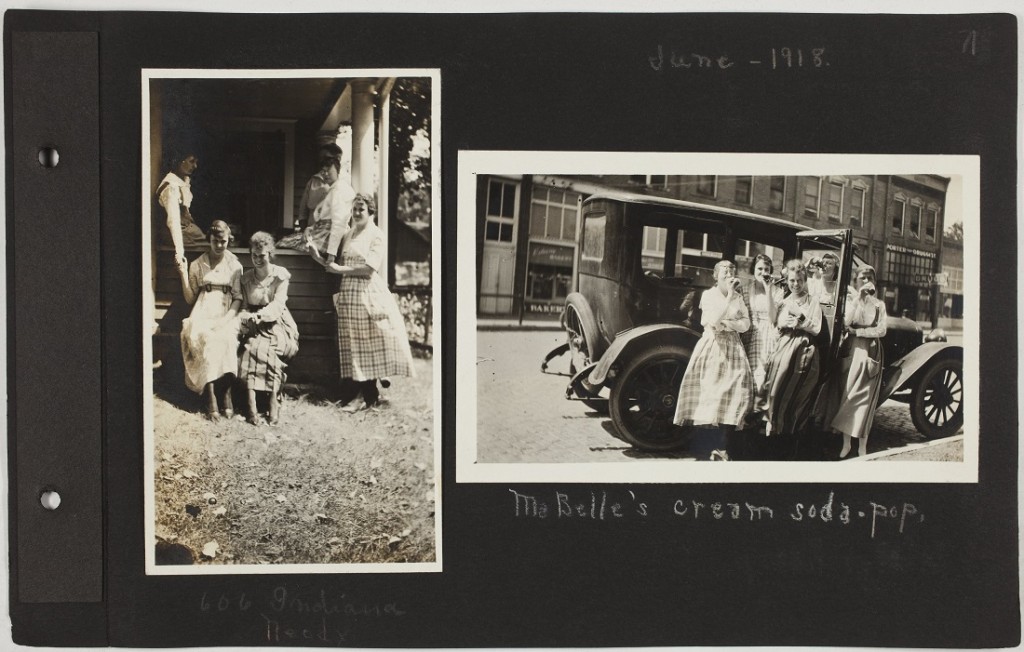 A page from a scrapbook attributed to Margaret R. French showing
five KU students in Neodesha, Kansas, June 1918. University Archives Photos.
Call Number: RG 71/0 1918 Prints: Student Activities (Photos).
Click image to enlarge (redirect to Spencer's digital collections).
The scrapbook in which this page appears has been attributed to Margaret R. French. However, a search of University Archives records did not turn up any KU students by that name in the 1910s, so the volume's creator remains somewhat of a mystery. Information from the scrapbook suggests that she attended KU from approximately 1916 through 1919. She apparently participated in the Patterson Club and was a member of – and/or had several friends in – Mu Phi Epsilon, a musical sorority or honorary organization.
One of the girls probably shown in the pictures is Gladys Nelson. Her home address was 606 Indiana Street in Neodesha, shown in the photo on the left. A member of Mu Phi Epsilon, Gladys graduated from KU in 1918 with a fine arts degree in drawing and painting.
The picture on the right shows the same group of friends, apparently on Main Street in Neodesha on the same day. (Note that they're wearing the same dresses in both photos.) The 1916 Neodesha city directory in Spencer's Kansas Collections confirms that the girls are standing in front of Edson's Bakery and Ice Cream Parlor (609 Main, sign visible behind the car on the left); Shoemaker Furniture Co. (611 Main); H. C. Tralle, Plumber and Electrician (613 Main); and Porter drugstore (615 Main, sign visible behind the car on the right). Look up these addresses on Google Maps and you can see what the buildings look like today. MaBelle, mentioned in the caption, might be MaBelle Galloway, another Mu Phi Epsilon member at the time.
Update, 1 August 2017:
Additional research indicates that the scrapbook was compiled by Marium Aeo Hill (1899-1979). She usually went by her middle name, which she shared with an aunt. Aeo was born and raised in Neodesha, Kansas. Her father Burritt H. Hill (1873-1953) was a banker, community leader, and KU alumnus; Aeo's mother Essie (1874-1899) died within a month of her daughter's birth.
Aeo attended the University of Kansas from 1916 to 1922, graduating first with a Bachelor of Arts degree in Economics and Commerce (1920) and then with a Bachelor of Music (1922). Aeo Hill married attorney Harvey Roney (1895-1971) in 1923; the couple had three children and settled in Independence, Missouri.
Aeo's daughter Margaret French, also a KU alumna, donated three of her mother's scrapbooks to University Archives.
Caitlin Donnelly
Head of Public Services
Melissa Kleinschmidt, Megan Sims, and Abbey Ulrich
Public Services Student Assistants
Tags: Caitlin Donnelly, KU History, Marium Aeo Hill, Neodesha KS, photographs, Scrapbook, Students, Throwback Thursday, University Archives, University history, University of Kansas