Throwback Thursday: First Chancellor's Residence Edition
Each week we'll be posting a photograph from University Archives that shows a scene from KU's past. We've also scanned more than 34,800 images from KU's University Archives and made them available online; be sure to check them out!
Did you know that KU did not have an official residence for the Chancellor until 1893, when the university was almost thirty years old? This first residence wasn't The Outlook, the home of Jabez and Elizabeth Watkins that became the Chancellor's Residence in 1939. It was another home at 1345 Louisiana that was demolished in 1953 to make way for present-day Douthart Hall.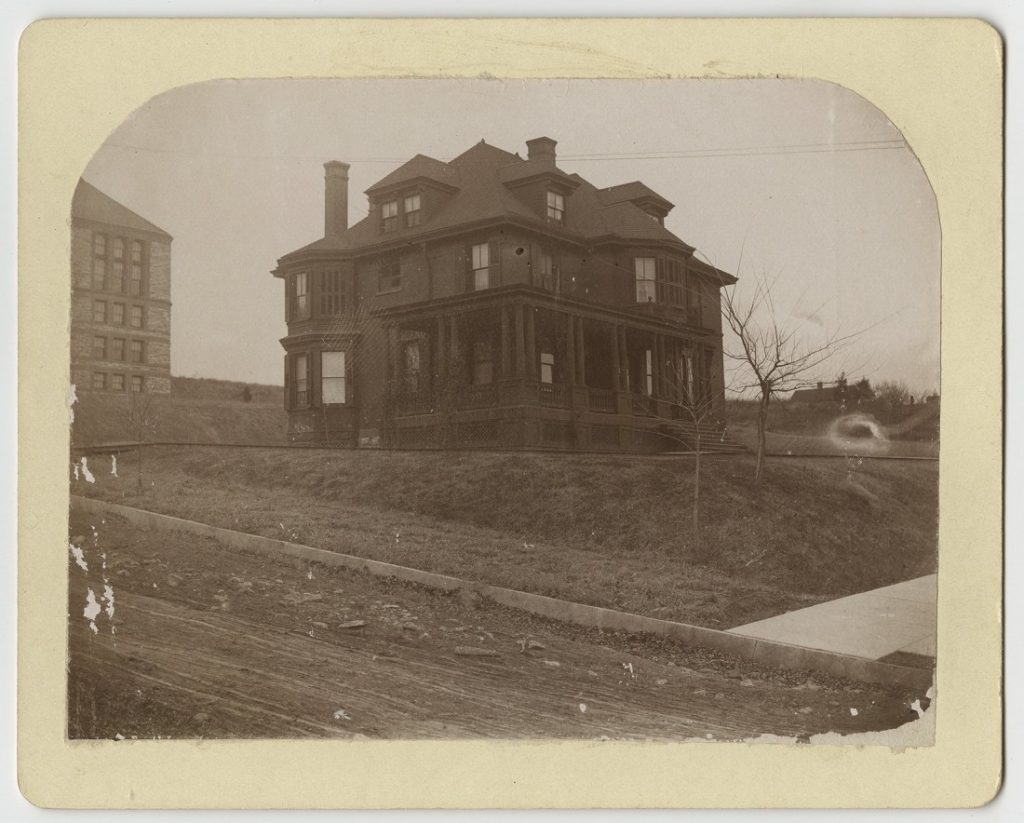 The article "An Old Friend" on the KU history website tells the story of how the first Chancellor's Residence came to be built.
In 1891, the University had received a generous $91,618 bequest from the estate of William B. Spooner, a successful Boston leather merchant and philanthropist. Spooner, the uncle of then-KU Chancellor Francis Huntington Snow, had placed no restrictions on the use of his donation. The bulk of these funds, approximately $80,000, thus went to fill a desperate University need, that being a new freestanding library. Completed in 1894 and named in honor of its benefactor, the Henry van Brunt-designed Spooner Library – now known as Spooner Hall – stands today as Mount Oread's oldest continually used academic structure.
Adequate library space was hardly the only thing the not yet 30-year-old University of Kansas lacked at this time. Also missing was an official chancellor's residence, which forced KU's early chief executives to keep their own private homes in town. Perhaps it was only fitting, then – considering the Spooner endowment's familial origins – that when KU decided to spend the remaining $12,000 to construct a proper chancellor's quarters, Chancellor Snow should be the first one to benefit.
Another van Brunt creation, the three-story, early Prairie Style home located at 1345 Louisiana Street welcomed the Snow family in December 1893.
Caitlin Donnelly
Head of Public Services
Tags: Caitlin Donnelly, Chancellor's Residence, KU History, photographs, Spooner Hall, Spooner Library, Throwback Thursday, University Archives, University history, University of Kansas