Throwback Thursday: Dedication Preparation Edition
Each week we'll be posting a photograph from University Archives that shows a scene from KU's past. We've also scanned more than 34,800 images from KU's University Archives and made them available online; be sure to check them out!
Fifty years ago, Spencer Research Library was abuzz with activity and final preparations ahead of the November 8th dedication ceremony.
Helen Foresman Spencer – who, as president and director of the Kenneth A. and Helen F. Spencer Foundation, had donated funds to KU in January 1966 for the construction of the library in honor of her late husband Kenneth – was heavily involved in completing these finishing touches. The Kansas City Star noted in an undated 1968 article ("Spencer Library–A New Center for Research") that
the hand of Mrs. Spencer can be seen in every aspect of the library, university officials agree. Almost every detail was her personal decision. She went over the plans with the architect and supervised the finishing of the building in its later stages and its furnishings.
Similarly, a story about Spencer Research Library in the December 1968/January 1969 Kansas Alumni magazine noted that
Mrs. Spencer waxed and polished the furnishings and the floor of the Spencer Room [memorial office] herself before the opening and created floral arrangements for many of the rooms" (12).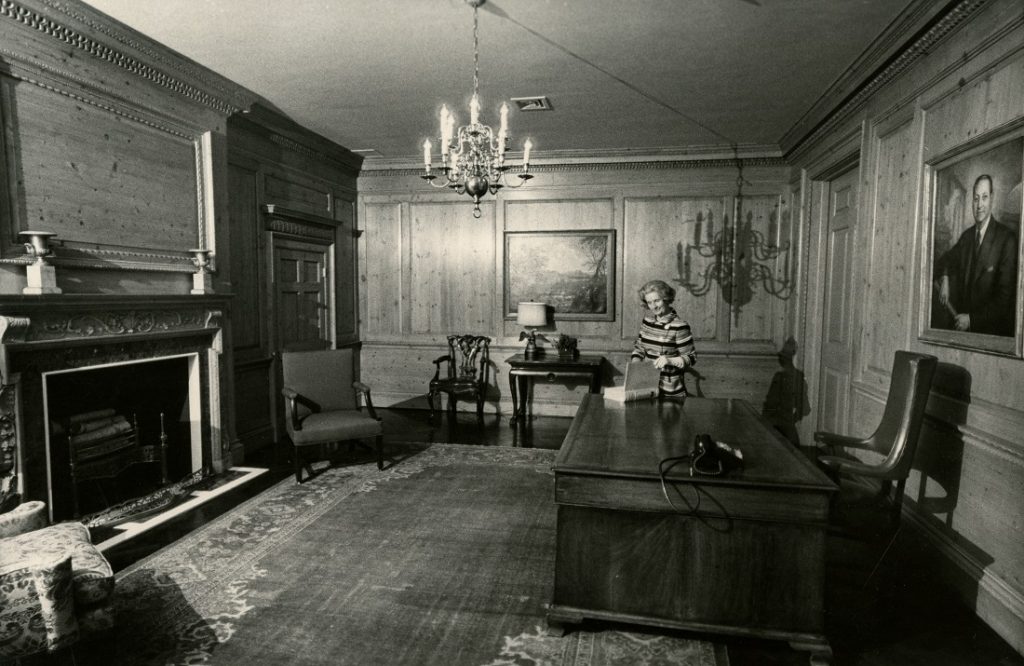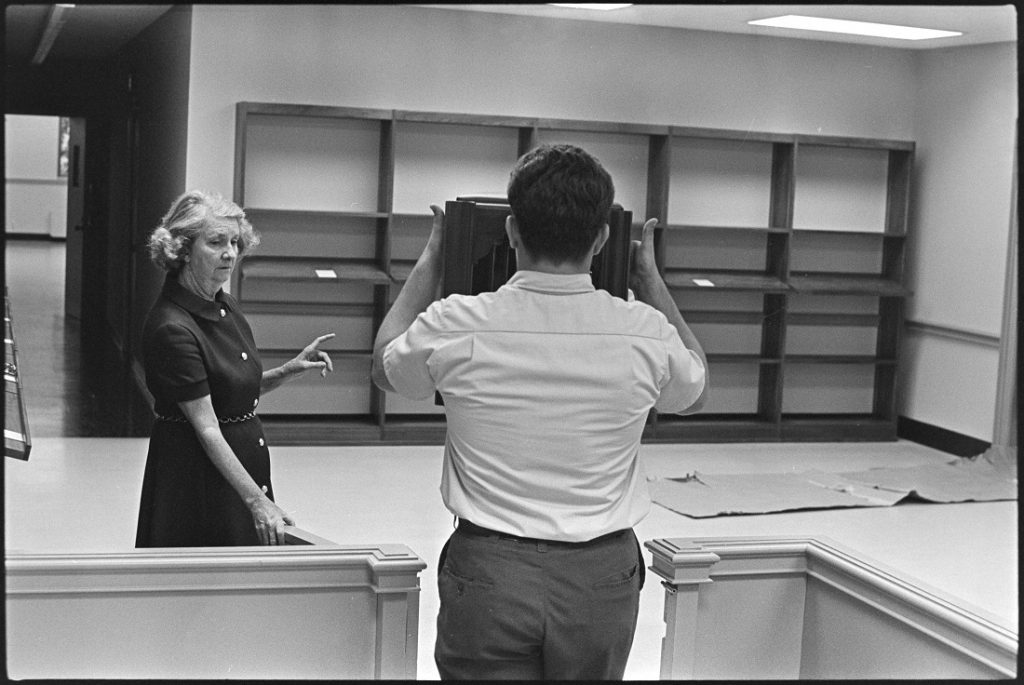 Helen Spencer standing in the memorial office (top) and directing the placement of
furniture (bottom) at Spencer Research Library, 1968. University Archives Photos.
Call Number: RG 0/22/82/i 1968 Negatives: Campus: Buildings:
Spencer Research Library: Interior (Photos). Click images to enlarge.
Caitlin Donnelly
Head of Public Services
Tags: Caitlin Donnelly, Helen Foresman Spencer, Kenneth Spencer Research Library, KU History, photographs, Spencer Research Library fiftieth anniversary, Throwback Thursday, University Archives, University history, University of Kansas