Throwback Thursday: Alumni Welcome Edition
Each week we'll be posting a photograph from University Archives that shows a scene from KU's past. We've also scanned more than 29,500 images from KU's University Archives and made them available online; be sure to check them out!
It's Homecoming week at KU, and a sentiment expressed in 1925 still rings true today: "Welcome grads, we're glad you're here!"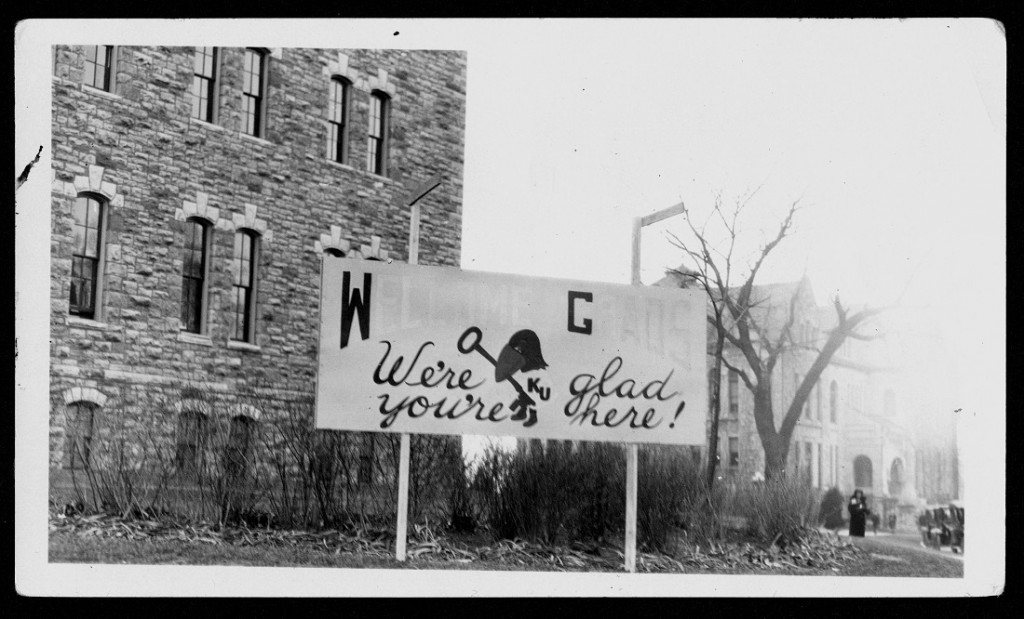 Homecoming welcome sign in front of Old Fraser Hall, 1925.
Old Snow Hall, which was located roughly in the area that is now
Watson Library's front lawn, is in the background. University Archives Photos.
Call Number: RG 71/1 1925 Prints: Student Activities: Homecoming (Photos).
Click image to enlarge (redirect to Spencer's digital collections).
Caitlin Donnelly
Head of Public Services
Melissa Kleinschmidt and Abbey Ulrich
Public Services Student Assistants
Tags: Abbey Ulrich, Caitlin Donnelly, Fraser Hall (Old), Homecoming, KU History, Melissa Kleinschmidt, photographs, Snow Hall (Old), Throwback Thursday, University Archives, University history, University of Kansas