February 24th, 2023
Check the blog each Friday for a new "That's Distinctive!" post. I created the series because I genuinely believe there is something in our collections for everyone, whether you're writing a paper or just want to have a look. "That's Distinctive!" will provide a more lighthearted glimpse into the diverse and unique materials at Spencer – including items that many people may not realize the library holds. If you have suggested topics for a future item feature or questions about the collections, feel free to leave a comment at the bottom of this page.
This week we celebrate National Trading Card Day! It happens to be today, February 24th. According to National Today, trading cards (which are commonly made of cardboard or thick paper) originated in the late nineteenth century. Trading cards have a rich history and come with a variety of images depicting people, places, and things (real and fictional). Debuting in the 1860s, baseball cards have become the most popular among sports cards. Even today, baseball cards hold a high resale value and remain popular among people of all ages.
Coming from the Herd Family Papers, Spencer has trading cards that date to around 1962. The collection spans 1817-2013 and offers a wide array of items that members of the Herd family passed down over the years. An inventory of the collection – which includes 34 boxes – can be found in our finding aids.
The trading cards included highlight players from a range of popular teams along with batting records for the previous year. The cards, which were printed by Post, were printed on the backs of cereal boxes to help consumers limit costs of having to buy additional packs of cards. The cards themselves had information on the fronts with the backs being plain grey cardboard. Though they changed in format over the years, Post trading cards were included with cereal boxes from 1960 to 2003. More information on Post trading cards can be found on the Professional Sports Authenticator (PSA) website and the Love to Know website.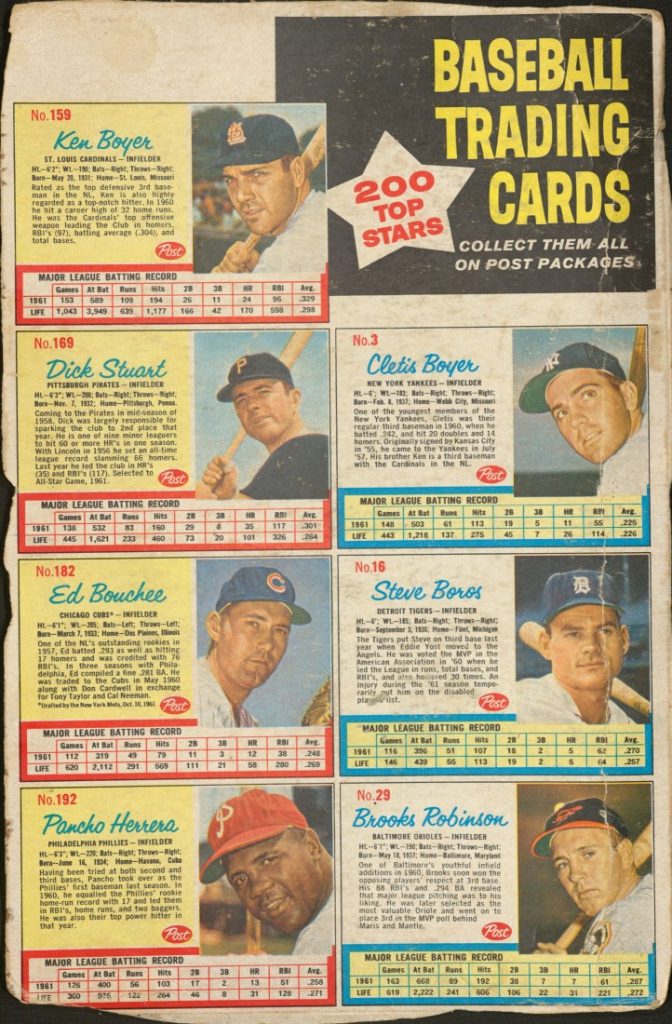 Tiffany McIntosh
Public Services