February 16th, 2015
Calling all KU student book collectors:  it's that magical season when your love of books can actually replenish your coffers rather than empty your pockets.  The competition for the 59th Annual Snyder Book Collecting Contest is now open, and entries are due by 5 p.m. Friday, March 27, 2015.  Collections need not be rare or expensive to win; rather you should be able to write thoughtfully about the scope and coherence of your collection, your purpose and method in building it, and how individual items fit within the larger whole.
Winners are selected in both graduate and undergraduate divisions, with the following cash awards:
First Prize: $600
Second Prize: $400
Honorable Mention: $100
Each winner will also receive a gift card in the following amounts from contest co-sponsor Jayhawk Ink, a division of KU Bookstore:
First Prize: $100
Second Prize: $50
Honorable Mention: $25
Need further incentive to enter?  Did you know that last year's graduate division winner, Katya Soll, also won the National Collegiate Book Collecting Contest with her collection "Dictatorship, Recovery, and Innovation: Contemporary Theatre of the Southern Cone?"  The national prize earned her an additional $2,500, which was awarded at a ceremony at the Library of Congress in Washington, DC.
National Champion: Katya Soll at the 2014 Snyder Book Collecting Contest with her 1st place Graduate Division collection, "Dictatorship, Recovery, and Innovation: Contemporary Theatre of the Southern Cone." Images courtesy of KU Libraries; click images to enlarge.
KU's contest is one of the longest-running collegiate book-collecting contests in the United States.  It was established by Elizabeth M. Snyder (then Elizabeth Taylor) in 1957 to cultivate and recognize undergraduate and graduate students' interest in collecting books.  In its inaugural year, the "Taylor Student Book Collecting Contest, " as it was then known,  bore a $75 first prize and a $25 second prize (see the 1957 contest poster below).  Over the years, the prize amounts have grown and the contest rules have expanded to reflect changes to the world of books.  The contest now permits digital and non-print materials to supplement the books and print materials that form the core of the collections.
Early Days: The poster for the first year of KU's student book collecting contest, then known as the
Taylor Student Book Collecting Contest. Image courtesy of KU Libraries
Several former Snyder Book Collecting Contest winners have gone on to make collecting a lifelong pursuit.  Laird Wilcox won the contest in 1964 while an undergraduate with his collection "Ephemeral Political Movements in the United States." Over the decades he continued to build his collection of left- and right-wing political materials and has since donated it to KU Libraries.  The Wilcox Collection of Contemporary Political Movements now stands as one of Spencer Research Library's most-consulted collections, drawing researchers from across the country and around the world.  As we will highlight in a future post, it is the subject of Spencer's current exhibition–"Free Speech in America: The Wilcox Collection at 50"–on display in Spencer's gallery through April 18, 2015.
1964 Contest Winners: Laird Wilcox (left), Lawrence Morgan (second from right), and Jerry L. Ulrich (right),
with contest sponsor, Elizabeth M. Taylor, 1964. University Archives. Call Number: RG 32/40. Click image to enlarge.
Jane Albright won the Snyder Book Collecting Contest in 1977 with her Wizard of Oz collection.  She has since gone on to become one of the premier collectors of Oz and L. Frank Baum, and her collection occupies a floor of her home near of Kansas City.   Last spring, she returned to KU to share her passion with others through the exhibition, The Magic of Oz: A Collection Celebrating a Classic, which focused on some of the printed Oz, Baum, and Denslow materials in her collection.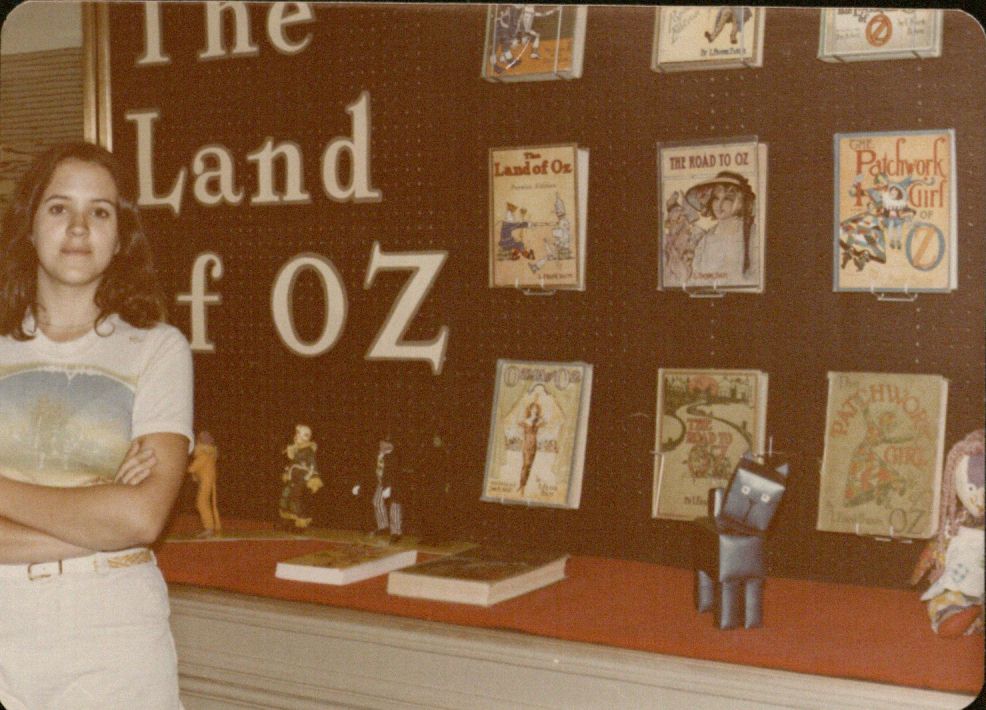 Jane Albright with her Oz collection in 1977, the year she won the Snyder Book Collecting Contest. Image courtesy of Jane Albright.
Join in the contest's long and illustrious history and enter your collection by the submission deadline of  Friday, March 27, 2015.  Full contest details are available on the Snyder Book Collecting Contest website.