The Magic of Oz: A Collection Celebrating a Classic
Like many people, I suspect, my knowledge of The Wizard of Oz has been limited to the 1939 MGM movie, which turns seventy-five years old this year. However, in recent months I've had the opportunity to learn a great deal more about the topic from Jane Albright, an Oz collector in Kansas City, Missouri, with an impressively comprehensive knowledge of all things related to the beloved story.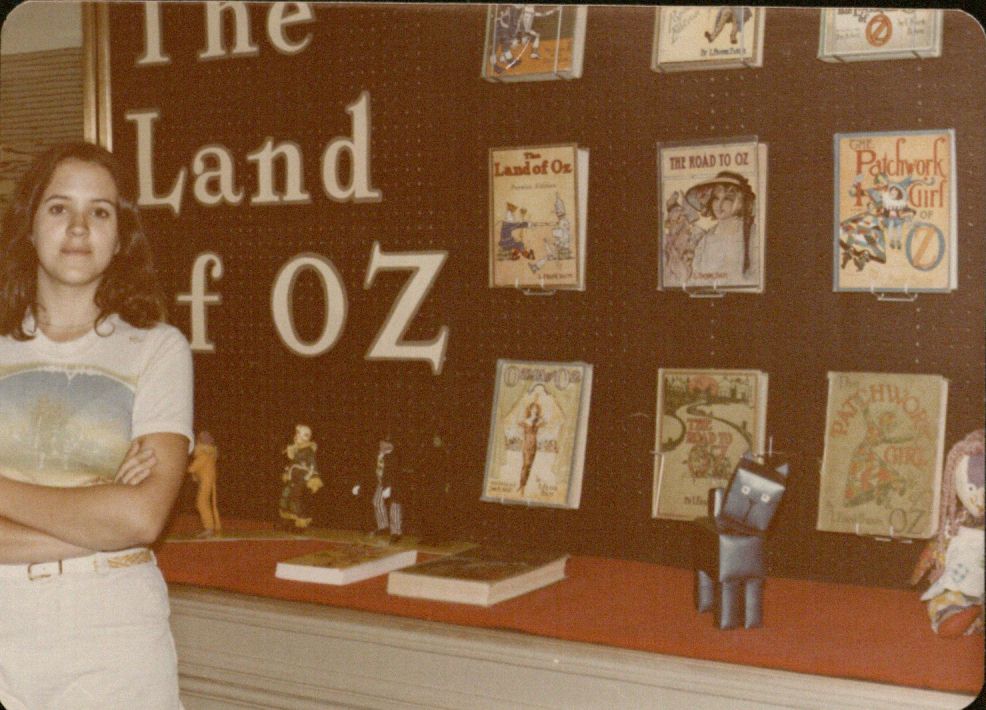 As a student at KU, Jane Albright won the Snyder Book Collecting Contest
for her Oz collection in 1977. She is shown here with some of her books,
which were then displayed as a year-long exhibit in the Kansas Collection
at Spencer Research Library. From the collection of Jane Albright.
Jane and I have been collaborating to develop Spencer's current exhibit, "The Magic of Oz: A Collection Celebrating a Classic." The exhibition features books and other items from Jane's wonderfully extensive collection of Oz materials and uses them to explore some of the contexts in which The Wonderful Wizard of Oz (1900) was created and enjoyed by readers. Jane and I also hope that visitors will come away from the exhibit excited by the "fantastic host of characters, marvelous adventures, and strong sense of place" found within the Oz stories, much as Jane fell in love with them as a young girl growing up in Topeka, Kansas.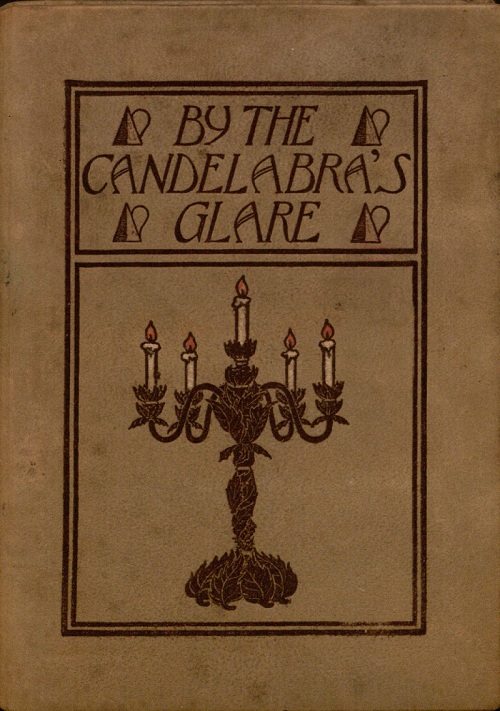 By the Candelabra's Glare (1898) is a collection of Baum's
own verse. He printed and bound each of the ninety-nine copies
himself. This copy is marked No. 2 and inscribed to his oldest son.
From the collection of Jane Albright.
Included in the exhibit are early editions and more-recent foreign-language translations of The Wonderful Wizard of Oz; examples other works written by L. Frank Baum or illustrated by W. W. Denslow, two men who had prolific careers beyond the Oz stories; ephemera from the 1903 stage musical based on the book, which was the greatest Broadway hit of its time; and copies of Oz books written by Baum and other authors. Noteworthy are the several exceptionally rare pieces from Jane's collection that are included in the exhibit.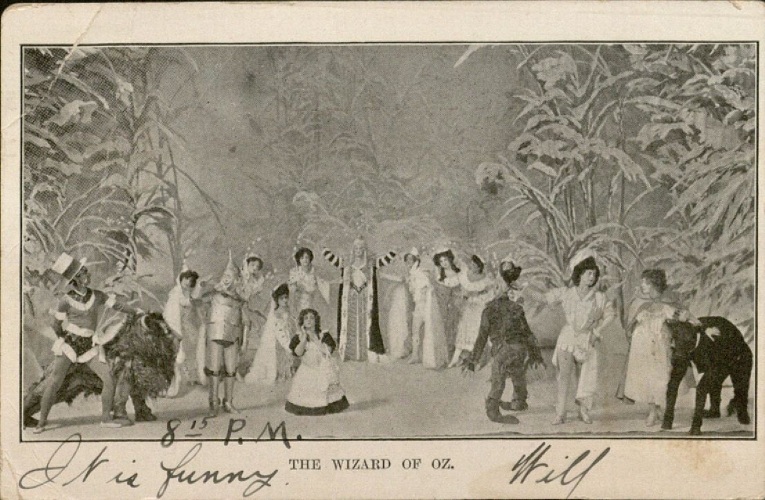 This postcard showing a scene from The Wizard of Oz stage musical has been
time-stamped and annotated. It was postmarked in Milwaukee on February 8, 1906,
and sent to a Mrs. Parish in Delavan, Wisconsin. From the collection of Jane Albright.
"The Magic of Oz: A Collection Celebrating a Classic" is free and open to the public in the Exhibit Gallery during Spencer's regular hours: Monday through Friday, 9:00 am to 5:00 pm, and (when KU classes are in session) Saturday, 9:00 am to 1:00 pm. The exhibit will run through Saturday, April 19th. For additional information, please contact Caitlin Donnelly at (785) 864-4456 or cdonnelly@ku.edu.
KU Libraries will host a reception and lecture by Jane Albright later in the spring. The event is scheduled for Thursday, April 17th from 5:30 to 7:30 pm at Spencer Research Library. More information will soon be available at www.lib.ku.edu/events.
Caitlin Donnelly
Head of Public Services
Tags: Caitlin Donnelly, Exhibitions, Jane Albright, L. Frank Baum, Mounting an exhibition, Snyder Book Collecting Contest, The Wonderful Wizard of Oz