December 1st, 2014
An unused stretch of wall space on the first floor of Spencer has become the new home to about fifty paintings formerly housed in the Kansas Collection and University Archives stacks. Following a visit to the collection storage area at the Spencer Museum of Art, Conservation Services staff installed a similar gridwall panel system.
Left: Wall space for hanging storage. Right: Installation of gridwall panels.
The panels are much like ones found in retail stores for displaying merchandise. They come in a variety of lengths and widths, which make them very adaptable to the existing environment in which they are placed. The walls on which the panels were mounted were a bit less cooperative, as evidenced by the number and wear on the bits used in drilling process.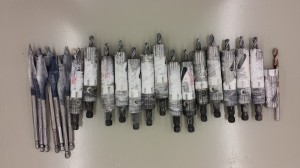 Large collection of drill bits used during the installation process.
Staff first attached painted wooden boards to the wall to reinforce the plaster surface. This also ensured that the hooks used for hanging the gridwall panels could be accurately fixed in place.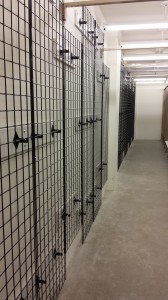 Installed gridwall panels.
Once the installation was complete, staff fastened d-ring hangers with short, pan-head wood screws to the frames or stretcher bars on the verso of the paintings. Although a few of the paintings were already equipped with hooks and wires, it was deemed more secure and stable to use the d-ring hangers for hanging on the panels. The use of a d-ring on each side of the frame/stretcher bar allows the painting to be hung from a pair of hooks. In this manner, the painting will not slide from side to side as it would when hung on a wire over a single hanger.
Left: Attaching d-rings to painting stretcher bar. Right: Painting with d-ring attached to hook, then to panel.
The paintings were then arranged salon-style, using the panel space as efficiently as possible. The paintings are now much easier to page for patrons. This is also a better storage environment for the items, as they are no longer standing on one side of their frame/stretcher bar or resting against one another.
Left: Paintings hung in place. Right: Tyvek drapery to protect paintings from dust and light.
As a final preservation strategy, the paintings have been draped in Tyvek. This material, best known for its application in house construction, is an excellent, light-weight covering to protect the paintings from dust and abrasion. In addition, we created a visual map of all the paintings to aid in paging them for patrons with the least disruption to the Tyvek drapery.
Roberta Woodrick
Assistant Conservator
Conservation Services