July 22nd, 2015
Friday marks the 118th birthday of the famous aviatrix and Kansas native, so this week we're highlighting a letter in the Kansas Collection that Earhart (1897-1937) wrote to a young girl, encouraging her to pursue her interest in flying.
The recipient of the letter was sixteen-year-old Helen Edna Mason of Greenfield, Franklin County, Massachusetts. Helen was the oldest sister of Alexandra (Sandy) Mason, a longtime and distinguished librarian at Spencer Research Library. Preliminary research indicates that Helen (1911-2000) was a lifelong resident of Franklin County, located in the northwest part of the state. She married Lawrence H. Wheeler in the late 1930s and had at least three children. It's unknown whether she studied aviation, worked in the industry, or became a pilot.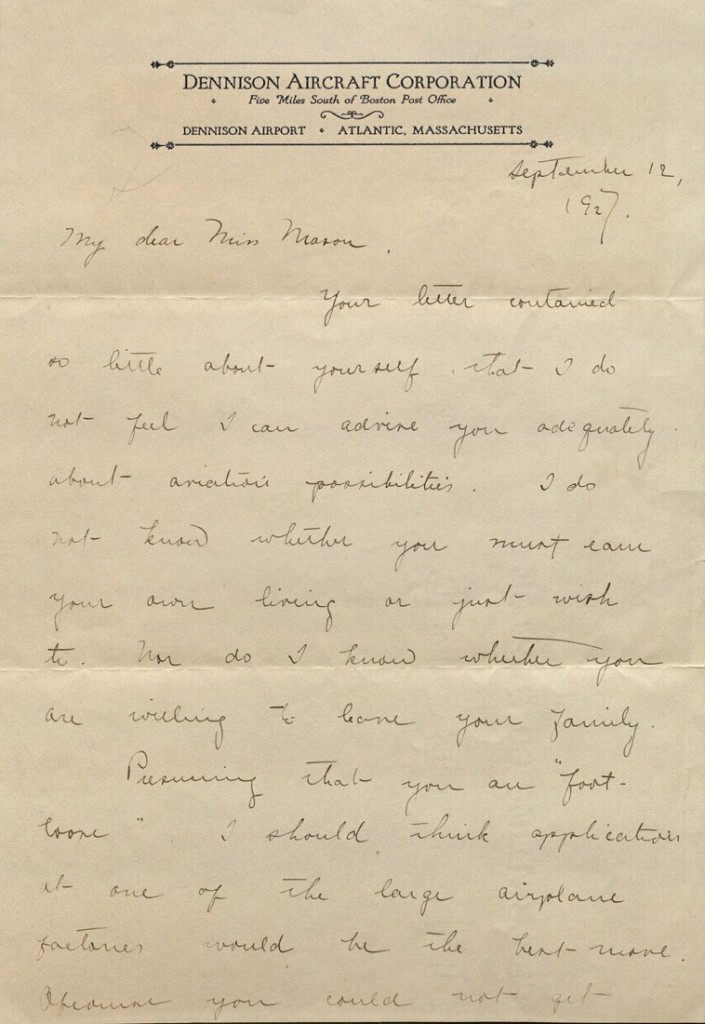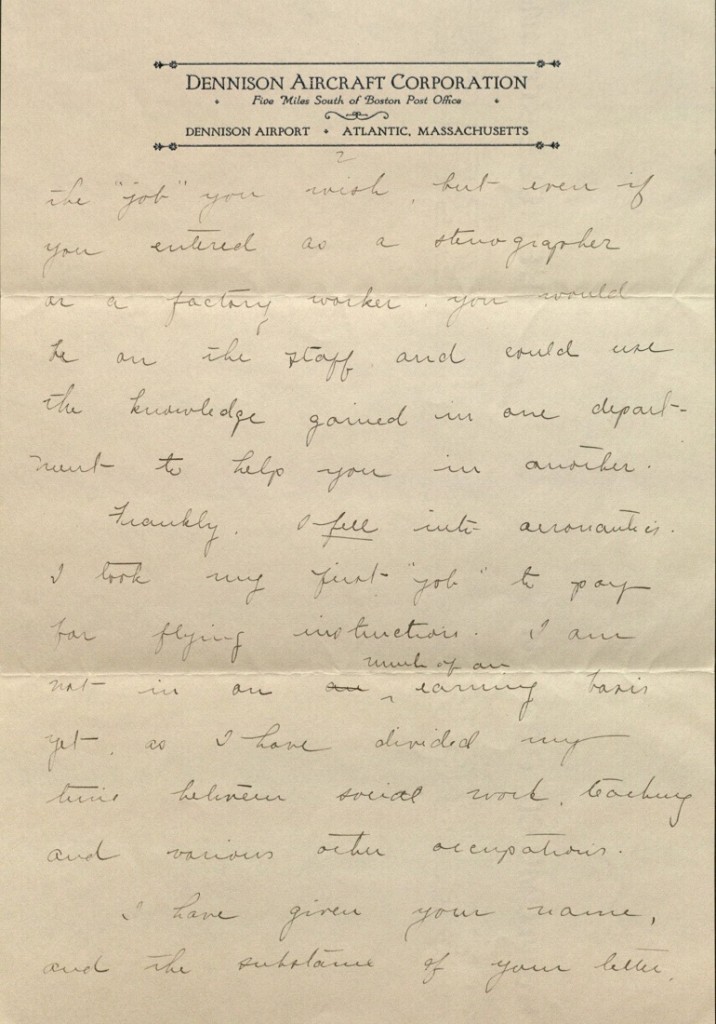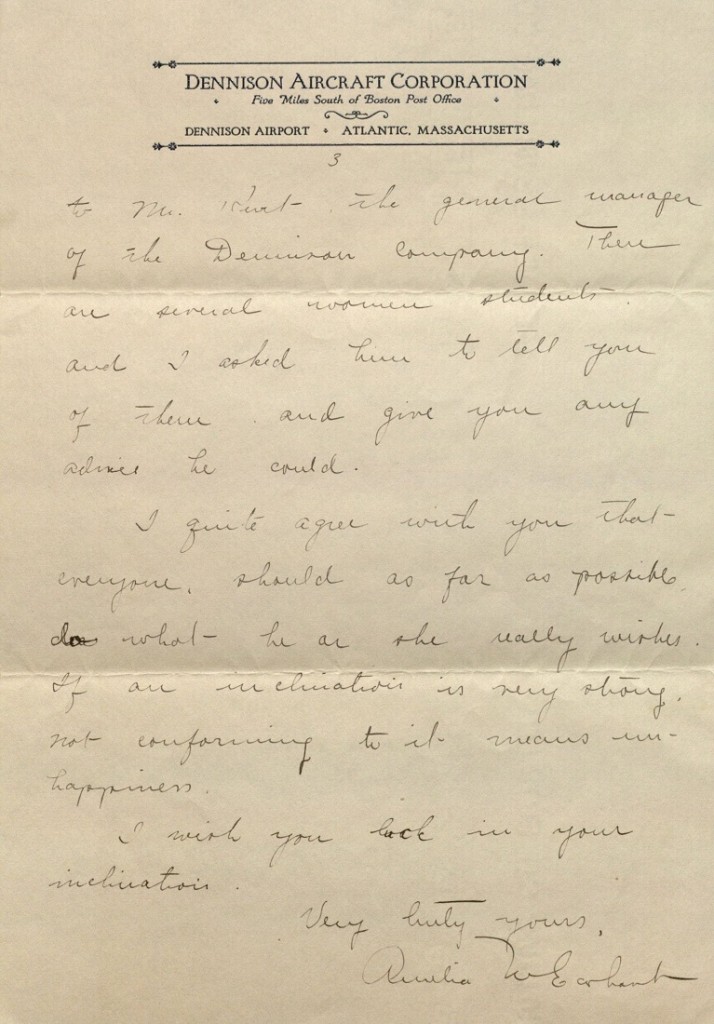 Amelia Earhart's letter to Helen Mason, September 12, 1927.
Earhart flew on the first official flight out of Dennison Airport
nine days earlier; she had also helped finance its construction.
Charles Lindbergh had completed his solo nonstop flight
across the Atlantic earlier that year, May 20–21, 1927.
Helen E. Mason Correspondence and Memorabilia.
Call Number: RH MS P23. Click on images to enlarge.
September 12, 1927.
My dear Miss Mason,
Your letter contained so little about yourself that I do not feel I can advise you adequately about aviation possibilities. I do not know whether you must earn your own living or just wish to. Nor do I know whether you are willing to leave your family.
Presuming that you are "foot-loose" I should think application at one of the large airplane factories would be the best move. Ofcourse you could not get the "job" you wish, but even if you entered as a stenographer or a factory worker, you would be on the staff and could use the knowledge gained in one department to help you in another.
Frankly, I fell into aeronautics. I took my first "job" to pay for flying instruction. I am not in on much of an earning basis yet, as I have divided my time between social work, teaching and various other occupations.
I have given your name, and the substance of your letter, to Mr. Kurt, the general manager of the Dennison Company. There are several women students and I asked him to tell you of them and give you any advice he could.
I quite agree with you that everyone should as far as possible do what he or she really wishes. If an inclination is very strong, not conforming to it means unhappiness.
I wish you luck in your inclination.
Very truly yours,
Amelia M Earhart
Interested in learning more about Amelia Earhart? Collections of her papers can be found at Purdue University and the Arthur and Elizabeth Schlesinger Library on the History of Women in America at Radcliffe College, Harvard University. See also the Wikipedia article about Earhart, which provides links to various other paper and online primary and secondary sources.
Spencer Research Library also houses materials about other female pilots. See, for example, the records of the Northeast Kansas Chapter of the Ninety-Nines, an international organization of women pilots that elected Amelia Earhart its first president in 1931, and the reminiscences of member Dorothy Maloney.
Caitlin Donnelly
Head of Public Services