February 20th, 2018
This is the thirteenth (lucky number thirteen!) installment in a recurring series of posts introducing readers to the staff of Kenneth Spencer Research Library. Today's profile features Lynn Ward, who joined the Spencer Research Library processing unit in late October as a processing archivist.
Where are you from?
Since most of my adult life has been spent in Lawrence, I like to say that's where I'm from. I grew up in Missouri but attended the University of Kansas for my bachelor's degree (anthropology) and masters (museum studies). I have moved from Lawrence a few times, but I keep coming back!
What does your job at Spencer entail?
How do researchers know what's on the shelves in the archives? That's my job. I work on making all the amazing information that is here in the library—in documents, letters, maps, photographs, diaries, drawings, scrapbooks, and records—accessible. I do that by processing donations and collections and then making finding aids for them online. Then the information contained in the donations and collections can be searched, found, and utilized.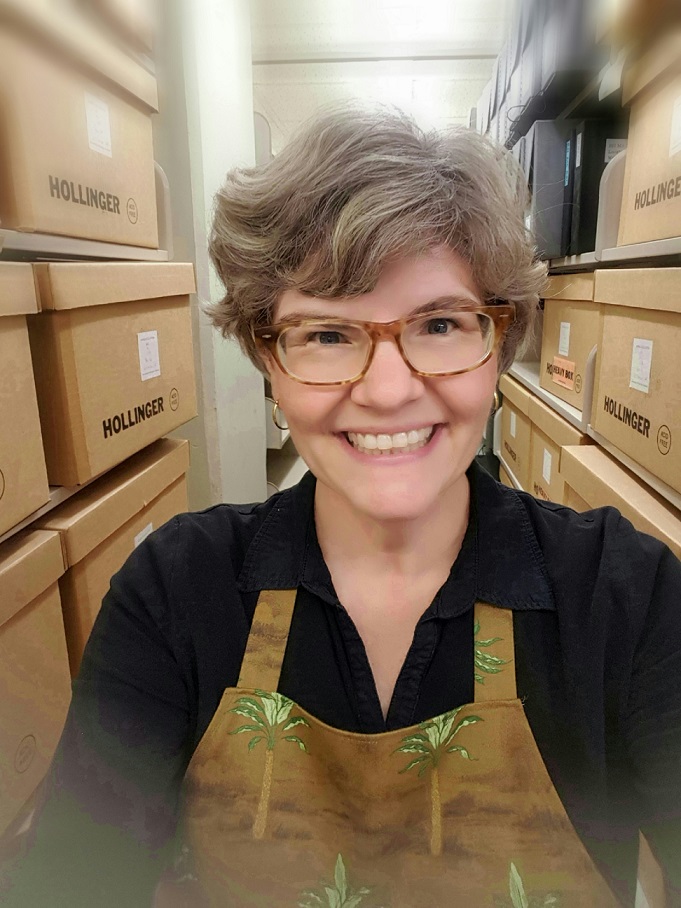 Making Spencer's collections accessible:
Lynn Ward in the Kansas Collection stacks.
How did you come to work at Spencer Research Library?
This isn't the first time I have worked at Spencer Research Library. When I was a graduate student in the Museum Studies program here at KU, I worked in the University Archives up on the 4th floor. That was my first archives position. Since then, I have had a long career working in a variety of museums, archives, and libraries. At each one, I have learned new skills, experienced many situations, and gained lots of knowledge! I'm happy to bring all this to Spencer Research Library where I can use all these skills and knowledge, plus learn even more from the excellent staff here. In a way, I've come full circle and now I'm back home.
What is one of the most interesting items you've come across in Spencer's collections?
It's hard to narrow down one, because I find it all so interesting! I have worked on some great collections since starting here in late October. But, I would have to say that I am most interested in the territorial Kansas and also the early KU history material. In the lobby of the Spencer Research Library there is a map of Lawrence from 1854 that I love to look at—especially since "Kansas" is spelled with a "z"—"Kanzas." I also like to walk in the North Gallery and see a cross-section of all the fascinating collections that are in the library. I love looking at all of the books and exhibits in that beautiful space.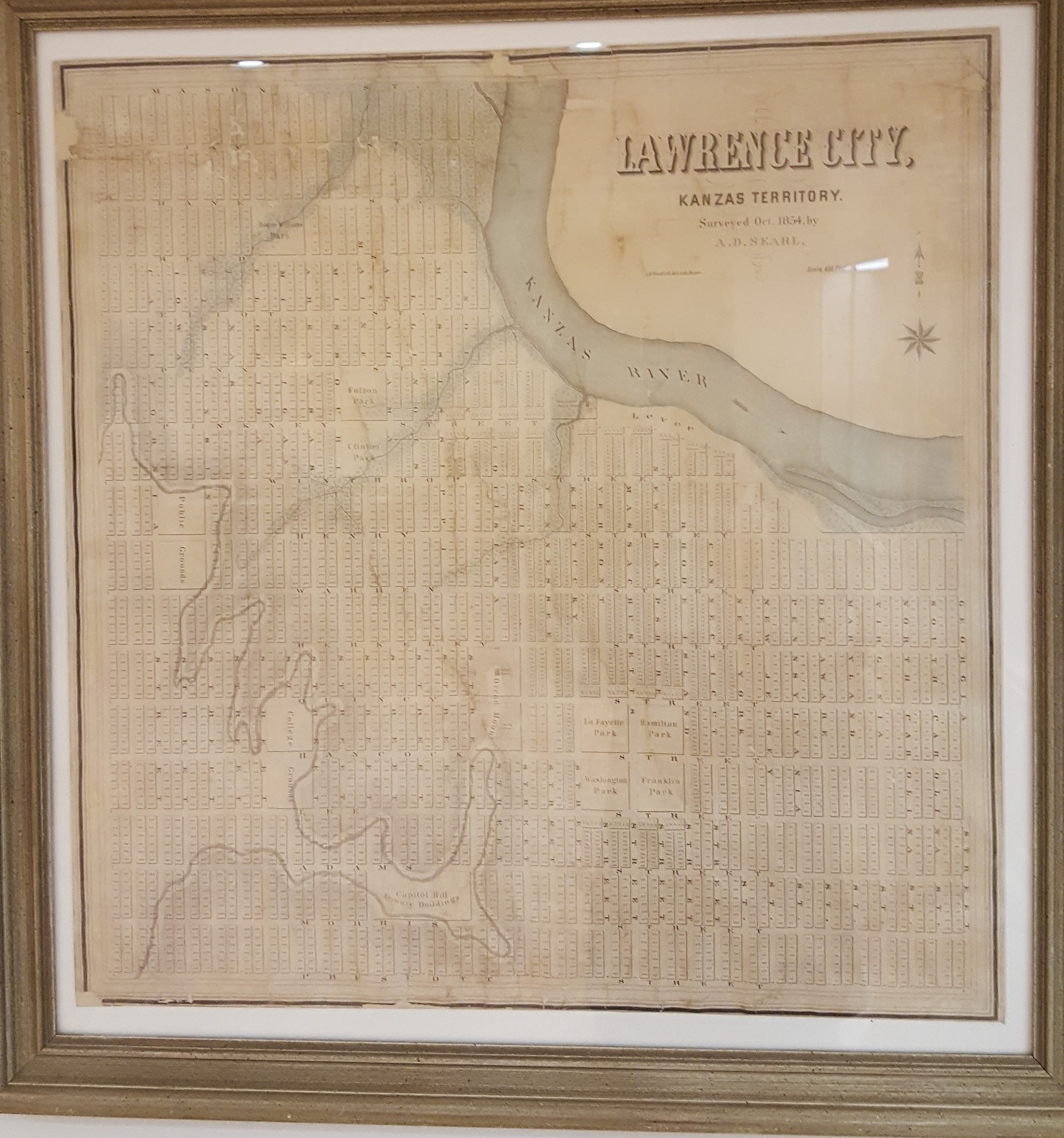 Map of "Lawrence City, Kanzas Territory, Surveyed Oct. 1854 by A. D. Searl."
This map hangs in the Spencer Research Library lobby. Click image to enlarge.
What part of your job do you like best?
I like the feeling of being part of a team. We are all working to make the collections accessible so that everyone—the public, historians, students, genealogists—can benefit from them.
What are some of your favorite pastimes outside of work?
I love, love, love to travel and explore. I'm happy going anyplace and doing anything. For example, a few weeks ago, I went with a friend on a fun daytrip exploring territorial history in Big Springs, Kansas. And last summer, my daughter and I found a cool shark's tooth near Hays, Kansas. (I'm a huge dinosaur and prehistoric life fan.) I enjoy little adventures like that! I've got two teenage kids, so my husband and I spend a lot of our time involved in their activities. I also read a lot—mostly books about Kansas history—but I do enjoy a good historical fiction or a Michael Creighton novel, too!
What piece of advice would you offer a researcher walking into Spencer Research Library for the first time?
I would tell them to take the time to talk to the reference room staff. If the staff know about your research project, they can help you think of resources here at Spencer Research Library.
Lynn Ward
Processing Archivist