Meet the KSRL Staff: Elspeth Healey
This is the latest installment in a recurring series of posts introducing readers to the staff of Kenneth Spencer Research Library. Today's profile features Elspeth Healey, who joined the Spencer Research Library in 2011 as a special collections librarian. 
Where are you from?
I was born in the U.S., but I grew up in Toronto, Canada. From time to time, I'll have a student come up to me after a class session and say "where are you from?" I have lived in the U. S. since college–so more than half of my life–but sometimes that Canadian accent still shines through!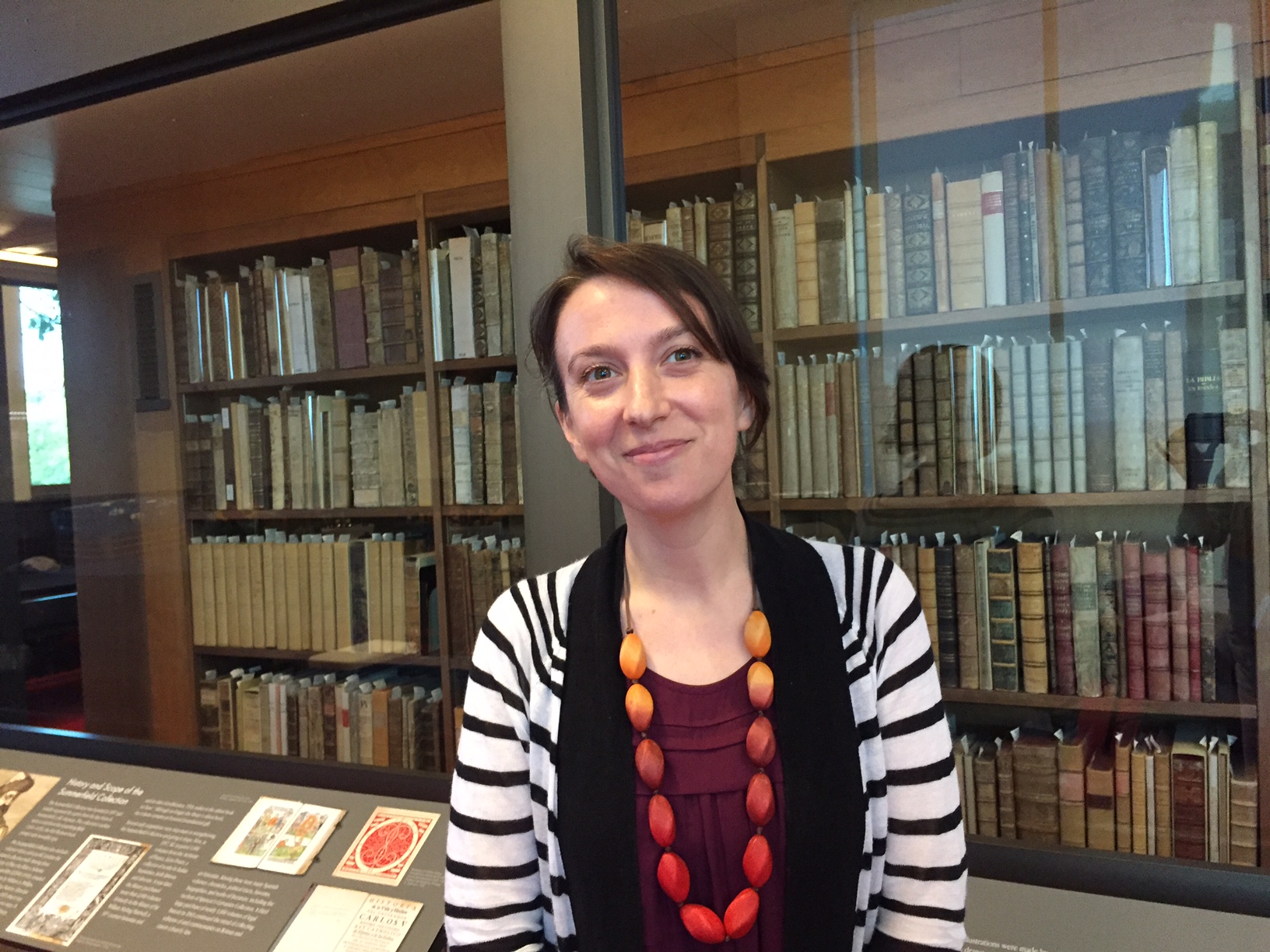 Elspeth Healey, Special Collections Librarian, in Spencer Research Library's North Gallery. Click image to enlarge.
What does your job at Spencer entail?
With my colleague Karen Cook, I am one of two special collections librarians. My curatorial responsibilities include materials for the Americas, including Latin America, the United Kingdom, and Ireland. In addition to building Spencer's collections by working with donors and booksellers, I collaborate with cataloging and conservation to make the library's collections accessible, lead instruction sessions, engage in outreach (through events, blog posts, exhibitions, etc.), answer reference queries for researchers on and off site, and contribute to digital projects.
How did you come to work in special collections and archives?
As an undergraduate, I had worked in the preservation department of my university's special collections library, making mylar wrappers, drop-spine boxes, and other protective enclosures. I was fascinated by the variety of books that would come across my work bench, from 20th century poetry and plays to 18th century mathematical treatises. Later, as I was researching my dissertation in English literature, I came to realize that the moments that excited me most were those spent conducting archival research. I was energized not only by the materials I examined that related to my specific project, but I also enjoyed encountering materials that related to the projects of friends and colleagues and would alert them to those materials. That is what this job is at its heart: helping to connect researchers (of all types) with the materials that have the potential to advance and transform their understanding of a particular question or subject. I applied to library school as I was finishing my dissertation, and attended a program where I had the opportunity to work 20-hours a week in a special collections library while taking the coursework for my MSIS (Master of Science in Information Studies) degree. I always advise those who want to enter the field that gaining hands-on experience working in a special collections library and archives is one of the most important things you can do in library school: it is what will help you secure a job following graduation, and it is what will enable you to determine if this is really what you want to do as a profession.
What is the strangest item you've come across in Spencer's Collections?
There are so many strange and interesting things in Spencer's collections. We have a three volume scrapbook containing rare ephemera for Astley's Amphitheatre, which opened in London in the late 18th-century and was originally known for its equestrian spectacles and show riding. As it developed, it incorporated circus-type features alongside other types of performance, so it is often recognized as London's first circus. The posters, flyers, clippings, and ephemera in the scrapbooks offer a fascinating record of its history, and we hope to feature them at greater length in a future blog post. Other unusual items that pop to mind include 1930s form rejection letters from a science fiction pulp magazine, early Don Quixote fan fiction, and locks of hair (a favorite 19th century keepsake). I love that each day I might come across some new intriguing item that I can then share with others.
Posterbills for Astley's performances and Astley's Amphitheatre in Astley's Amphitheatre scrapbooks. Posters shown are circa 1775-1847. Call Number: G126, volumes 1-3. Click on images to enlarge (it's worth it!)
What part of your job do you like best?
See above! I relish connecting researchers–whether students, scholars, or members of the public–with materials that will open up new perspectives and avenues of inquiry.
What are your favorite pastimes outside of work?
The usual things like reading, walking, movies, and travel, but I also love tracking down some of my favorite Canadian delicacies whenever I can: Nanaimo bars, butter tarts, poutine, and candy bars like Eat-more and Coffee Crisp. I'm still waiting for the day when they open a Tim Horton's in Kansas… Lawrence certainly has much better (and less corporate) coffee and pastries, but some things just remind you of your youth…
What piece of advice would you offer a researcher walking into Spencer Research Library for the first time?
Not everything is in the online catalog. We aspire to get it all there one day, but every special collections library holds materials that haven't quite made it into the catalog yet for one reason or another. Accordingly it's always worth speaking to the librarian who oversees the subject area in which you are conducting research to see if there might be materials you that have missed.
The other piece of advice is to enjoy the research process. Sometimes the thing that you came to the library to examine won't end up being the thing that really captures your intellect and imagination. Instead, it will be a folder of letters you might come across in the box next to the manuscript you were seeking to examine. This unanticipated discovery may lead your project in a new direction. Embrace the serendipity that archival research permits!
Elspeth Healey
Special Collections Librarian
Tags: About Us, Astley's Amphitheatre, Behind the Scenes, Careers in Libraries, Elspeth Healey, Meet the Staff, Special Collections