Happy Birthday, William Inge!
Pulitzer Prize and Academy Award-winning playwright and screenwriter William Inge (1913-1973) was born on this day in Independence, Kansas, 104 years ago.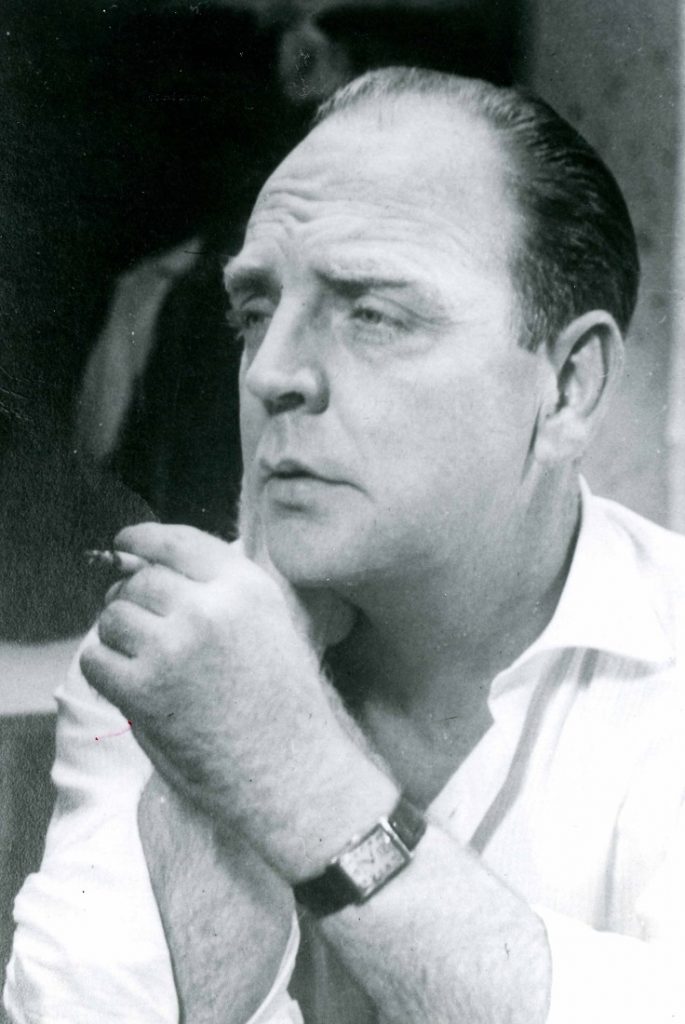 William Inge, circa 1960. University Archives Photos.
Call Number: P/ Inge, William (Photos). Click image to enlarge.
Inge attended the University of Kansas from 1930 to 1935, getting his degree in speech and dramatic arts. While a student, Inge pursued his interest in acting as a member of the KU Dramatics Club. In the fall of 1934 he was in a KU production of Eva the Fifth, the story of a traveling theater troupe.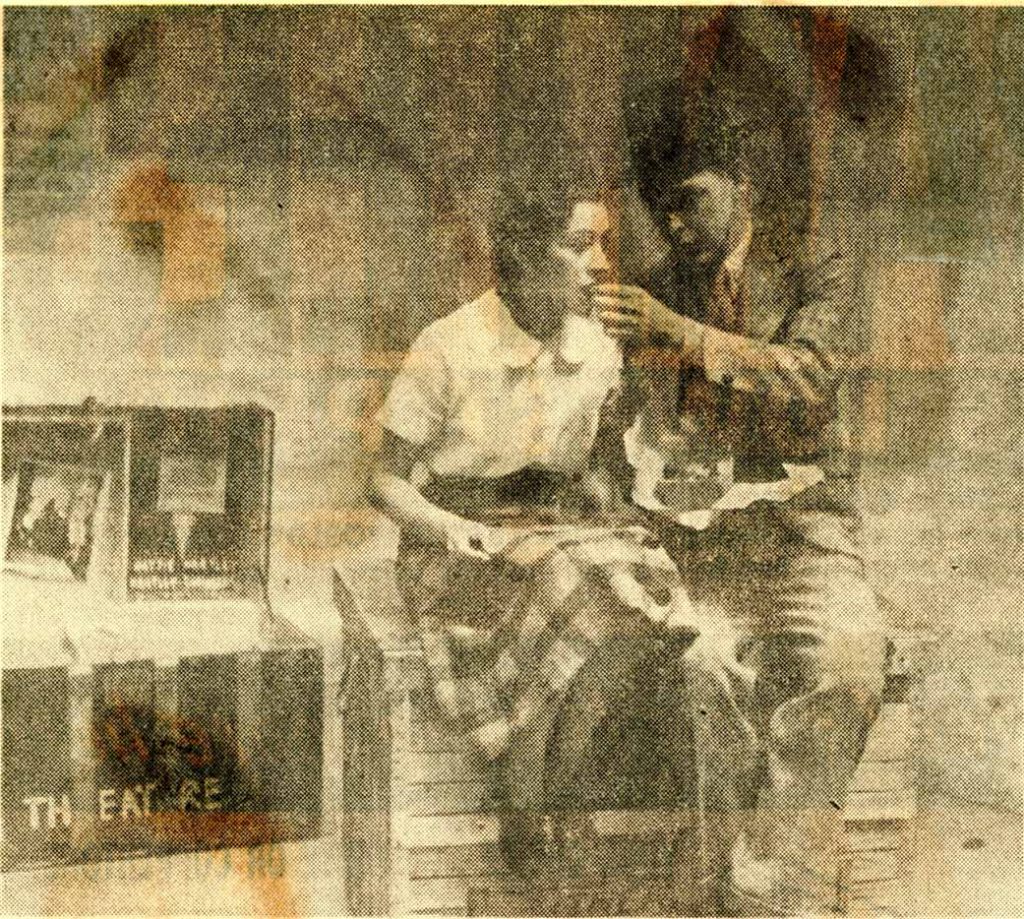 William Inge and Virginia Hecker in a scene from Eva the Fifth, Fall 1934.
This photograph appeared in the Topeka Capital Journal, October 19, 1963.
William Inge biographical file. University Archives. Click image to enlarge.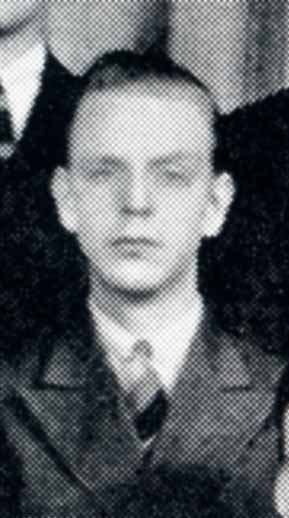 Inge was a also member of Sigma Nu while at KU.
This picture of him is from the fraternity's
group photo in the 1935 Jayhawker yearbook.
University Archives. Call Number: LD 2697 .J3 1935.
Click image to enlarge.
Inge turned his attention to playwriting after leaving KU and was quite successful. His most well-known works are Come Back Little Sheba, Picnic, Bus Stop, Splendor in the Grass, and The Dark at the Top of the Stairs.
Inge came back to KU several times as a guest lecturer, and in 1955 he directed a KU production of what would become Picnic, using an early draft version of the play entitled Summer Brave.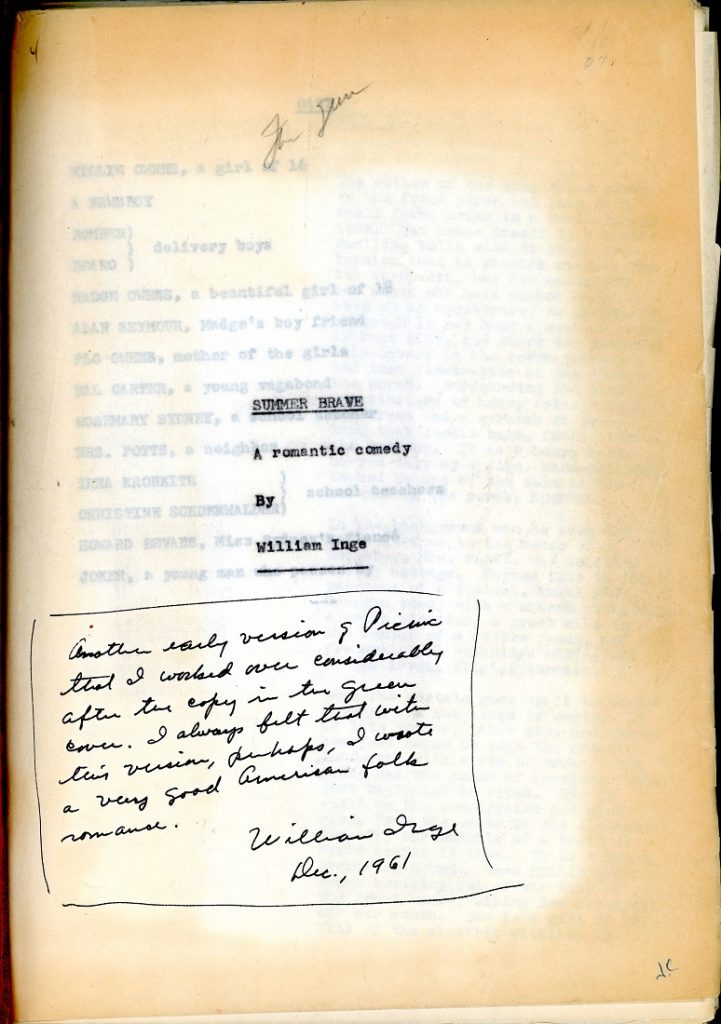 Cover page of Inge's "Summer Brave," 1961.
Call Number: RH MS D70. Click image to enlarge.
Spencer Research Library has a small Inge Collection, and the William Inge Memorial Theatre, housed in Murphy Hall on the KU campus, is named in his honor. The largest collection of Inge materials is housed at Independence Community College, where there is also the William Inge Center for the Arts and an annual William Inge Theater Festival.
Kathy Lafferty
Public Services
Tags: Jayhawker, Kansas Collection, Kathy Lafferty, Sigma Nu, Students, University Archives, William Inge