Celebrating Ronald Johnson and Poetry In Kansas
April is National Poetry Month, and in honor of this KU Libraries will host an event celebrating Ronald Johnson and poetry in Kansas at the Kenneth Spencer Research Library on Tuesday, April 16.
Revered as a poet's poet, Ronald Johnson (1935-1998) was born and raised in Ashland, Kansas. Though he spent much of his literary career away from Kansas, first on the East Coast and then in San Francisco (where he lived for over two decades), his literary papers have long acted as a physical tie to his birth state.
The Kenneth Spencer Research Library acquired its first cache of the poet's papers in April of 1969. By this time, Johnson had already published his early collections A Line of Poetry, A Row of Trees (1964) and The Book of the Green Man (1967), but was still building his reputation as a poet. Subsequent major installments followed in 1971 and 1987, culminating with a final acquisition of papers from Johnson's literary estate in March of this year (2013).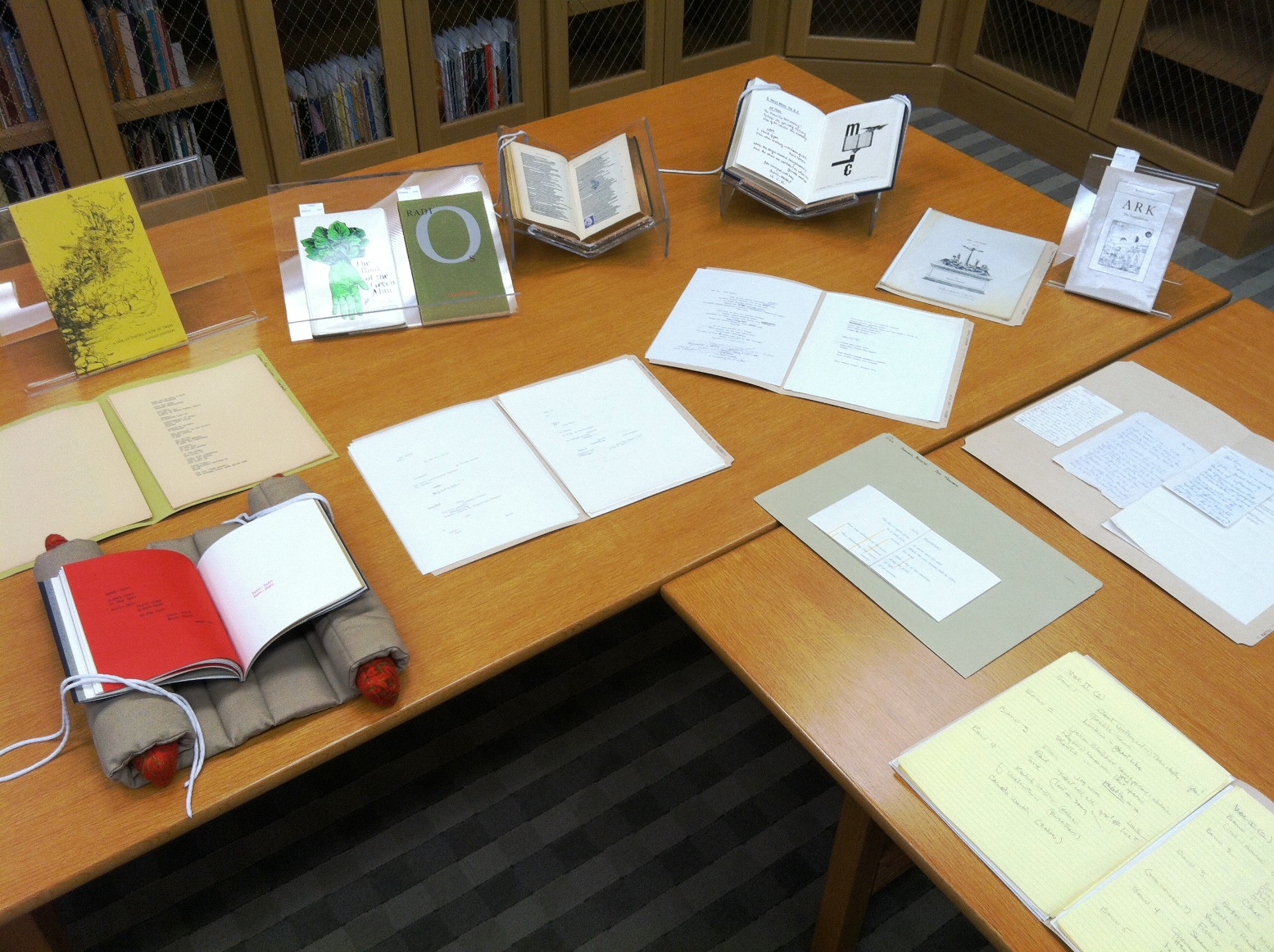 The papers are a magnificent record of Johnson's life and literary endeavors. They include,
multiple drafts of his poetic works, such as his erasure poem Radi os (a re-writing of sections of Milton's Paradise Lost by excision), and ARK, a long poem composed over twenty years (which will be republished by Flood Editions later this year)
drafts and prototypes for his concrete poetry (poetry which emphasizes and plays upon the visual element)
correspondence with friends, loved ones, and literary peers, such as writer Guy Davenport, a great champion and admirer of Johnson's writing; Jonathan Williams, Jargon Society publisher, poet, and former love; and fellow poets such as Ian Hamilton Finlay, Louis Zukofsky, Mary Ellen Solt, and Robert Creeley.
materials documenting Johnson's "other" career as a chef, caterer, and cookbook writer, including drafts of his popular cookbooks, such as The American Table and The Aficionado's Southwestern Cooking, and (in the most recent accession) correspondence with food writer M. F. K. Fisher
research notes and writing journals
photographs and audio recordings of Johnson
One of the highlights of the new acquisition are drafts of Johnson's The Shrubberies, poems which he composed upon returning to Kansas from San Francisco.  These were collected, edited, and posthumously published by his friend and literary executor, poet Peter O'Leary.  The poems were inspired in part by Ward-Meade Park in Topeka, where Johnson had worked before succumbing to brain cancer and where a plaque now stands in his honor.
Though the materials that arrived in March are not yet cataloged, an online guide exists for the twenty-nine boxes of Johnson's earlier papers.  The library also houses a large number of Johnson's published works, many of which exist in scarce and limited editions. These materials complement Spencer's New American Poetry holdings and its wealth of materials for Kansas writers.
The celebration on April 16 will feature three Kansas poets renowned in their own right: Joseph Harrington and Kenneth Irby, Professors in KU's Department of English, and Denise Low, Kansas Poet Laureate, 2007-2009.  These speakers will fête Johnson by reading favorite passages from his works alongside poems of their own.  A selection of materials from the library's Ronald Johnson holdings will be on display during the event.
Elspeth Healey
Special Collections Librarian
Tags: concrete poetry, Densie Low, Elspeth Healey, erasure poetry, Guy Davenport, Ian Hamilton Finlay, Jonathan Williams, Joseph Harrington, Kansas, Kenneth Irby, Louis Zukofsky, Mary Ellen Solt, Peter O'Leary, Poetry, Robert Creeley, Ronald Johnson, twentieth century literature