History in a Bottle
Those of you who have visited the Kenneth Spencer Research Library in the past few months have discovered that we are in the midst of another small renovation project. This time, we are renovating our processing spaces, where books, manuscript collections, and other items are described and prepared for use. Our collections keep growing, while the space we have for these essential activities does not, so we are removing some interior walls and opening up some spaces to allow us to house materials more efficiently before and during processing, and also to refresh staff spaces. There has been some noise and some other disruption, but work is well underway, and we look forward to great results.
As part of this process, the in-wall exhibit case that had once welcomed visitors into the  space when it was the Kansas Collection reading room was removed. One day a few weeks ago, KU Libraries Associate Dean Kent Miller arrived at my office door with a small glass bottle. The demolition crew had found it in INSIDE the wall as they took down the case, so it was obviously placed there during construction.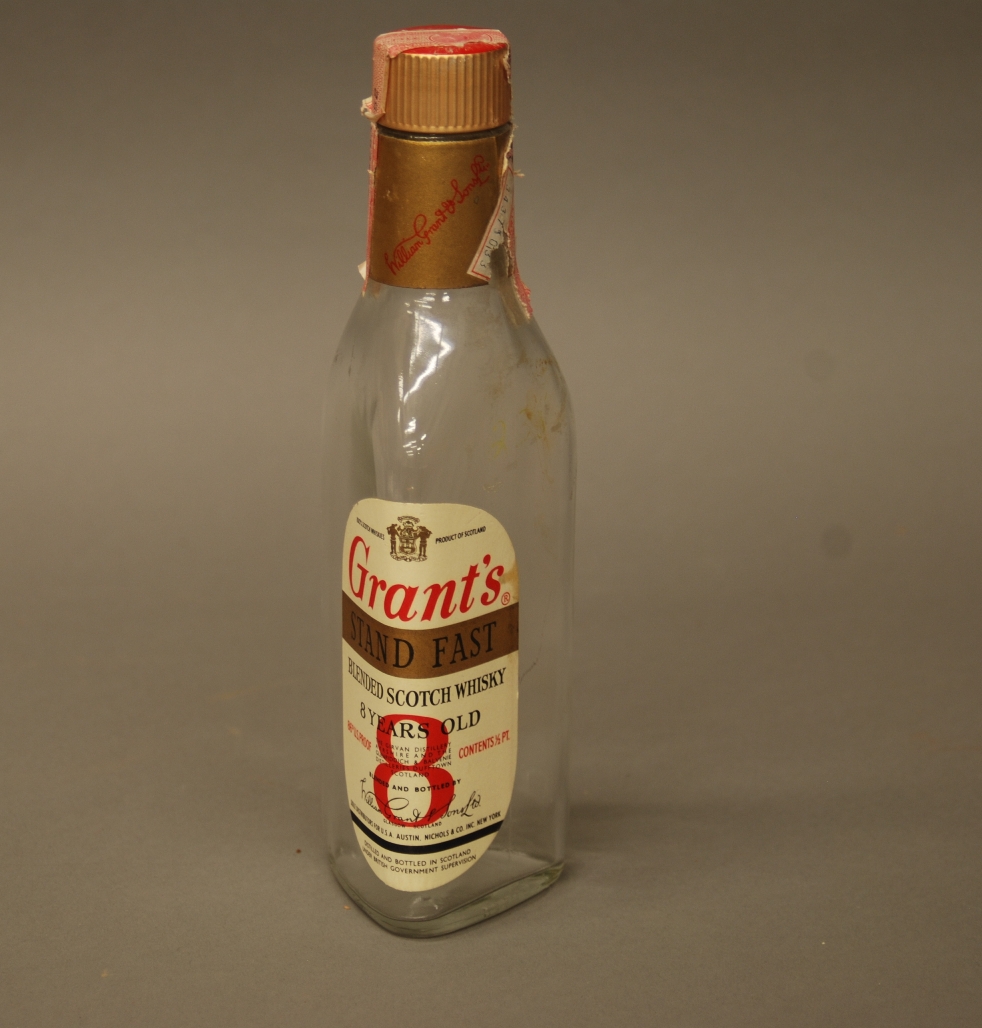 This bottle of Grant's Stand Fast Scotch (8 years old) is empty, but still has the tax sticker, and you can see a yellow notation of "238." I have no idea what a half-pint of scotch costs now, so I'm not sure this would reasonably have been a price in the late 1960s—perhaps it means something entirely different. I am certainly not a historian of alcohol, international commerce, or product design. But I have been keeping this bottle in my office and thinking a lot about it lately as we continue to rethink the physical spaces that we inhabit.
First of all, this bottle was empty, so I'm wondering who drank it, and when. Was it a construction worker who brought it from home as a lark? Or was it consumed in situ? I have been told of a tradition where building workers leave behind something, like a mark that will be covered by paint, to claim their work. If this is the case, who could this bottle of scotch have served as a signature? Or perhaps a prankster staff member snuck it in during construction? Is the person who did this still in Lawrence, and have I unknowingly seen them at Dillon's?
Forbidden substances, of course, have a colorful history in libraries, and the Spencer Library is no exception. We still prohibit food and drink in most areas, although we maintain a robust schedule of catered events, and our staff members have a comfortable break room as well. We are scrupulous about removing trash every day to discourage pests and protect collections even from a seemingly harmless glass of water. Smoking has been prohibited for decades, but I remember sneaking a smoke in what is now one of our classrooms when I was a student assistant, something that is inconceivable now. We certainly never would have expected whiskey-drinking construction workers to leave behind evidence, but we do still need to remind visitors that their Cokes and Skittles should be consumed outside.
I spend a lot of time imagining how these amazing spaces may evolve, and this small time capsule forces me to consider how it once was. The care and dedication and craftsmanship that led to this beautiful building reflects a time when even a utilitarian item like an alcohol bottle seems to have been created a little more carefully. The processes for printing both the duty stamp and the label itself were much more labor-intensive than in the computerized present. And while I celebrate the changes we have brought to make our library more functional, more inviting, and more comfortable, I'm tempted to raise a glass to the people who put that bottle in the wall forty-five years ago, reminding me of where we have been as we look towards where we want to go.
Beth M. Whittaker
Head of Kenneth Spencer Research Library
Tags: Beth M. Whittaker, construction, mysteries, oddities, Processing, renovations, scotch, time capsule, whiskey