World War I Letters of Milo H. Main: March 11-24, 1919
In honor of the centennial of World War I, this is the second series in which we follow the experiences of one American soldier: twenty-five year old Milo H. Main, whose letters are held in Spencer's Kansas Collection. On Mondays we'll post a new entry featuring selected letters from Milo to his family from that following week, one hundred years after he wrote them.
Milo Hugh Main was born in or near Pittsfield, Illinois, on November 21, 1892 to William and Rose Ella Henry Main. The family moved to Argonia, Sumner County, Kansas, in 1901. After his mother died in 1906, Milo remained in Argonia with his father and his two sisters Gladys (b. 1890) and June (b. 1899). His youngest sister Fern (b. 1905) was sent to live with relatives in Illinois.
As Milo reported to the Kansas State Historical Society in 1919, after graduating from high school he worked as a store clerk. He resigned in July 1917 and took a position at Standard Oil Company, possibly co-managing a gas station in Argonia.
Milo entered into military service on September 21, 1917. He served as a wagoner – a person who drives a wagon or transports goods by wagon – in Battery F, 130th Field Artillery. He was stationed at Camp Funston (September-October 1917) and Camp Doniphan (October 1917-May 1918). On May 19, 1918, he boarded the ship Ceramic in New York City and departed for Europe.
In his letter of March 16th, Milo writes about having "a light touch of the" flu, driving across France to his new post, and "renting a furnished room with two big feather beds and a stove."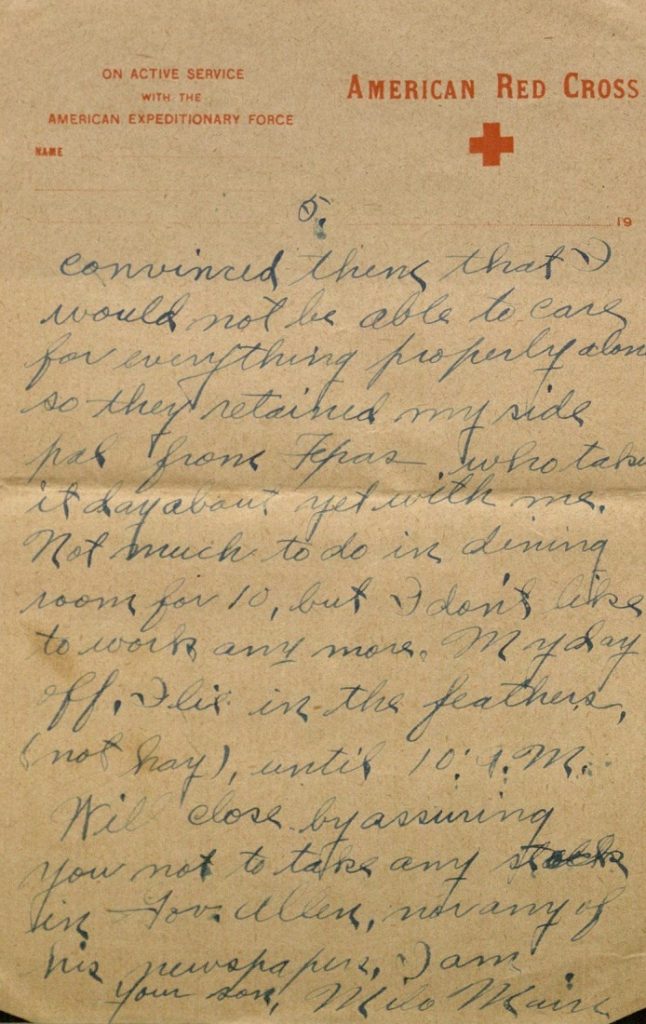 M. Main.
Bat. F. 130 F.A.
35 Divn. A.E.F.
March 16th 1919.
Bonnetable, France.
Dear Father and Sisters:-
Have recieved four letters from you during the past week.
Well, we are here in southern France, but have not gone thru the classification camp at Le Mons yet. It will probably be our next move as it is only 40 kilometers from here.
Will be at least 30 days before we get out of this Frog eating Land of France.
Yes, I had a light touch of the "Flu" but, I took the champagne in time to prevent any serious illness. Sure am feeling fine now. Have seen all the boys here recently and all are well.
I was quite fortunate in my trip from Ernecourt to Bonnetable. Came overland in the 130 F.A. Auto Convoy. Four days in making the trip. Sure saw all the best wheat and wine districts of France. We ate and slept in good hotels thru-out the journey. Four days making the trip, always stopped in a good city for the nite. Saw more keen women those four days than ever before except in Paris.
Have the Col.'s mess, (10 officers, staff) in a French home here. The madam is cooking. The best mess ever. I am a there on putting away this real food. I even serve it Frog style now. Sure a fine home we have mess in. Also a fair daughter of 22 yrs.
Will enclose a card of one of the better lookers.
Three of we O.M. boys rented a furnished room with two big feather beds and a stove in it. Gas light too. Col. ordered all men in Bat. [Battalion] not to room out like this. But we are not under the direct command of anyone so are keeping it quiet. The officers wanted me to wait table every day, but no, I convinced them that I would not be able to care for everything properly alone so they retained my side pal from Texas who takes it day about yet with me. Not much to do in dining room for 10, but I don't like to work any more. My day off, I lie in the feathers, (not hay), until 10:A.M.
Will close by assuring you not to take any stock in Gov. Allen, nor any of his newspapers,
I am
Your son,
Milo Main.
Meredith Huff
Public Services
Emma Piazza
Public Services Student Assistant
Tags: correspondence, Emma Piazza, Kansas Collection, Meredith Huff, Milo H. Main, World War I