World War I Letters of Forrest W. Bassett: September 18-24, 1917
In honor of the centennial of World War I, we're going to follow the experiences of one American soldier: nineteen-year-old Forrest W. Bassett, whose letters are held in Spencer's Kansas Collection. Each Monday we'll post a new entry, which will feature selected letters from Forrest to thirteen-year-old Ava Marie Shaw from that following week, one hundred years after he wrote them.
Forrest W. Bassett was born in Beloit, Wisconsin, on December 21, 1897 to Daniel F. and Ida V. Bassett. On July 20, 1917 he was sworn into military service at Jefferson Barracks near St. Louis, Missouri. Soon after, he was transferred to Fort Leavenworth, Kansas, for training as a radio operator in Company A of the U. S. Signal Corps' 6th Field Battalion.
Ava Marie Shaw was born in Chicago, Illinois, on October 12, 1903 to Robert and Esther Shaw. Both of Marie's parents – and her three older siblings – were born in Wisconsin. By 1910 the family was living in Woodstock, Illinois, northwest of Chicago. By 1917 they were in Beloit.
Frequently mentioned in the letters are Forrest's older half-sister Blanche Treadway (born 1883), who had married Arthur Poquette in 1904, and Marie's older sister Ethel (born 1896).
Highlights from this week's letters include the sad news of a friend's death and happier news of Forrest's promotion to first class private ("this simply means that I have qualified in examinations and that I will get $33 a month instead of $30").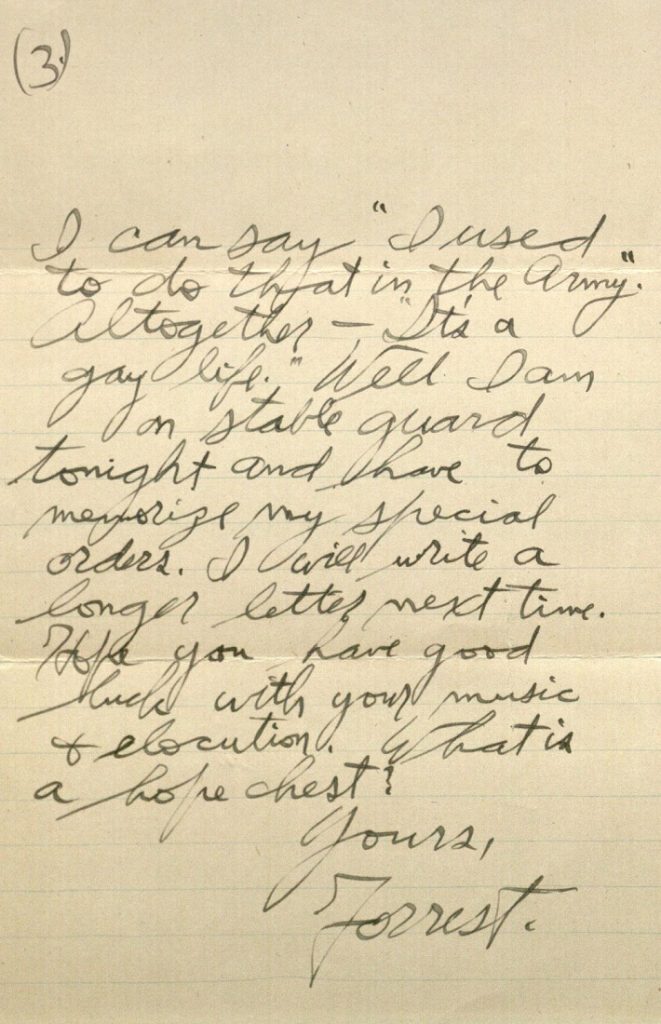 Click images to enlarge.
Wednesday Sept. 19th
Dear Marie,
I am sending you a couple cards. One is of Stock and I and the other is of me. Yesterday I got three letters from you which made up for Sun. and Mon. I couldn't dope out what was wrong after missing two days. That sure was bad news about Wooll Beimer,* he was a mighty good old scout. Sorry to hear that you are having trouble with your arm. I got a little infection in my jaw and had to have it dressed this morning and again before supper. It will be all O.K. in a few days then I will get some more pictures of Stock and I. Last night I developed a W. Pocket film and washed a shirt and a pair of pants. Guess I will have to get a picture of me scrubbing. It's our favorite indoor sport. When I get home I can say "I used to do that in the Army." Altogether – "It's a gay life." Well I am on stable guard tonight and have to memorize my special orders, I will write a longer letter next time. Hope you have good luck with your music and elocution. What is a hope chest?
Yours,
Forrest.
Sat. Sept. 22, 1917
Dear Marie,
Your candy came in fine shape and tasted great. I am going to stand pat on my resolution not to eat sweets. Don't worry about not doing anything to help me; you are doing more than anyone else could do. Thanks for the candy. Don't let Blanche kid you about your letters. I didn't think Snyder would stoop to girls of M.W's type but I shall not lose any sleep over him. He was not much of a friend of mine anyway. I guess I never had any real friends until I came here among these fellows. Your two pictures came fine. Marie, you can't imagine how they made me feel. You don't look like the same laughing little girl that sat in the canoe holding the duck. (Have you got that picture?) No one could see your two pictures without seeing what a big, warm-hearted lovable girl you are. I showed them to Stock and he said, "No wonder you are so loyal to her." This is true Marie, and he said a whole lot in a few words. Marie, I will always be loyal to you and I will try to make myself as nearly worthy of you as I can.
I am glad you are doing so well with your music and hope you will have good luck in the work, and in the recital. I don't play any here and doubt if I ever will again. There is always something to do. Wednesday my name was on the list of promotions and I am now a first class private. This simply means that I have qualified in examinations and that I will get $33 a month instead of $30. I am mighty glad that I have made good in a radio company before going into the photographic section.
From now on I am going to take a little more time and write to you oftener. There isn't much to write about but will write what little I can. Last Thursday "Old Specks," the horse that got me, claimed his seventh and last victim, Corporal Ryan. Ever since my hard luck this horse has been tied all alone and groomed by the non-com officers. He got Ryan the same way he got me. When they took him over to the hospital he had a deep gash on the cheek-bone just below the left eye. He had to have several stitches taken in it and it is all blue and swollen around the eye. I am getting along O.K. but had to have my jaw dressed twice daily the last three days. One day they had a bandage going around my neck, over my head and around the right side of my jaw all for a little cut about an inch long. They were going to keep me in the hospital once but I begged off.
The captain gave orders that no one should go near "Old Specks" now so he is left in the corral. Well I am down to the City and will have to catch the next car home. An order has just been posted that no soldiers will be allowed to board cars thru the windows so we will have to learn a new way of getting seats.
Gee, I wish I could here you give that recital. Don't send any more fudges because I will not eat any more – unless I can eat them with you.
Yours,
Forrest.
*The Janesville (Wisconsin) Daily Gazette reported the following story on Wednesday, September 12, 1917: "Willard Beimer, of the three brothers of this city whose athletic ability on high school and college teams have gained them considerable repute hereabouts, lies today at the point of death. A four weeks' fight against typhoid at his home here [Beloit] has been a losing one, and at a consultation of physicians this noon, his chances for recovery were stated to be slim. The young man was taken ill while at work in Gary, Ind., last month. He completed his first year at Beloit college last spring. He was a member of the Delta Phi Upsilon."
A follow-up article on Monday, September 17, 1917 reported that Beimer "died at his home at five o'clock Sunday afternoon…The funeral will be held Tuesday."
Meredith Huff
Public Services
Emma Piazza
Public Services Student Assistant
Tags: Ava Marie Shaw, correspondence, Emma Piazza, Forrest W. Bassett, Fort Leavenworth, Kansas Collection, Meredith Huff, World War I