World War I Letters of Forrest W. Bassett: November 6-12, 1917
In honor of the centennial of World War I, we're going to follow the experiences of one American soldier: nineteen-year-old Forrest W. Bassett, whose letters are held in Spencer's Kansas Collection. Each Monday we'll post a new entry, which will feature selected letters from Forrest to thirteen-year-old Ava Marie Shaw from that following week, one hundred years after he wrote them.
Forrest W. Bassett was born in Beloit, Wisconsin, on December 21, 1897 to Daniel F. and Ida V. Bassett. On July 20, 1917 he was sworn into military service at Jefferson Barracks near St. Louis, Missouri. Soon after, he was transferred to Fort Leavenworth, Kansas, for training as a radio operator in Company A of the U. S. Signal Corps' 6th Field Battalion.
Ava Marie Shaw was born in Chicago, Illinois, on October 12, 1903 to Robert and Esther Shaw. Both of Marie's parents – and her three older siblings – were born in Wisconsin. By 1910 the family was living in Woodstock, Illinois, northwest of Chicago. By 1917 they were in Beloit.
Frequently mentioned in the letters are Forrest's older half-sister Blanche Treadway (born 1883), who had married Arthur Poquette in 1904, and Marie's older sister Ethel (born 1896).
Previous letters have alluded to photographs being exchanged between Forrest and Ava. These photos appear to have not survived with the collection. However, one of the pictures Forrest sent Ava this week has been preserved with the letters, and it's shown below with his caption.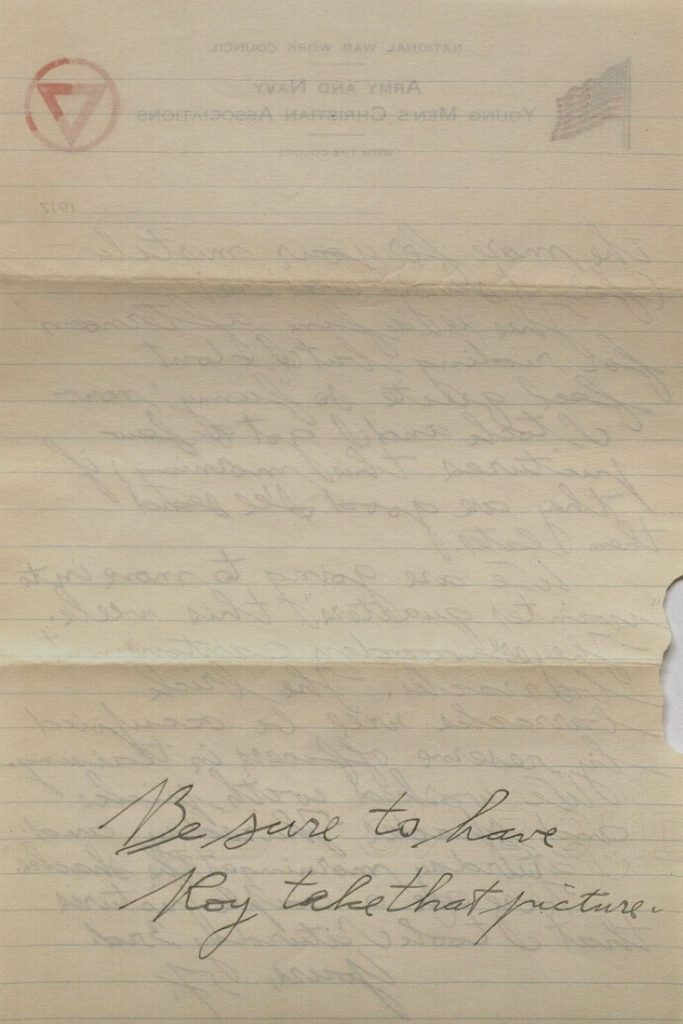 Click images to enlarge.
Sunday, Nov. 11, 1917
Dear Marie,
Was glad to hear that you are getting along so well in school. I am afraid that my report for that grade does not come up to yours.
Let's forget all about that letter. It really was my fault anyway – I am pretty well acquainted with the feeling that prompted you the write that way. Wouldn't you feel better if you went out more for good times among your boy and girl friends?
Anyway I do understand perfectly, and like you all the more for your mistake – (for it surely was one).
This is a fine afternoon for riding but I don't feel quite so "funny" now. Stock and I got a few pictures this morning; if they are good I'll send them later.
We are going to move into "winter quarters" this week. They are wooden cantonment barracks. The brick barracks will be occupied by reserve officers in training. We worked with picks and spades Thursday and Saturday morning at the "shacks."
Here are a couple pictures that I took Saturday 3rd.
Yours,
F.
Be sure to have Roy take that picture.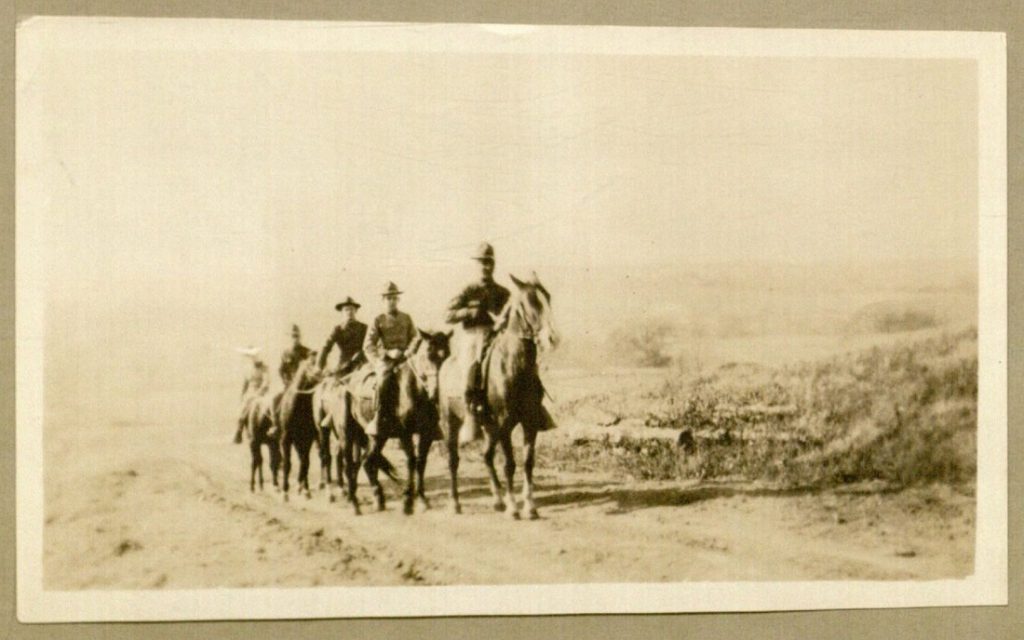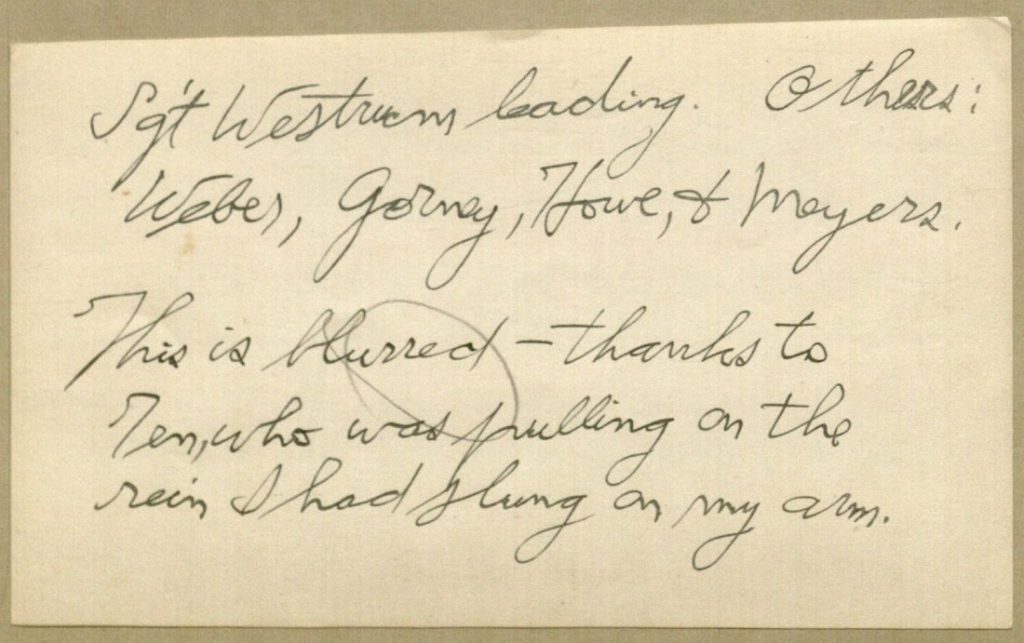 Click images to enlarge.
Sg't Westrum leading. Others: Weber, Gorney, Howe, & Meyers.
This is blurred – thanks to Ten, who was pulling on the rein I had slung on my arm.
Meredith Huff
Public Services
Emma Piazza
Public Services Student Assistant
Tags: Ava Marie Shaw, correspondence, Emma Piazza, Forrest W. Bassett, Fort Leavenworth, Kansas Collection, Meredith Huff, World War I