University Archives Internship
During the summer of 2018 I've had the opportunity to work in the University Archives at Spencer Research Library as part of a Museum Studies student internship. Since my emphasis is in archival work, my projects throughout the summer covered a variety of related archives topics. Since I was initially hired on as a research assistant for a special project on the Jayhawk, I've mostly been working with primary source documents concerning the history of the school and the mascot.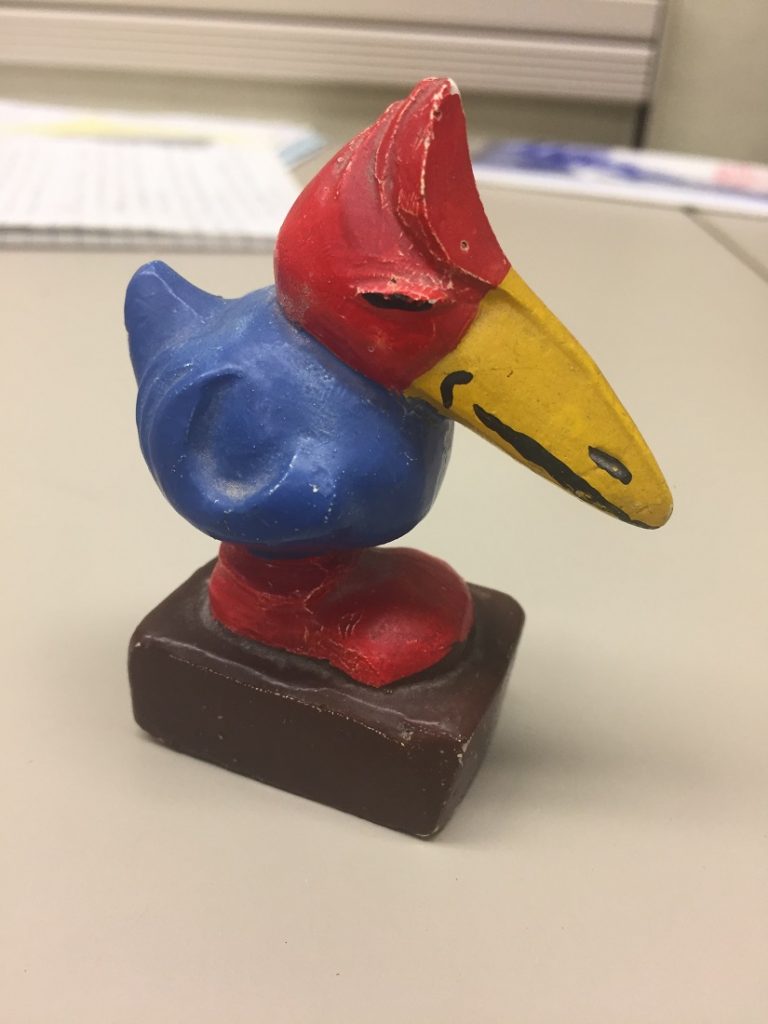 A Jayhawk artifact in University Archives. Click image to enlarge.
While that project is ongoing, with still many image files to be organized, my internship projects have acted as a general introduction to the functions of the University Archives. I had the opportunity to learn about processing of new materials by working with some new arrivals from the Pi Beta Phi sorority. These materials ranged in date from the formation of the chapter in 1873 to the mid-1970s — over a century of history. Processing involved creating new file boxes to hold scrapbooks, club minutes, chapter histories, signature books, and expenditure records. Other unique documents included calendars, songbooks, programs, membership cards, letters, pledge books, sorority newsletters, and photographs. The much-anticipated opportunity to handle the photographs also introduced me to the process of inter-filing.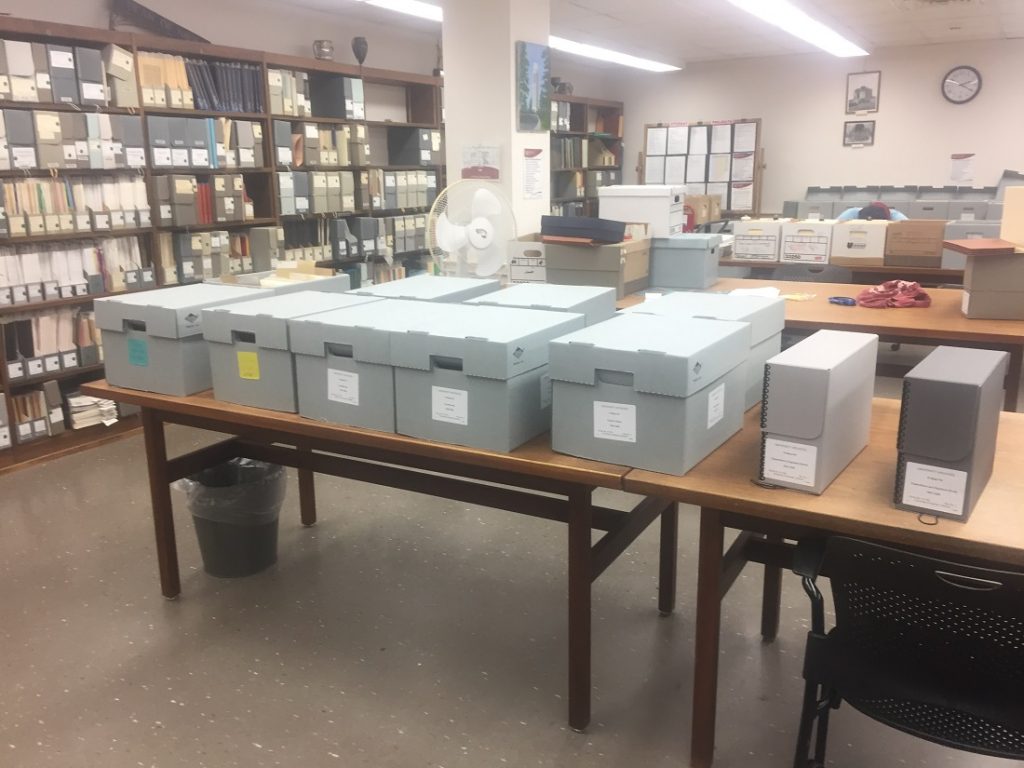 Pi Beta Phi records in University Archives. Click image to enlarge.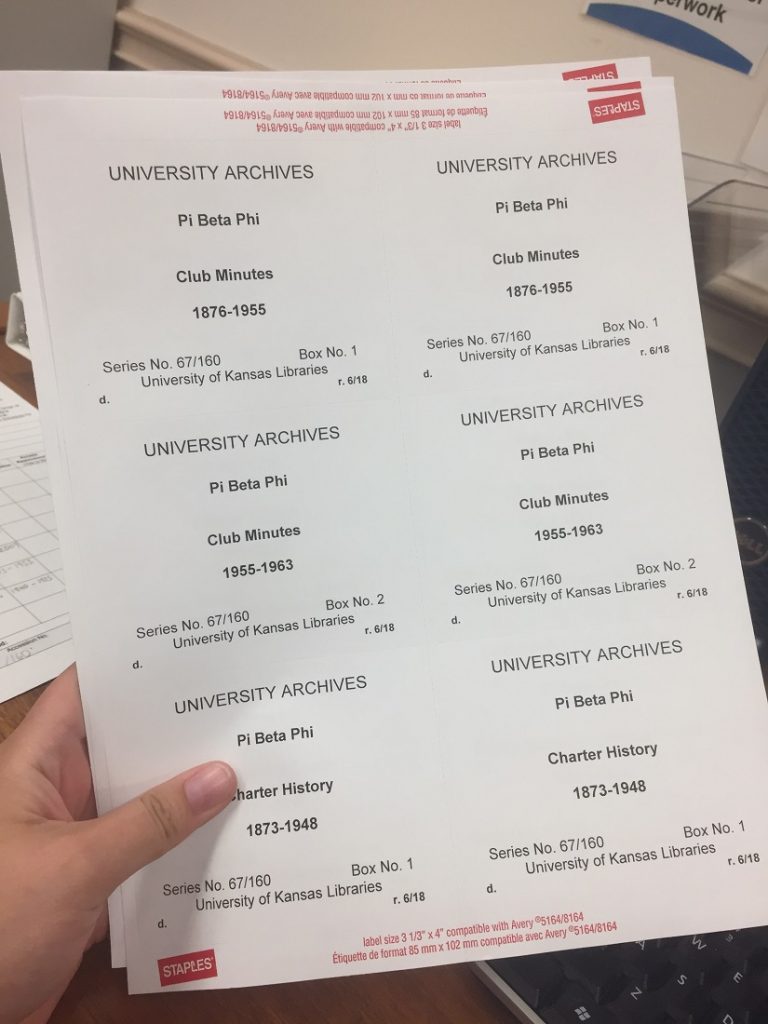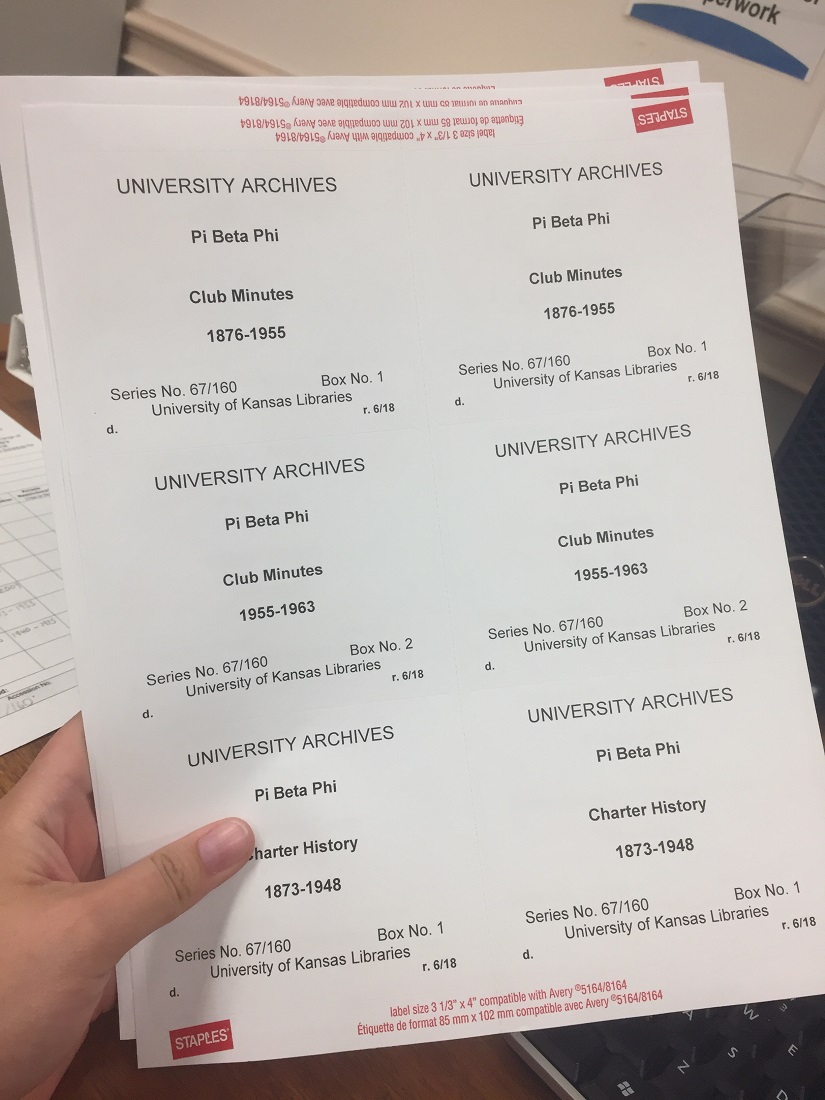 Labels for Pi Beta Phi records in University Archives.
Click image to enlarge.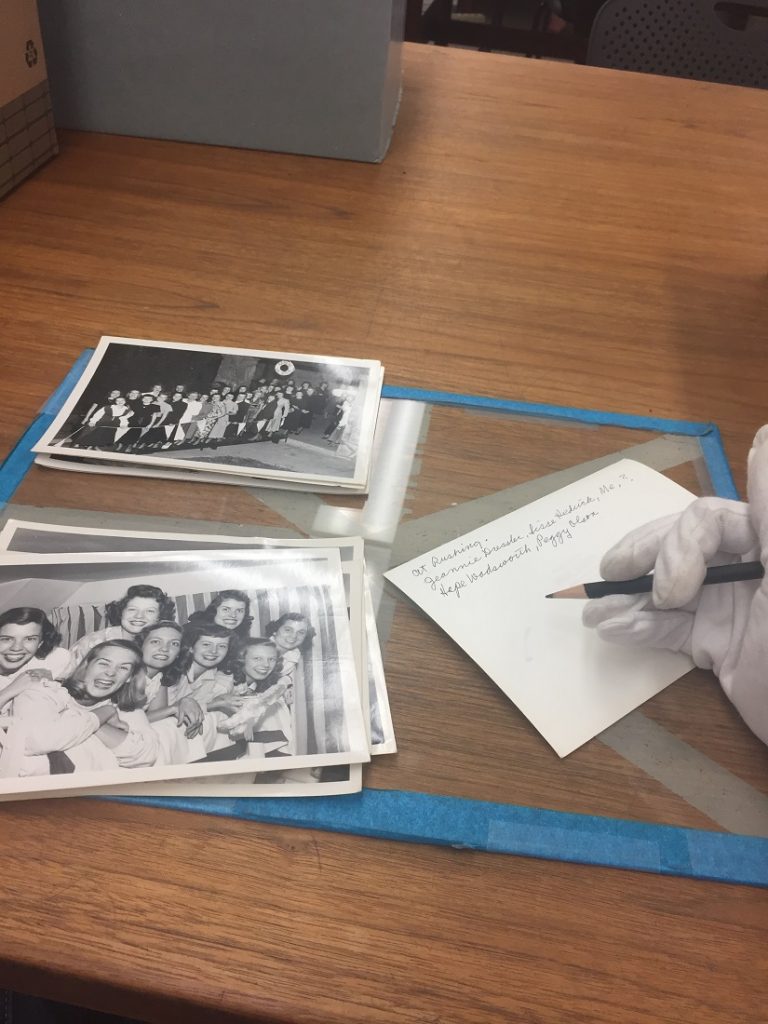 Processing Pi Beta Phi photographs in University Archives.
Click image to enlarge.
The other major project that I was assigned this summer was to create an exhibit to be displayed at Spencer during the month of August. The exhibit would incorporate materials from the Archives and would discuss an aspect of KU history. The topic that I finally decided to use was enrollment — specifically, enrollment before the time of computers. It was a fascinating subject to research, personally having only known a time of computerized college enrollment. It's easy to forget that the process once had to be done in person, utilizing multiple buildings and a complicated system of codes, cards, and queues. The exhibit will feature various documents related to the enrollment process, covering five decades. My intention is to inform visitors on the evolution of enrollment and registration up to the obsolescence of the punch-card method. I think most of the intrigue will come from that element of obsolescence and the campus-wide chaos that would often ensue every semester.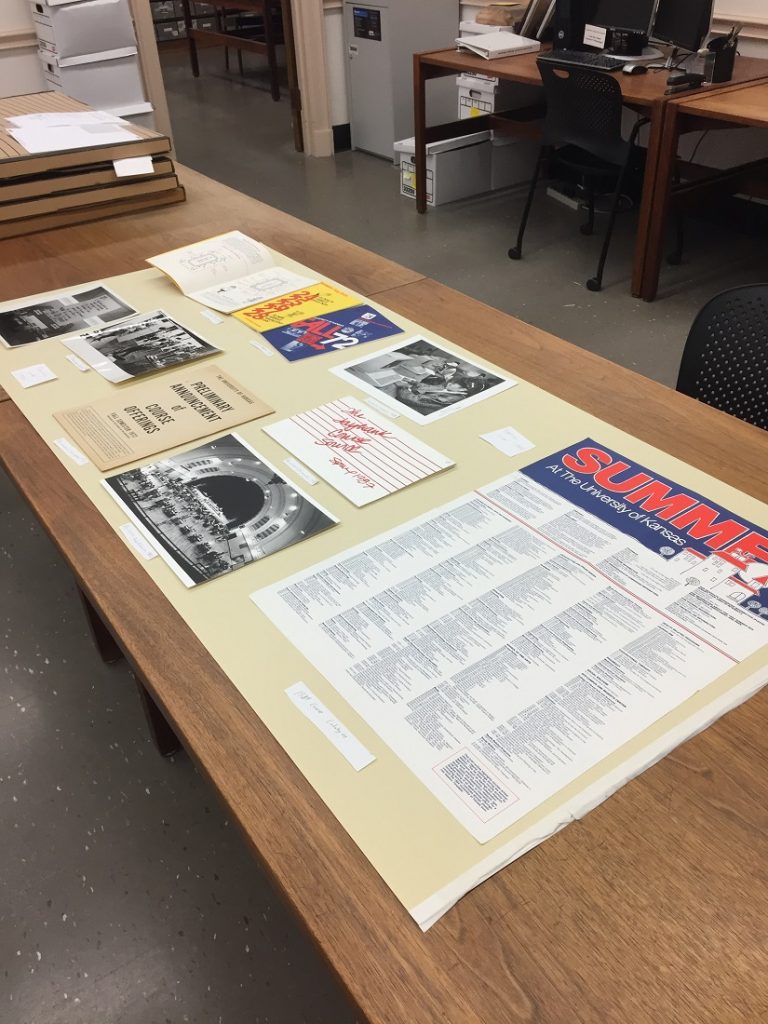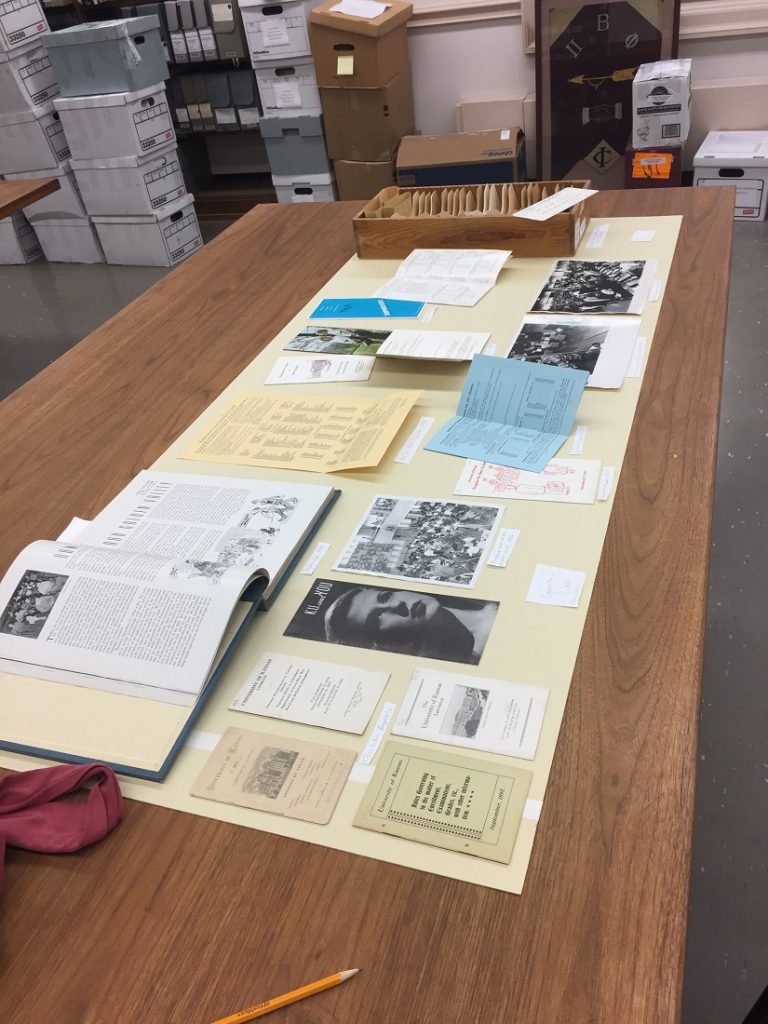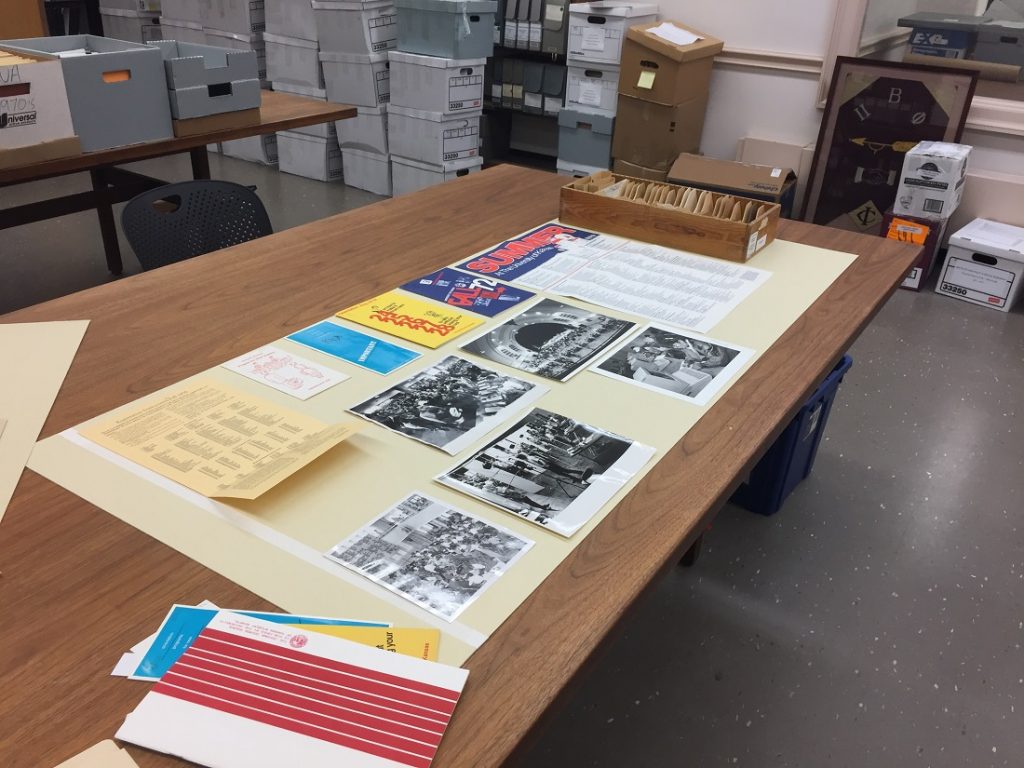 Developing a temporary exhibit for University Archives.
Click images to enlarge.
Additionally, I've enjoyed the opportunity to interview and work alongside many wonderful staff members at Spencer Research Library. I want to thank Becky Schulte, Letha Johnson, Whitney Baker, Caitlin Klepper, Meredith Huff, and Marcella Huggard for allowing me speak to them about their positions, responsibilities, and functions within the library.
Mallory Harrell
KU Museum Studies graduate student and University Archives intern
Tags: Behind the Scenes, Internship, Mallory Harrell, University Archives