Throwback Thursday: Mary Evelyn Ransom Strong Edition
Each week we'll be posting a photograph from University Archives that shows a scene from KU's past. We've also scanned more than 34,500 images from KU's University Archives and made them available online; be sure to check them out!
This week's photograph was selected in honor of International Women's Day and Women's History Month.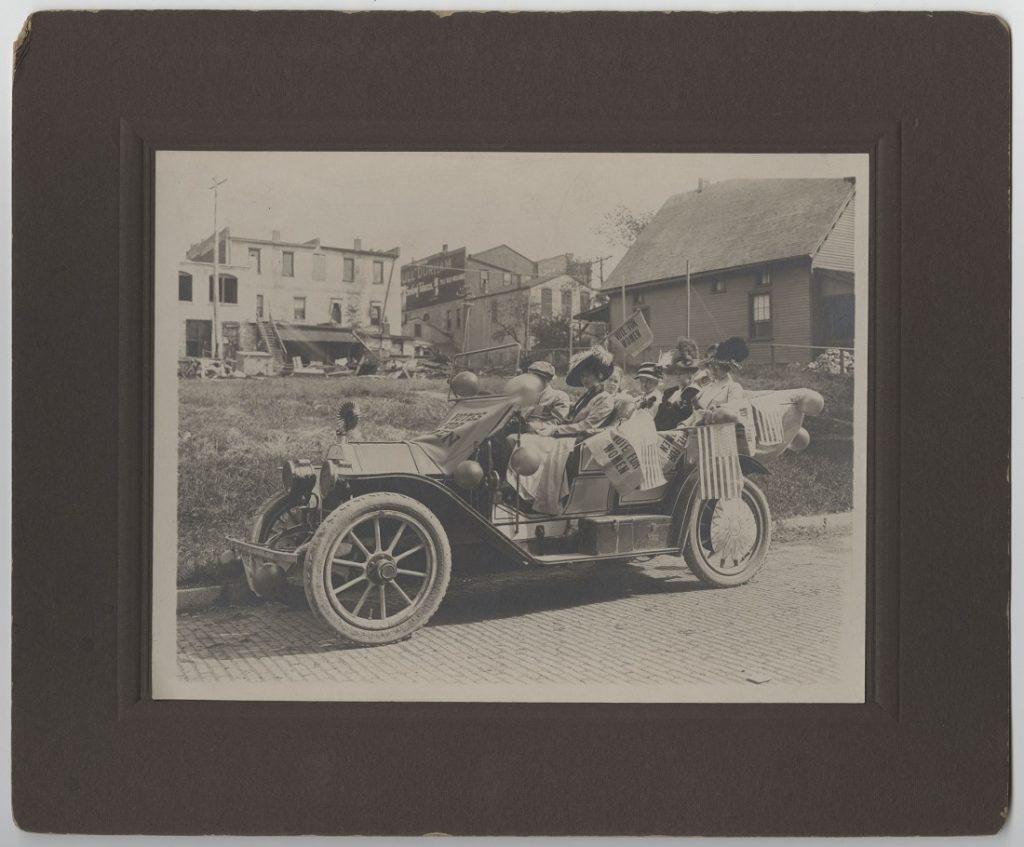 Mary Evelyn Ransom Strong, sitting in the back seat with a dark coat,
campaigning for women's suffrage in Lawrence, 1912.
University Archives Photos. Call Number: RG 2/8 Family 1912 Prints:
Chancellors: Frank Strong: Family (Photos). Click image to enlarge.
Throughout her life, Mary Strong (1870-1953), the wife of KU Chancellor Frank Strong, was active in the suffrage movement, especially in Kansas. She was "integral" to Kansas voters approving the Equal Suffrage Amendment to the state constitution on November 5, 1912, making Kansas the eighth state to grant full suffrage to women.
Preliminary evidence suggests that the photograph was taken on Vermont Street just north of Tenth, looking east toward Massachusetts Street. According to notation on the back of the print, the "Methodist Church [is] at right and back of car." In his book Across the Years on Mount Oread, Robert Taft captioned the image by noting that "the photograph was taken on Vermont street and looks towards Massachusetts" (124). These two pieces of information, checked against the 1912 Lawrence Sanborn fire insurance map, suggest that the church in the background is the First Methodist Episcopal Church, now the First United Methodist Church.
Caitlin Donnelly
Head of Public Services
Melissa Kleinschmidt and Abbey Ulrich
Public Services Student Assistants
Tags: Abbey Ulrich, Caitlin Donnelly, Chancellor Frank Strong, First Methodist Episcopal Church of Lawrence, First United Methodist Church of Lawrence, KU History, Mary Evelyn Ransom Strong, Massachusetts Street, Melissa Kleinschmidt, Suffrage, Throwback Thursday, University Archives, University history, University of Kansas, Vermont Street, women, women writers, Women's history