July 3rd, 2013
Beside marking the United States' 237th birthday, tomorrow is also the 150th anniversary of the fall of Vicksburg, Mississippi, a turning point of the Civil War. Spencer's Kansas Collection contains a handful of accounts by Union soldiers who participated in the siege and capture of the bluff city on the Mississippi River. The most detailed record is contained within seven diaries kept by James W. Jessee (1838-1907).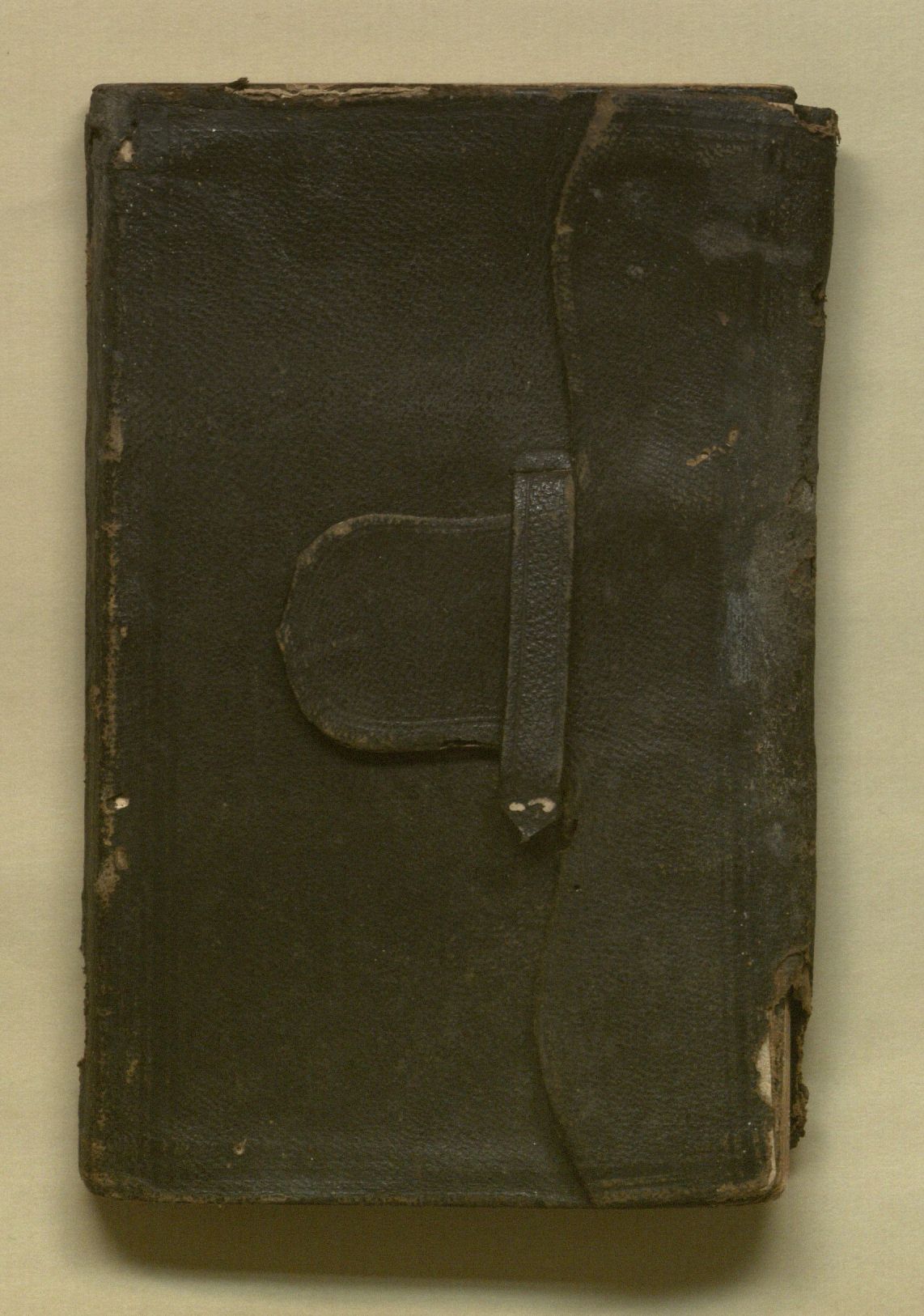 Cover of James W. Jessee's Diary. December 1, 1862 – August 2, 1863.
James W. Jessee Papers. Call number: RH VLT MS E4 Vol. 3.
Within his diaries, James recorded the day-by-day details of his three years as a corporal, and then sergeant, in Co. K, 8th Regiment of Illinois Volunteer Infantry. He included descriptions of army life, commentary about the war's progress, updates about the weather and his health, and accounts of his regiment's involvement in some of the most significant campaigns and battles of the Western Theater.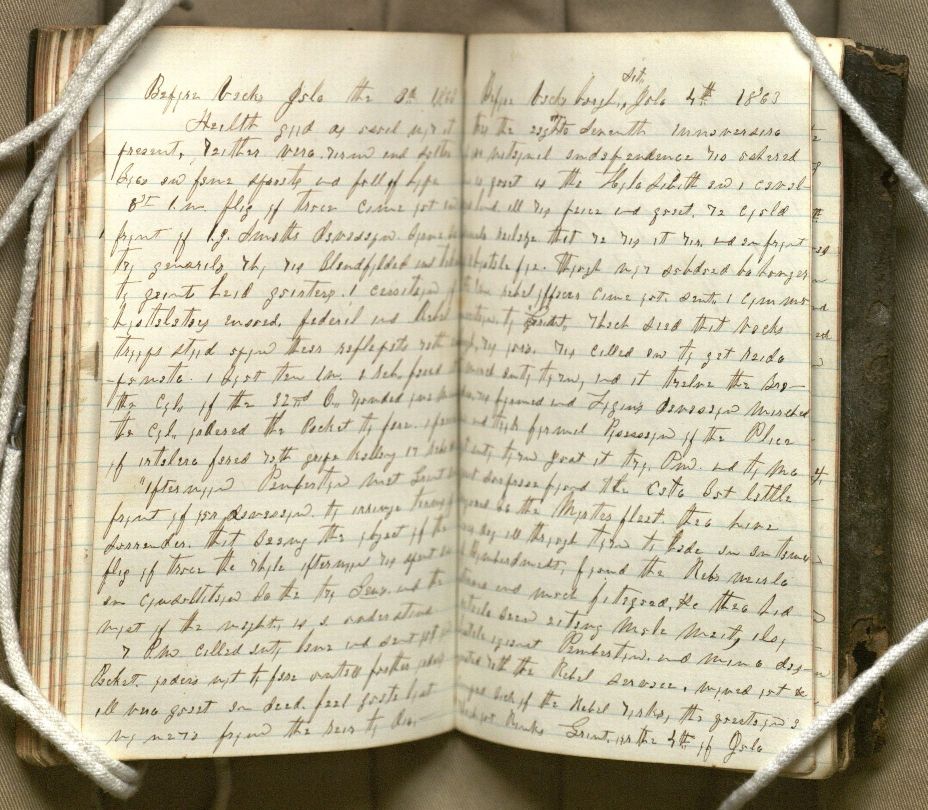 James W. Jessee's diary entry for July 3rd and 4th, 1863. James W. Jessee Papers.
Call number: RH VLT MS E4, Vol. 3. Click image to enlarge.
Above are James's diary entries for July 3rd and 4th, 1863. Like other sections of the diary, they were written in a code apparently devised by James: vowels, "y," and "w" are substituted with the numbers one through seven. Luckily, James's great-great-grandson Alan D. Selig has transcribed the diaries, returning them to standard English while retaining original spelling, punctuation, and capitalization.
Before Vicks July the 3d 1863 Health good as usual now at present. Weather very warm and Sultry Boys in fine spirits and full of hope
8t A.M. flag of truce came out in front of A. G. Smiths division. Borne By two generals who was Blindfolded and taken to [Union general Ulysses S.] grants head quarters. A cessation of hostilities ensued. federal and Rebel troops stood upon their rifle pits with impunity. a Bout ten A.M. a reb. fired at the Col. of the 32d C. wounded one man the Col. ordered the Picket to fire. a peice of artilery fired with grape killing 17 rebs &c
afternoon [Confederate general John C.] Pemberton met Grant in front of our division. to arrange terms of Surrender. that Being the object of the flag of truce the whole afternoon was spent in in consultation By the two Gen's. and the most of the night, as I understand.
7 P.M. called into line and sent out on Picket. orders not to fire untill further orders all very quiet indeed. feel quite lost.
no news from the rear to day. —
Before Vicksburgh, Sat. July 4th 1863 thus the eighty Seventh anniversary of our national independence was ushered in as quiet as the Holy Sabath in a civilized land. all was peace and quiet. we could scarcely realize that we was at war. and in front of a hostile foe. though now subdued by hunger 8t A. m. rebel officers came out. sent a communication to "Grant" which said that vicksburgh was ours. was called in to get ready to march into town, and at twelve the Brigade was formed and [Union general John A.] Logan's division marched in and took formal Possession of the Place got into town just at two. PM. and to my great surprise found the City But little injured By the Morter fleet. they have caves dug all through town to hide in in times of Bombardment, found the Rebs nearly starved and much fatigued. &c they had actualy Been eating mule meat, also hostile against Pemberton. and many disgusted with the Rebel service. moved out & camped Back of the Rebel works, the question is which out Ranks Grant or the 4th of July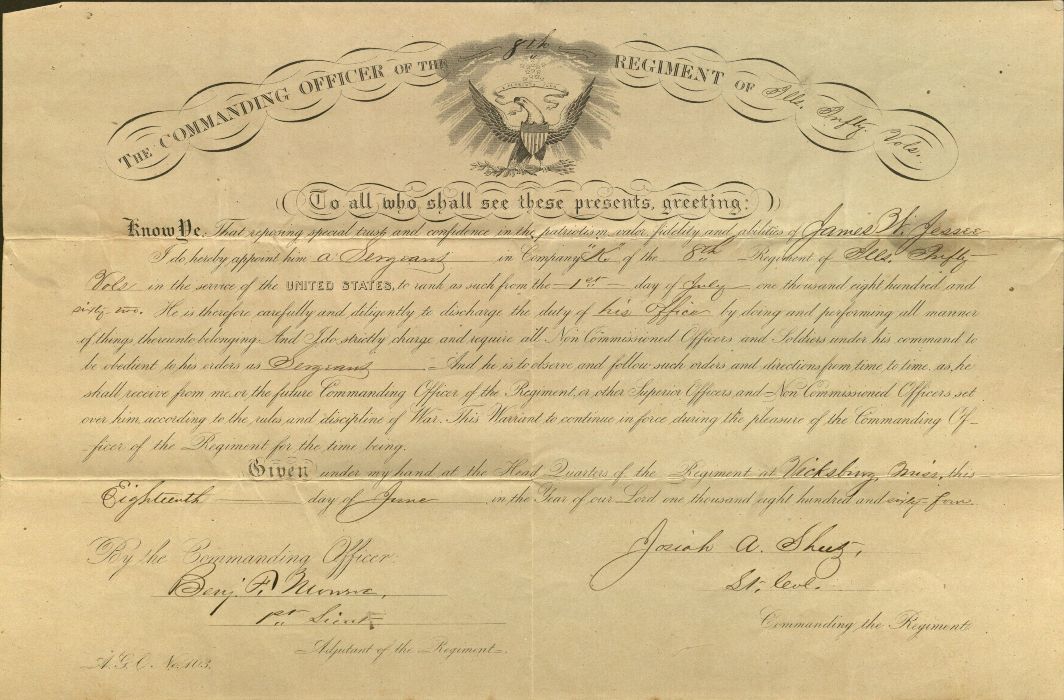 James W. Jessee's appointment to Sergeant, Co. "K," 8th Illinois, June 18, 1864.
James W. Jessee Papers. Call number: RH MS Q68. Click image to enlarge.
Born and raised in central Illinois, James W. Jessee moved to Kansas with his family when it became a territory in 1854. As residents of Douglas County, members of the Jessee family were active in the free-state cause. James returned to Illinois in the winter of 1858, settling in as a farmer and preacher. The twenty-two year old mustered into the 8th Illinois on June 25, 1861; records at the Illinois State Archives describe him as 5′ 8 1/2″ with brown hair, hazel eyes, and a light complexion. After mustering out of the army on July 30, 1864, James once again became an Illinois farmer. He, his wife Marie Caroline Standiford Jessee (1847-1922), and their children later relocated to Kansas, settling on a farm in Osage County where James resided until his death.
Caitlin Donnelly
Head of Public Services