January 4th, 2013
Sometimes deterioration can be a useful tool for discovering how a book was made. This example, in poor condition, allows us to see how the book's boards were constructed. Rather than one piece of wood or paperboard, the boards are made from layers of stiff paper glued together with starch paste. Each board is comprised of twelve layers of "printer's waste," or discarded pages from other books available for use by the bookbinder. The printed pages used were printed in both black and red ink, probably dating from a 15th century bible.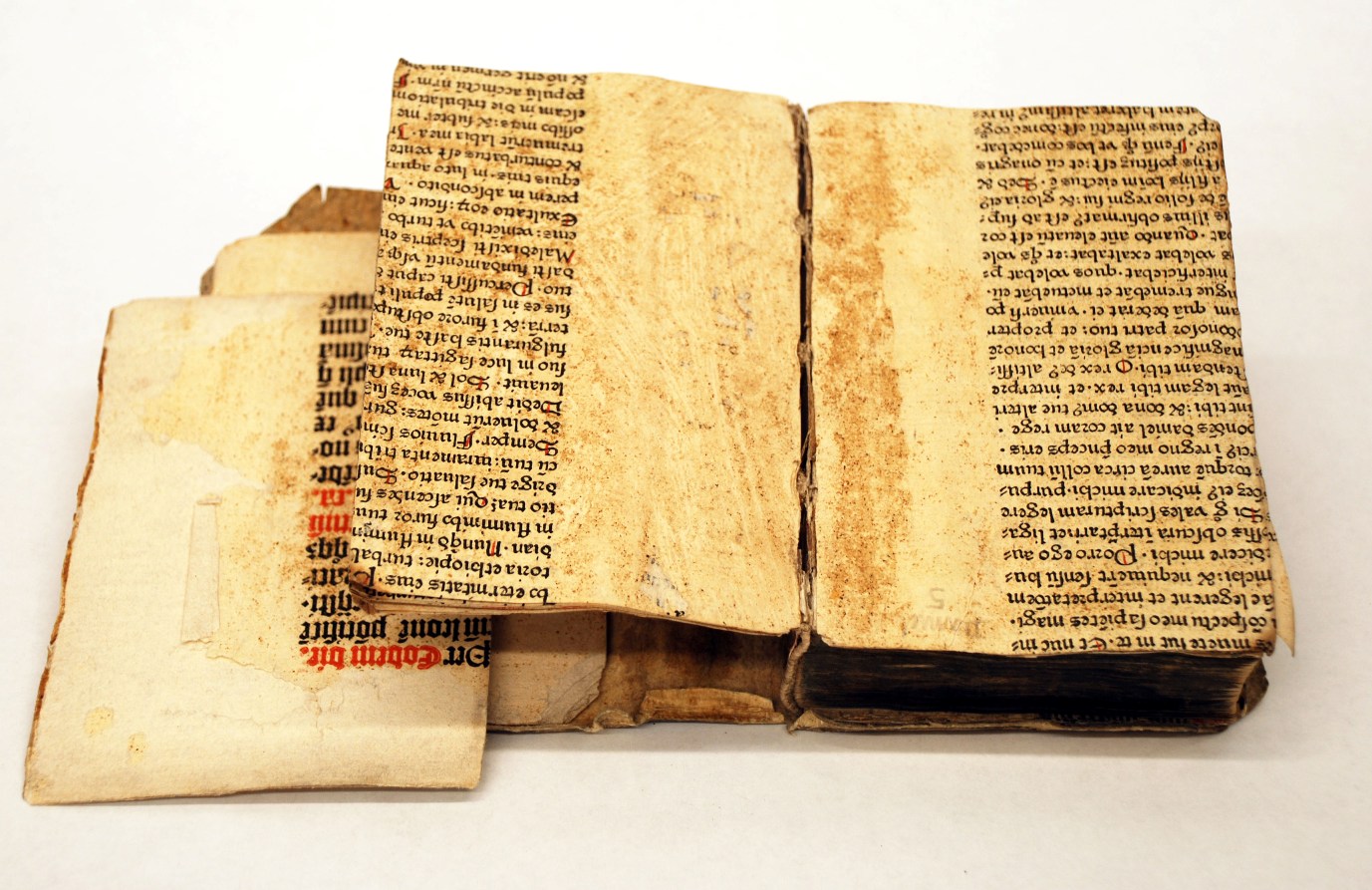 Andreas Fabricius. Chemnicensis. [Germany?, 1549?]. [Bound with printed work: Joachim Camerius, 1500-1574 . Capita pietatis et religionis Christianae versibus Graecis comprehensa ad institutionem puerilem […], Lipsiae: V. Papa, 1547]. Call number: MS B38. Left: binding open to see the book's insides; Right: title page for the manuscript; Bottom: book open to show the layers of board.  Click images to enlarge.
The tooled pigskin cover is detached, allowing us to see how the book was sewn on three pairs of linen cords. The cord ends were frayed out and glued to the outside of the "boards." Linen cords were used as a core to sew on decorative endbands at the head and tail (top and bottom) of the spine.
Left: the book's tooled pigskin cover; Right: detail of frayed cords.  Click images to enlarge.
The text of this book is a combination of printed and manuscript pages. The subject appears to be a handbook of logic, grammar, and rhetoric. It is a true composite object!
Click on the thumbnails below for additional  images:
Whitney Baker
Head, Conservation Services
Note: For more detailed information regarding the contents of this volume, please see entry M115 in A Checklist of Medieval Manuscripts in the Department of Special Collections at the Kenneth Spencer Research Library (Revised edition, 1996), which is available in the library's reading room.