March 14th, 2013
St. Patrick's Day is this Sunday, March 17, so we thought we would highlight a fascinating artifact from the Kenneth Spencer Research Library's rich Irish holdings.
This autograph book, dating from 1921, contains entries by inmates at Ballykinlar Internment Camp.  Located in County Down in what is now Northern Ireland, Ballykinlar was a British-run camp that housed Irish prisoners during the Anglo-Irish War, also known as the Irish War of Independence (1919-1921).



Top: opening featuring an embellished camp credit ticket (left); Middle: opening featuring an inscription in Irish (right); Bottom: opening featuring a sketch and an inscription in shorthand.  Autograph Book, Ballykinlar Internment Camp, 1921. Call Number: MS K19. Click images to enlarge.
The book's pages are filled with the internees' inscriptions, drawings, patriotic sentiments, quotations, and poems (composed in English, Gaelic, and even shorthand).  Prisoners were housed in huts, as depicted in the sketch below, and many, like the author of the poem on the facing page, included their hut numbers when they signed their names.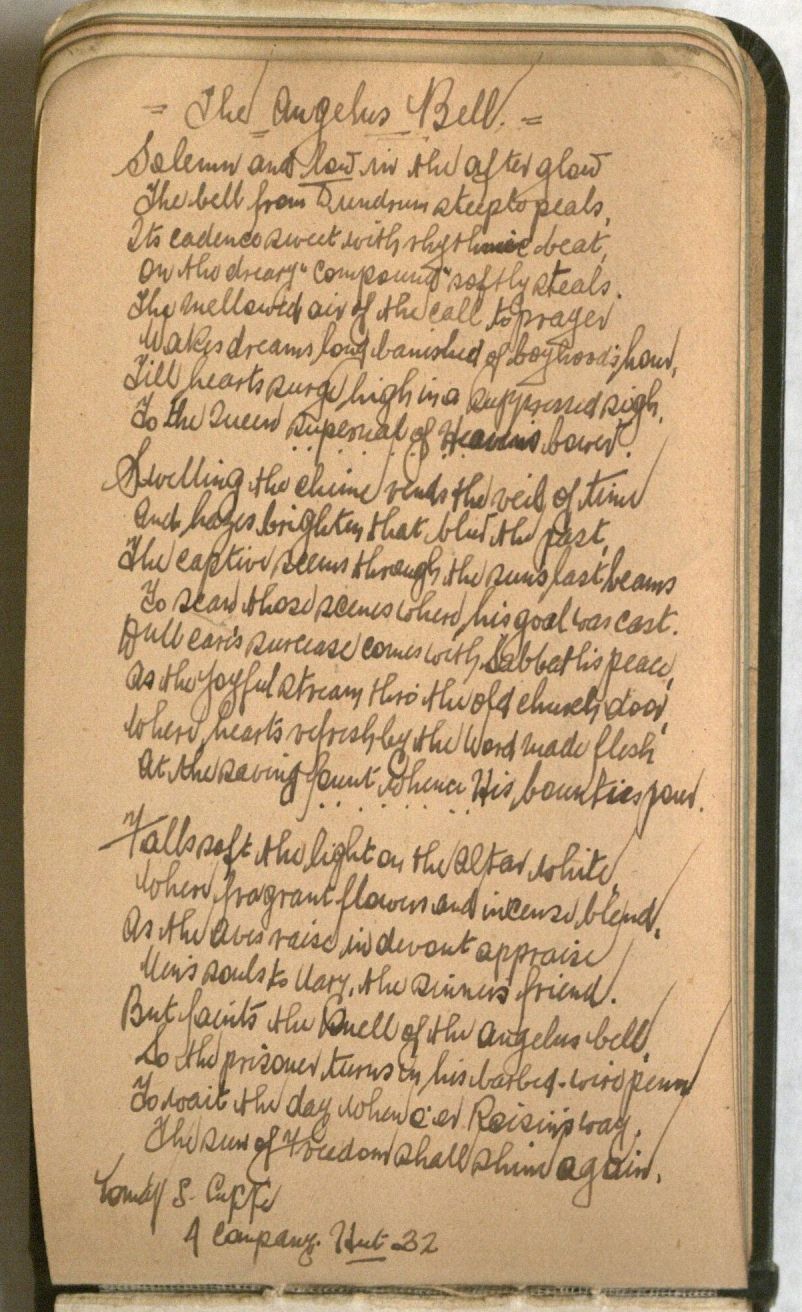 Last stanza of the poem "The Angelus Bell", written in the autograph book by a Ballykinlar internee:
[….]
Falls soft the light on the Altar white
When fragrant flowers and incense blend
And as the Aves raise in devout appraise
Men's souls to Mary, the sinner's friend.
But faint's the knell of the Angelus bell,
So the prisoner turns in his barbed-wire pen
To wait the day whenev'r Risings may [?],
The sun of Freedom shall shine again.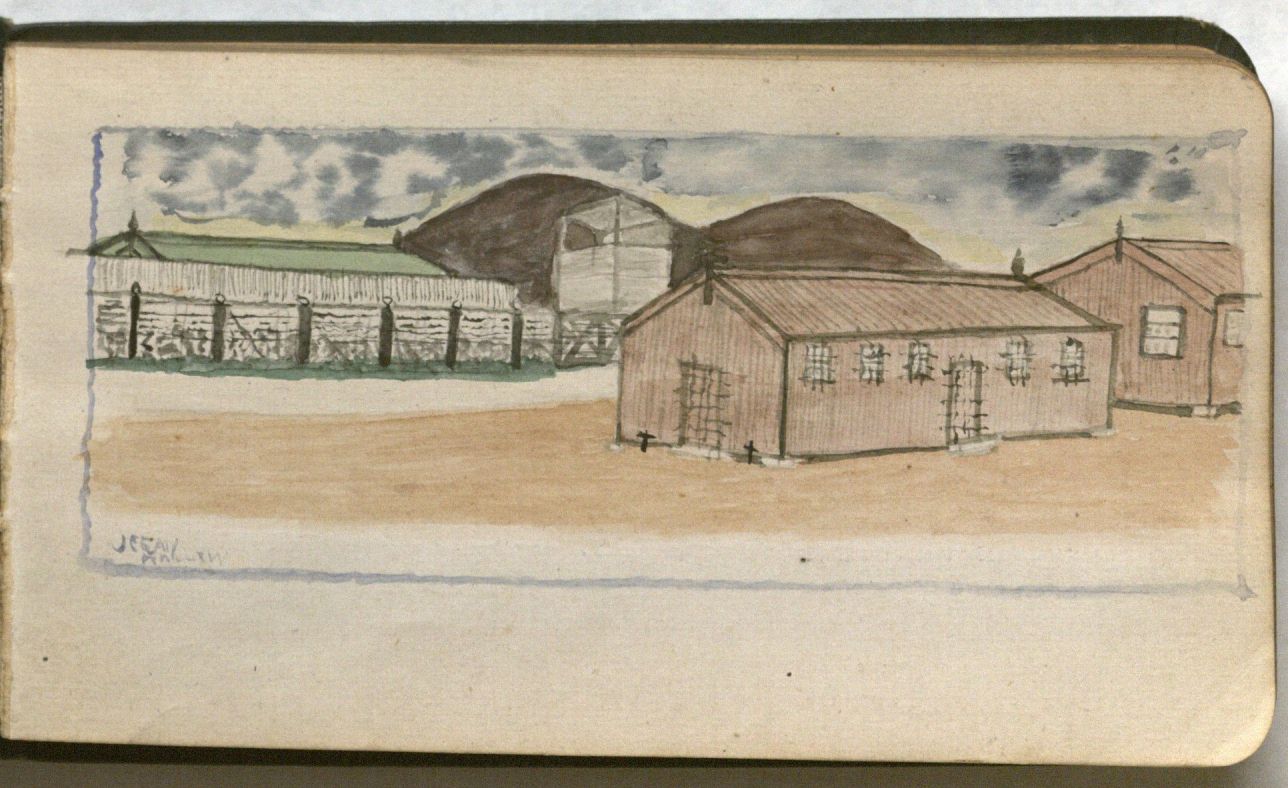 Poem "The Angelus Bell"  inscribed by an internee and facing page sketch of the camp. Autograph Book, Ballykinlar Internment Camp, 1921. Call Number: MS K19. Click images to enlarge.
This manuscript volume came to the Spencer Library from Ireland as part of the 25,000 item collection of Irish nationalist, civil servant, and book collector, P. S. O'Hegarty (1879-1955).  The collection is particularly strong in publications and ephemera related to Irish politics as well as literature of the Irish Literary Renaissance.  O'Hegarty's  library contains another internment camp autograph book from the early twentieth century.  This second book belonged to a man named Paul Cusack, who was first a prisoner at Frongoch Internment Camp in Wales in 1916 following the Easter Rising and then later at Mountjoy Prison in Dublin in 1921 (Call Number: MS K18).  The portion of Cusack's autograph book that dates from 1916 includes an inscription that appears to be by fellow Frongoch inmate Terence MacSwiney.  MacSwiney later became Lord Mayor of Cork and died during a hunger strike while incarcerated in Brixton Prison in 1920.  Autograph books such as these offer insight into an important period in Irish history.
To learn more about the Kenneth Spencer Research Library's Irish Collections, visit the overview of Spencer's Irish holdings on our website or delve deeper with our Irish Collections Lib Guide (especially helpful for identifying our Irish manuscript holdings).
Looking for St. Patrick's Day-themed activities in town?  Lawrence's annual St. Patrick's Day parade will take place on March 17, 2013 at 1:30pm. On March 23, the Irish Roots Cafe will host a musical event at the Grenada, which will include Sean Nós style song in the Irish language.
Elspeth Healey
Special Collections Librarian