May 23rd, 2013
For the last two years, I've had the joy of leading a tour for a group of very energetic library users, a group that will not need to create Aeon accounts, but does need to be reminded to use their walking feet. I'm talking about the Lawrence Community Nursery School, a cooperative preschool that has existed since the 1940s. In addition to being the school where my children attend(ed) preschool, LCNS has another special relationship with the Kenneth Spencer Research Library. Like many community and civic organizations, the co-op gives their historical archives to the Kansas Collection. In fact, during the school's last parent work day, I picked up a new accession of records that will soon be added to our collection (RH MS 616).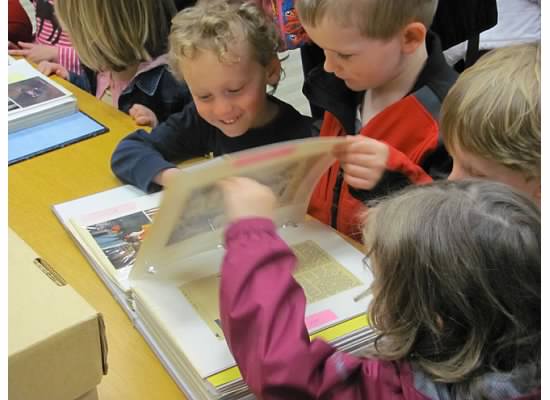 Students from the Lawrence Community Nursery School examine historic
photograph albums from the Kansas Collection.
It's always exciting, when giving a tour of the building, to see what holds a particular group's attention. This is even more the case when the group in question has an average age of 4.5 years old. This year, fewer children wanted to touch the 4000 year old clay tablets than to page through the photo albums to see what the playground used to look like. The horn books, which generally elicit audible squeals once their purpose is understood, seemed strangely uninteresting this time around. And, of course, the 100 Years of Jayhawks: 1912-2012 exhibit, complete with cardboard Jayhawks, was hard to compete with.
I always remind our visitors that the collections we hold are theirs to use. And in some cases, such as the many community groups with which we work to document their essential work, the collections would not be possible without them in the first place. Looking at the faces of these eager children as they examine photographs of their beloved school from decades past, it's hard not to feel excited about the future of our mission.
Beth M. Whittaker
Assistant Dean for Distinctive Collections and Director of Kenneth Spencer Research Library