September 18th, 2015
Achievement of a Dream: The Birth of the University of Kansas, Spencer Library's newest exhibit, opened on September 11, 2015.
The exhibit, developed in conjunction with the celebration of the 150th anniversary of the University, was curated by University Archivist Rebecca Schulte and Assistant Archivist Letha Johnson, with assistance from KU 150 Research Archivist JoJo Palko. It highlights original documents, photographs, and memorabilia that tell the story of the early years of the University from its beginnings in 1865 to the turn of the twentieth century. Exhibition items include Chancellor John Fraser's Civil War-era Union lieutenant's uniform and sword, early student activity photographs, and the diploma of KU's first graduate, Flora Richardson. Whitney Baker, Head of Conservation Services at KU Libraries, and Angela Andres, Library Preservation Assistant, provided display support and conservation guidance.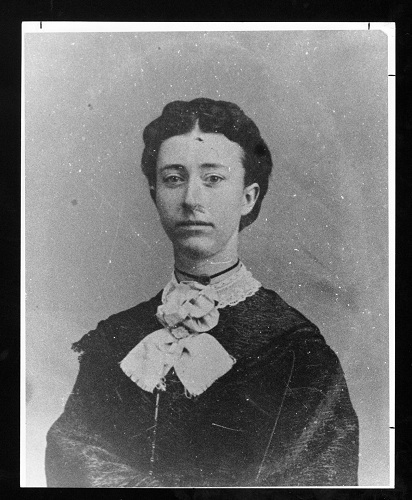 Flora Richardson, valedictorian of KU's first graduating class (1873).
University Archives Photos. Call Number: P/ Richardson, Flora: People (Photos).
Click image to enlarge (redirect to Spencer's digital collections).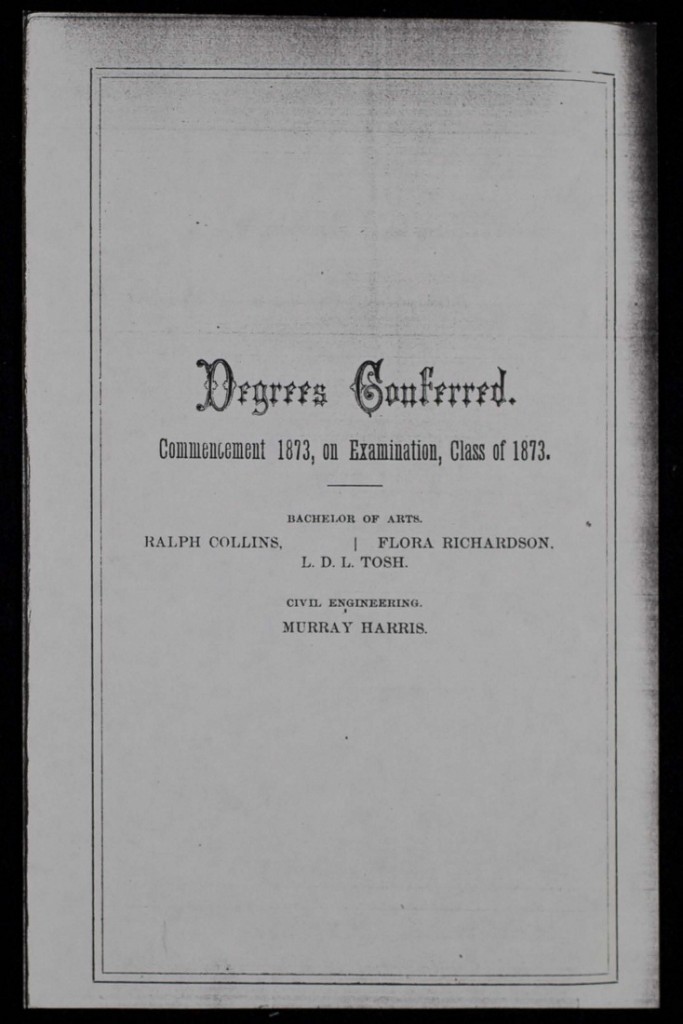 "Degrees Conferred. Commencement 1873, on Examination, Class of 1873."
University Archives. Call Number: LD 2693 .U55 1873.
Click image to enlarge. See more documents from KU's first
commencement at Archives Online, part of KU ScholarWorks.
There had been many female students at the University of Kansas since it first opened in 1866 as a preparatory school, but only one has the double distinction of first graduate and class valedictorian: Flora Richardson. Flora graduated with the first class in 1873, earning a Bachelor of Arts. At commencement she spoke at length on the "Uses of Superstition." She argued that superstition, though allegedly "hurtful to man's progress," actually furthered intellectual inquiry by inspiring reverent curiosity about the world. The speech was a success; the Daily Kansan Tribune lauded her performance, declaring that "the young lady came forward tastefully and elegantly attired in white, and delivered her oration in a firm, though pleasant voice."
Flora's remarkable collegiate career included joining the Oread Literary Society and being a founding member of the Kappa chapter of the "I.C. Sorosis" sorority, which in 1888 changed its name to Pi Beta Phi. She even created KU's first entomological collection, a 140-specimen group including everything from cockroaches to walking sticks, as a pupil of Professor (and later Chancellor) Francis Huntington Snow.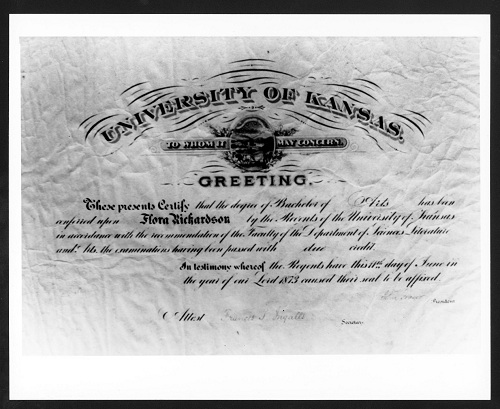 Flora Richardson's diploma from the University of Kansas, 1873.
This was the first diploma ever awarded by KU.
Generously loaned to University Archives from Flora Richardson's family.
Click image to enlarge (redirect to Spencer's digital collections).
Flora's diploma, the first ever awarded by KU, is now on display at Spencer Research Library as part of Achievement of a Dream: The Birth of the University of Kansas. The exhibit is free and open to the public in the Spencer Exhibit Space, located on the library's third floor. The library is open Monday through Friday, 9:00am to 5:00pm; during the fall and spring semesters, when KU classes are in session, it is also open on Saturday, 9:00am to 1:00pm. For other closings and hours during semester breaks and holidays, see our Exception Dates.
JoJo Palko
KU 150 Research Archivist
University Archives