July 12th, 2013
…a cuneiform clay tablet a little over 4000 years old!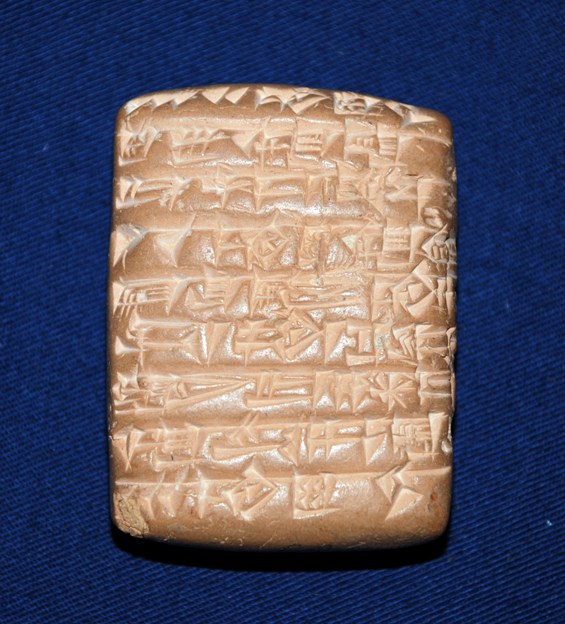 Ancient History: Cuneiform clay tablet, Umma, ca. 2055 BCE.
Call number: MS Q4:4. Click to enlarge.
This small baked clay tablet dates from ca. 2055 BCE in Umma in southern Mesopotamia (the location of modern-day Iraq).  Like many cuneiform tablets, it is an administrative document: in this case, an inventory of materials — such as asphalt, bitumen, and fish-oil — used in caulking the ship Ur-Gilgamesh.
Cuneiform is among the earliest systems of writing. It involves pressing signs into soft clay with a wedge-shaped tool. The tablet pictured above is in the Sumerian language; however, the library also holds later tablets in Akkadian.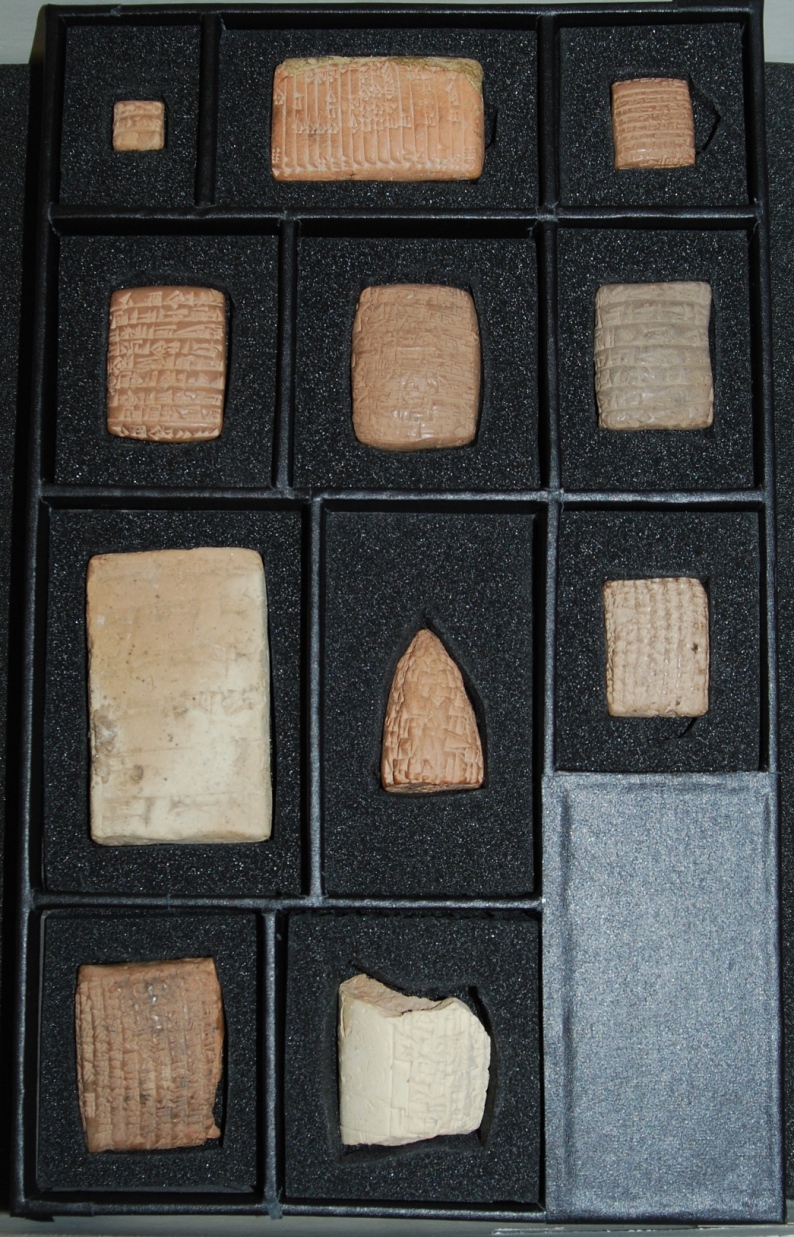 Spencer's cuneiform tablets, ca. 2112-529 BCE. Call Number: MS Q4. Click image to enlarge.
In all, Spencer houses eleven cuneiform tablets. The smallest of these (MS Q4:1, the top left tablet in the box) may possibly be even older than the ship caulking inventory. However, since it lacks a date of rule, its age can only be narrowed to likely sometime during the Third Dynasty of Ur, ca. 2112-2004 BCE. Interestingly, this tiny tablet is itself a receipt for something small: one dead lamb. Other tablets in the collection include votive inscriptions praising King Singashid of Uruk and Amnanum (MS Q:7-8) and a court record concerning a missing servant (MS Q4:10).
Since the ability to read Sumerian and Akkadian is a fairly specialized skill (we're guessing you didn't learn it in grade school either), Spencer has been fortunate enough to benefit from the expertise of its researchers.  Thanks to scholars and KU faculty members, such as Professor Paul Mirecki in the Department of Religious Studies, we are able to give a much better answer to the frequently asked question, "What's the oldest thing in the library?"
Karen S. Cook and Elspeth Healey
Special Collections Librarians