Summertime in University Archives: Artifacts, Books, and Photographs, Oh My!
As an intern in the University Archives at the Kenneth Spencer Research Library this summer, I experienced and accomplished many projects and duties. It feels like just yesterday that I received an interesting and varied list of assignments at the beginning of June. Where did the summer go? Let me show you.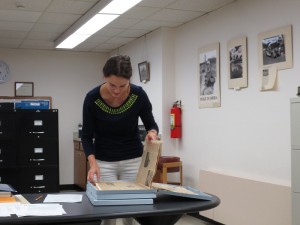 University Archives Intern JoJo Palko. Click image to enlarge.
Part of the story starts back in the fall of the 2013. I was hired as a research assistant for the publication of KU's 150th anniversary book, Toward the Blue, working out of the University Archives. Fast forward to May and we are selecting the photographs and images to be used in the book. By the end of May, the other research assistant, the editors, and I had compiled a selection of over 200 images from the archives. So what was waiting for me when I started my internship? You guessed it—those photographs (funny how that worked). Over the course of a few weeks, I entered the metadata for each image. Fortunately for me (and you) these photographs are little treasures from the university's past and I really enjoyed going through every single one. I have selected a few to share here.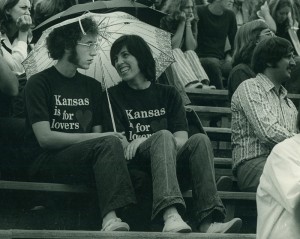 Indeed, Kansas is for lovers! Two football fans show their
spirit in true 70s fashion. University Archives Photos.
Call Number: RG 71/66/14 1973 Prints: Student Activities: Football (Photos).
Click image to enlarge.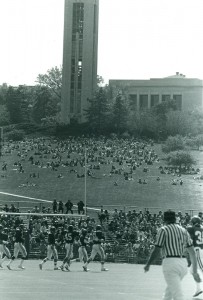 View of the hill and campanile during a
football game, 1975-1976. University Archives Photos.
Call Number: RG 71/0 1975-1976 Prints: Student Activities (Photos).
Click image to enlarge.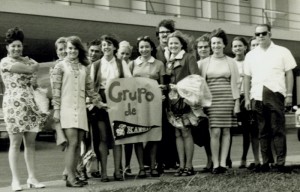 Grupo de Kansas, a group of KU students, arriving in Costa Rica, 1970.
University Archives Photos. Call Number: RG 12/1 1970 Prints: International
Programs: Study Abroad (Photos). Click image to enlarge.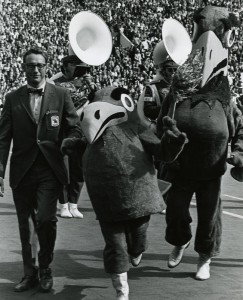 Chancellor Laurence Chalmers with new Baby Jay at Homecoming, 1971.
University Archives Photos. Call Number: RG 2/13 1971 Prints: Chancellors:
Chalmers (Photos). Click image to enlarge.
One other project that took up most of my time was to reorganize, house, and label the archive's artifacts and to update the database and spreadsheet to make it more efficient for anyone to look up these items in the future. I started the process with a large book truck full of items that were not labeled, not housed, and not in any order that made sense. I panicked. How was I supposed to go through this truck plus the other two boxes full of items? Luckily, my supervisor, University Archivist Becky Schulte, calmed me down and told me to take it one step at a time. I managed to figure out what record group every object belonged in, found a box for those that needed it, labeled them, and entered the information into the databases. That was the end of a very long first step. The second step was just as much fun. There are three rooms that house the University Archive's artifacts. In order to make room for the new additions, an entire reorganization of the rooms needed to occur. On the positive side, for those few weeks I did not need to work on my upper body at the gym. On the negative side, artifacts continued to come out their hiding places (behind doors) and others were found that needed labels or boxes. As I put the finishing touches on this project, I am really satisfied with how everything turned out and I loved seeing all the interesting "stuff." Check out the images below to see the final results!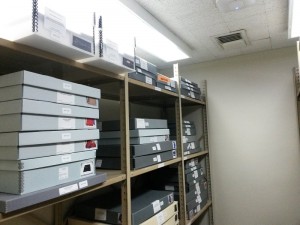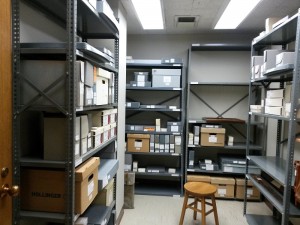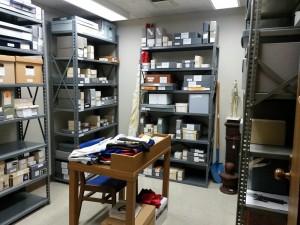 The three above photos show University Archives artifact rooms after
the completion of my reorganization project. Click images to enlarge.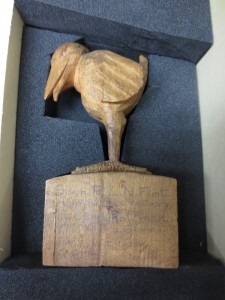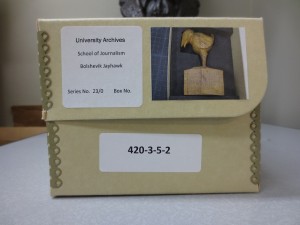 This Bolshevik Jayhawk Statue – also shown in its new housing created by the Libraries'
Conservation Department – was sent to the School of Journalism in 1921 by a
former KU student who found it in a Bolshevik Prison camp. University Archives Artifacts.
Call Number: RG 23/0 School of Journalism (Artifacts). Click images to enlarge.
Besides the larger artifacts and metadata projects, I was kept busy throughout the summer with other tasks. One of the most interesting involved a transfer of items from KU's Theater Department. Moses Gunn, renowned African American actor, attended KU for his graduate degree. It was here that Moses first performed the role of Othello, a character he would play throughout his career. Moses also went on to co-found the Negro Ensemble Company, receive an Emmy nomination, appear in movie and television roles, and perform in many Off Broadway productions. His collection of items that arrived at the University Archives was a glimpse into this great man's life. Included were many awards and accolades, theater posters and photographs, art work and artifacts. Two of the artifacts were a bust of Moses and a partial mask with a long black wig attached that he wore in the role of Titus Andronicus. The artwork was beautiful and insightful: most depicted Moses in character on stage, or simply the stage set. All in all, ninety-eight items were received, each one adding to the history of Moses Gunn.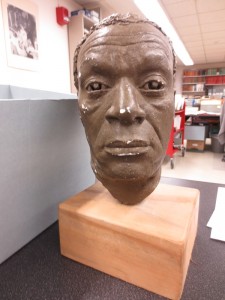 Bust of Moses Gunn. Click image to enlarge.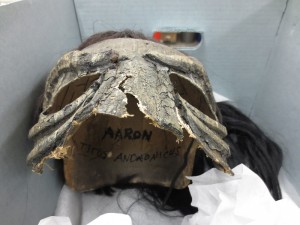 Mask worn by Moses Gunn in the role of Titus Andronicus.
Click image to enlarge.
Throughout my internship I completed several reference and research requests (another one was just handed to me). By completed, I do not mean that I was able to find the information every time, because I quickly learned that sometimes the record or document in question does not exist in the archives. It took me a few of these dead-ends to come to terms with the fact that there are time periods, events, and people missing, with records never being created or donated. However, when I would find the desired document that was one of the best feelings. Most of the requests came from Jayhawk Generations—people wanting to know if their relative attended KU. Others were from researchers wanting to know about a specific topic, or from community members looking for photographs of family members. One of the most personally satisfying research requests was for any information relating to World War I that the archives held. Being a favorite history topic of mine and with the centennial anniversary underway, this was a great topic for me to explore and find all of the related material.
Another aspect of my time here was to learn about a few online archives systems. For this assignment, Assistant University Archivist Letha Johnson showed me the digital ways of archives. One such system was Archives Online. For several weeks I would spend a little bit of time every day entering data and uploading documents to KU's ScholarWorks website. The documents were mostly weekly newsletters or updates from different KU departments. So now there are 271 new items on this system relating from a week in KU Athletics or the Dole Institute of Politics. Another system that I received an overview about was Archive-It, a site that the archive uses to capture certain websites at a certain time in order to preserve institutional memory and history. The last one was ArchivesSpace, a system that the Kenneth Spencer Research Library is just starting to implement. If time and manpower allow, this database could became the main system for accession records management for the entire library.
Speaking of records management, I was also able to learn about this aspect of the behind the scenes workings of the archive. Records and transfers would come into the University Archives constantly throughout the summer. I worked on one of these transfers with the Moses Gunn records, but then a couple of smaller projects also helped me become familiar with the processing of a university record. Another out of sight aspect of the archives that I received a glimpse into is the wonderful world of conservation. I believe it was my first or second week here that I got a crash course in emergency conservation procedures. There was a large rain storm the night before and in the morning the staff discovered some leaks down in the basement. What else is an intern for than to help out in these types of situations? Working with Assistant Conservator Roberta Woodrick to drape giant plastic sheets over the shelves to protect the items was a fun (because it only lasted an hour) way to get acquainted with conservation work. I also received a grand tour of the conservation workspace from Whitney Baker, Head of Conservation Services, and got to see some of the projects their students were working on at the time.
Finally, I will wrap up by saying that I thoroughly enjoyed my time here (if that wasn't apparent already!). I never felt that I was just another warm body to be used to make copies all summer. There was always something to do, and not once was I bored. The staff is wonderful, helpful, and always willing to teach me their magical ways of knowing how everything works. I have gained a greater appreciation for just how much they put in to making the institution succeed, and for a couple of months I was glad to be a part of that team.
JoJo Palko
University Archives Intern
Tags: Artifacts, JoJo Palko, KU History, photographs, University Archives, University of Kansas