New Finding Aids Available, Part III
Is the cold weather encouraging you to stay indoors? Why not dive into a new research project using one of the recently processed collections at Spencer Research Library? Today we share with you a list of finding aids published between May 2017 and November 2017. Finding aids are inventories or guide documents that assist researchers in navigating collections of manuscripts, organizational records, personal papers, photographs, and audio visual materials. You can learn more about finding aids in an earlier Finding Aids 101 post, and you can search the library's finding aids here. As you begin your research, remember that Spencer Library will be closed for the holidays from December 23-January 1. However, if your New Year's resolution is to conduct more archival research, you're in luck since Spencer Library re-opens on January 2nd!
Enjoy a few images from three of these recently processed collections, and then scroll down for the full list of new finding aids.
Selected pages from a jazz scrapbook from the Chesterman C. Linley Scrapbooks.
Left page: Chesterman C. Linley with Count Basie at the at the Panhandle Christmas Party,
with Count Basie's signature below. Right: Bobby Brookmeyer, Clark Terry, and Carmell Jones (top),
and Marilyn Maye (bottom). Call Number: RH MS EK5, Vol. 1. Click image to enlarge.
A volume containing two literary manuscripts by Mademoiselle de Lubert, "Les événements comiques conte" (above) and "Chélidonide histoire grecque," approximately 1740-1760. Call Number: MS B182. Click images to enlarge.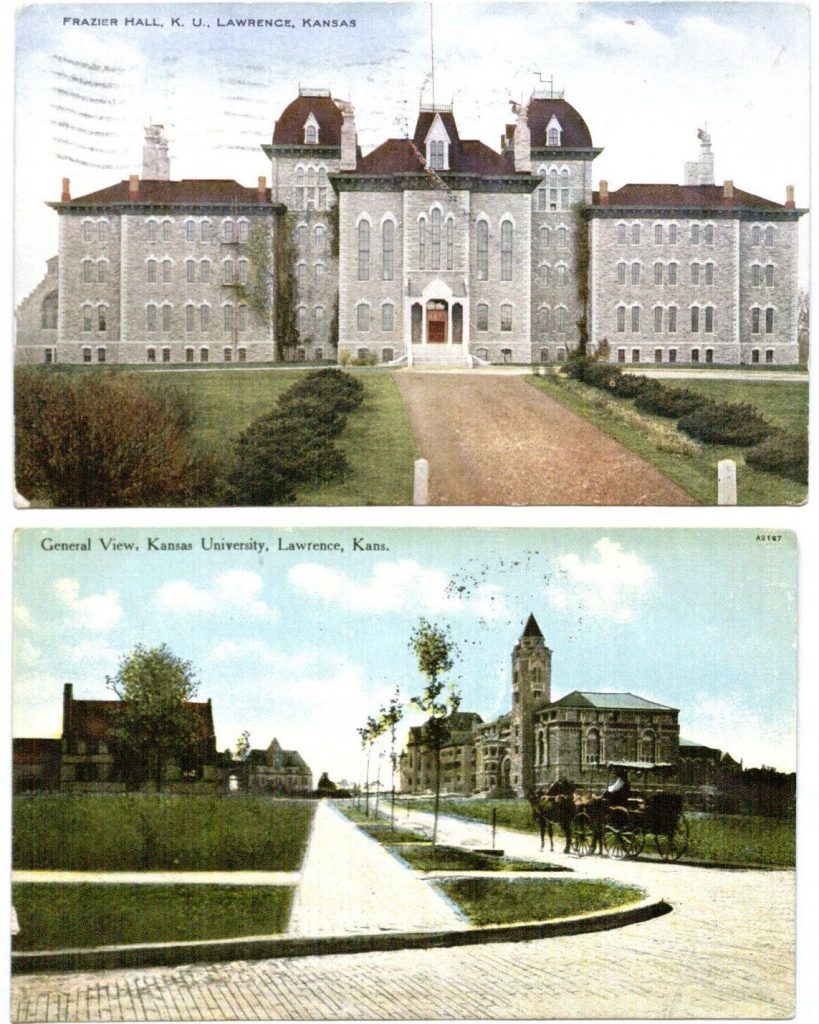 University of Kansas postcards showing Frazier (i.e. Fraser) Hall (1909)
and a general view of campus (1910), from the Miller Family Postcard Collection.
Call Number: PP 581. Click image to enlarge.
New Finding aids
Elspeth Healey
Special Collections Librarian
and
Marcella Huggard
Archives and Manuscripts Processing Coordinator
Tags: Chesterman C. Linley, Count Basie, Elspeth Healey, finding aids, Fraser Hall (Old), Mademoiselle de Lubert, Marcella Huggard, postcards, University of Kansas campus