Meet the KSRL Staff: Letha Johnson
This is the eighth installment in what will be a recurring series of posts introducing readers to the staff of the Kenneth Spencer Research Library. Letha Johnson is the Assistant Archivist for Spencer Research Library's University Archives.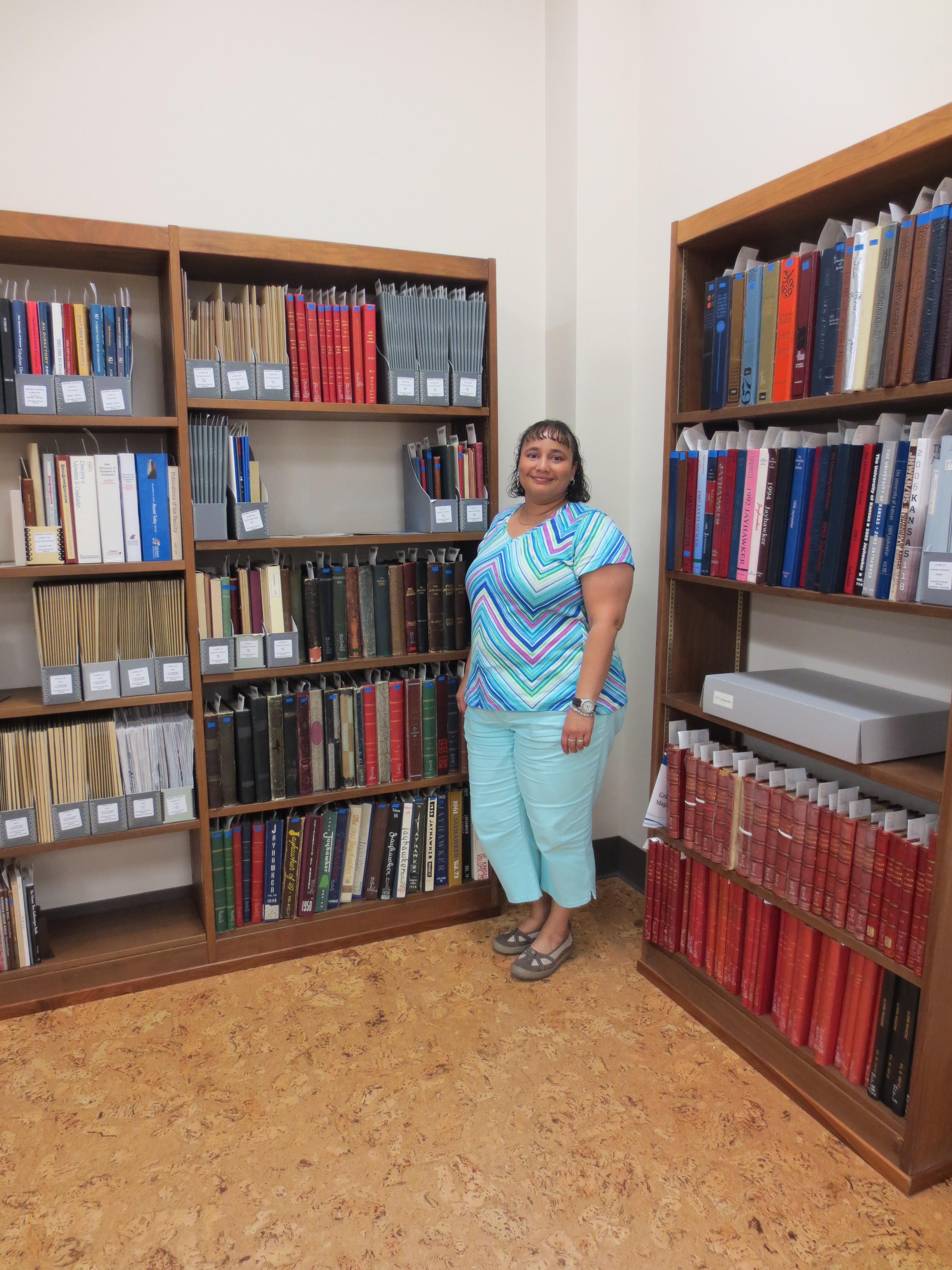 Letha Johnson in front of Jayhawker Yearbooks which are part of the University Archives
reference collection found in the Marilyn Stokstad Reading Room at Spencer Research Library.
Where are you from?
Salina, KS.
What does your job at Spencer entail?

I am responsible for overseeing the appraisal, processing, management, and accessibility of records in the University archives regardless of physical format.  I work towards expanding the archives responsibility of the University's electronic records and provide records management, reference, and outreach services across campus and beyond. I also ensure space is allocated for proper storage and order of collections in all formats and that knowledge of locations is maintained. By utilizing recognized standards and methodologies in managing digital collections and electronic records and media, I work towards expanding the availability of digital collections on the library website.
How did you come to work in archives? 
I wanted to do something in the history field besides teaching in secondary education.
What is one of the most interesting items you've come across in Spencer's collections?
KU's first account ledger from 1864 to 1867.  It has the names of prominent figures in KU, Lawrence, and Kansas history.
What part of your job do you like best?
There's a great deal of variety in my job, so it's always interesting. I learn something new almost every day.
What are your favorite pastimes outside of work?
Reading and hanging out with my family and friends.
What piece of advice would you offer a researcher walking into Spencer Research Library for the first time?
Don't be afraid to ask for help or to ask questions in general.  The staff is here to help.
Letha Johnson
Assistant Archivist
University Archives
Tags: About Us, Behind the Scenes, Careers in Libraries, Letha Johnson, Meet the Staff, University Archives