Meet the KSRL Staff: Eve Wolynes
This is the latest installment in a recurring series of posts introducing readers to the staff of Kenneth Spencer Research Library. Today's profile features Eve Wolynes, who joined Spencer Research Library in June 2023 as an Assistant Librarian and a Special Collections Curator.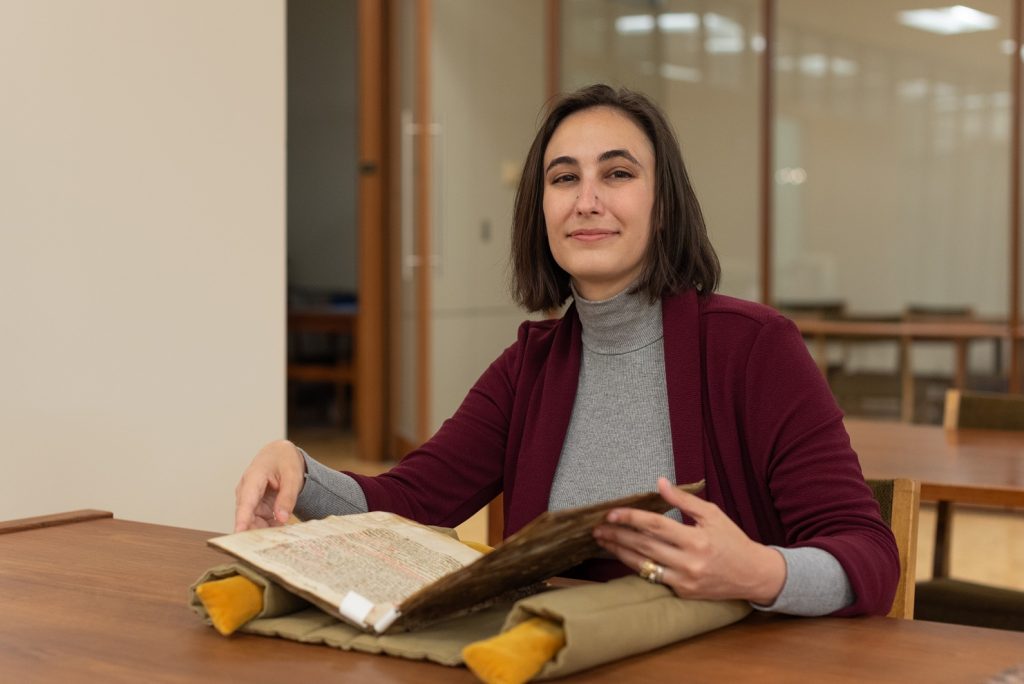 Eve Wolynes, Special Collections Curator, in Spencer Research Library's reading room with MS E256. Click image to enlarge.
Where are you from?
I've hopped around a fair amount. I was born in Urbana-Champaign, Illinois, and moved to San Diego when I was ten. As an adult, I've lived in Berkeley, Houston, South Bend (Indiana), and Dayton (Ohio) before finally making my way here.
What does your job at Spencer entail?
I'm a Special Collections Curator. While other curators and archivists at Spencer tend to have specific subjects, regions or materials they work with, Elspeth Healey and I cover everything in the Special Collections, which includes a huge range of materials — from Roman funerary stones, to medieval manuscripts, to modern poetry, science fiction and artists books, and spans the entire globe, from Guatemala to Italy to Japan. My responsibilities include collection development – helping to build the collection through purchasing new items and coordinating donations – as well as instruction with undergraduates, answering reference questions and supporting use of the items by researchers and users, and engaging with outreach through things like exhibit design and public events.
How did you come to work in libraries/archives/special collections?
As with so many stories, it began with a very sickly dog. While I was in grad school, working on my Ph.D. in medieval history, my dog had a health emergency and needed surgery, but I couldn't afford to pay the vet bill on my graduate student stipend. To pay off the debt, I took on a job at my university's library, and eventually moved into their Special Collections department when a position opened. Eventually I paid off the vet bill but realized I still wanted to work at the library; I felt like I had found a sense of community, that the work was a fun series of puzzles, challenges and mysteries, something different to learn every day. I started considering it seriously as a potential career direction. After I defended my dissertation straight into the pandemic, I took the shutdowns as a moment of contemplation to evaluate what I wanted to do; I decided to get my MLIS and to commit to Special Collections – and the minute I got back into a library I knew it was the right choice; I was at home again.
What is one of the most interesting items you've come across in Spencer's collections?
Lately I've been enamored with MS E256, Hippiatria by Giordano Ruffo; it's a veterinary text on medicine, anatomy and training for horses dating to the 13th century. The manuscript gives you a sense of the relationship people had with their animals over seven-hundred years ago, and how our relationships with horses have transformed over time. Plus, it has a very cute little sketch of a pony on the first page. Which is the best part, really.
I also just love all the medieval manuscripts; there's a special kind of love, work and dedication that goes into producing an entire text by hand, visible in the meticulous (and sometimes not so meticulous) handwriting, in the very pages themselves. They're so human, from the shape of their letters to the scratches and scribbles in the margins, as every word embodies the person who took pen to page.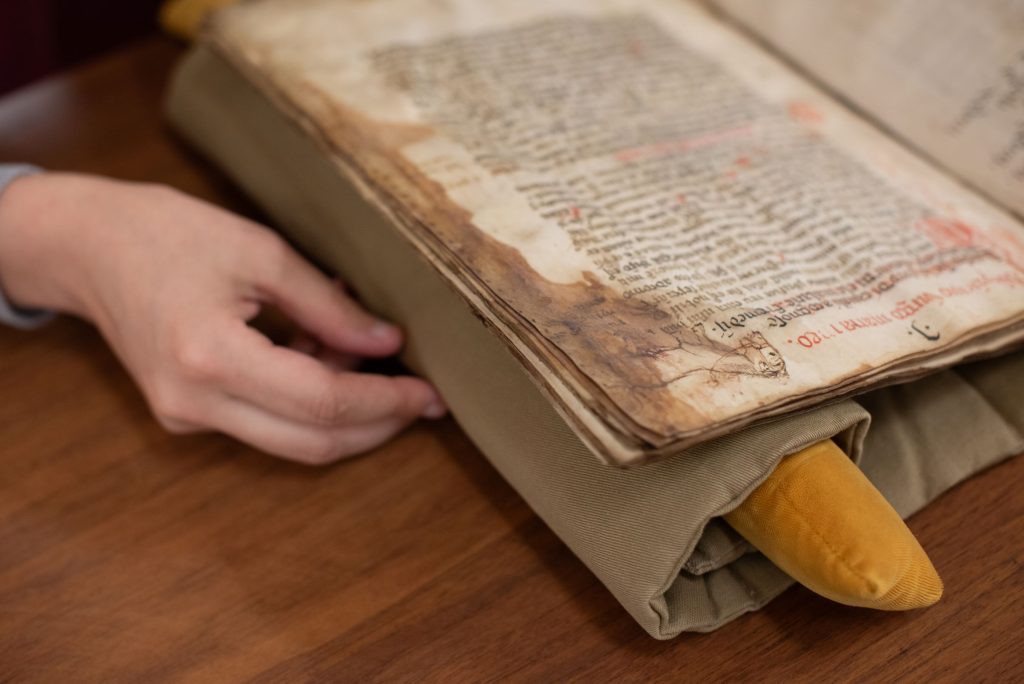 A manuscript copy of Giordano Ruffo's Hippiatria open to a leaf containing
a sketch of a pony. Italy, approximately 1290-1310. Call Number: MS E256. Click image to enlarge.
What part of your job do you like best?
I always love the strange and unique reference questions that lead me to fall down rabbit holes trying to hunt down an answer and make unexpected discoveries about materials in the collection; I love, too, when researchers and patrons can teach me something new in turn, or when I can help or watch them make a connection with the past – with their communities, cultures, experiences and memories, as embodied in the materials from our collections.
What are some of your favorite pastimes outside of work?
When I'm not living up the librarian life in the real world, I dabble in playing as a lore librarian in fantasy settings and video games like Baldur's Gate 3 and Pathfinder Wrath of the Righteous, along with smaller indie games like Scarlet Hollow, Pentiment (a game practically made for medievalists and librarians), and The Excavation of Hob's Barrow.
What piece of advice would you offer a researcher walking into Spencer Research Library for the first time?
If you're worried about looking like you don't know what you're doing, or what you're talking about – we've all been there, even the librarians! My first time in a special collections library was terrifying and confusing, too. The only reason librarians make everything look old hat and obvious is because we've had years or even decades to learn the often-labyrinthine logic and secrets from behind the scenes. But because we know all the twists and turns of our library and collection, we're the best people to help guide you through it!
Eve Wolynes
Special Collections Curator
Tags: About Us, Behind the Scenes, Careers in Libraries, Eve Wolynes, Meet the Staff, Special Collections