Meet the KSRL Staff: Mindy Babarskis
This is the second installment in what will be a recurring series of posts introducing readers to the staff of the Kenneth Spencer Research Library. Joining us in October 2014, Mindy Babarskis is Spencer's newest team member; she's a Public Services Library Assistant and the Supply Coordinator for the library.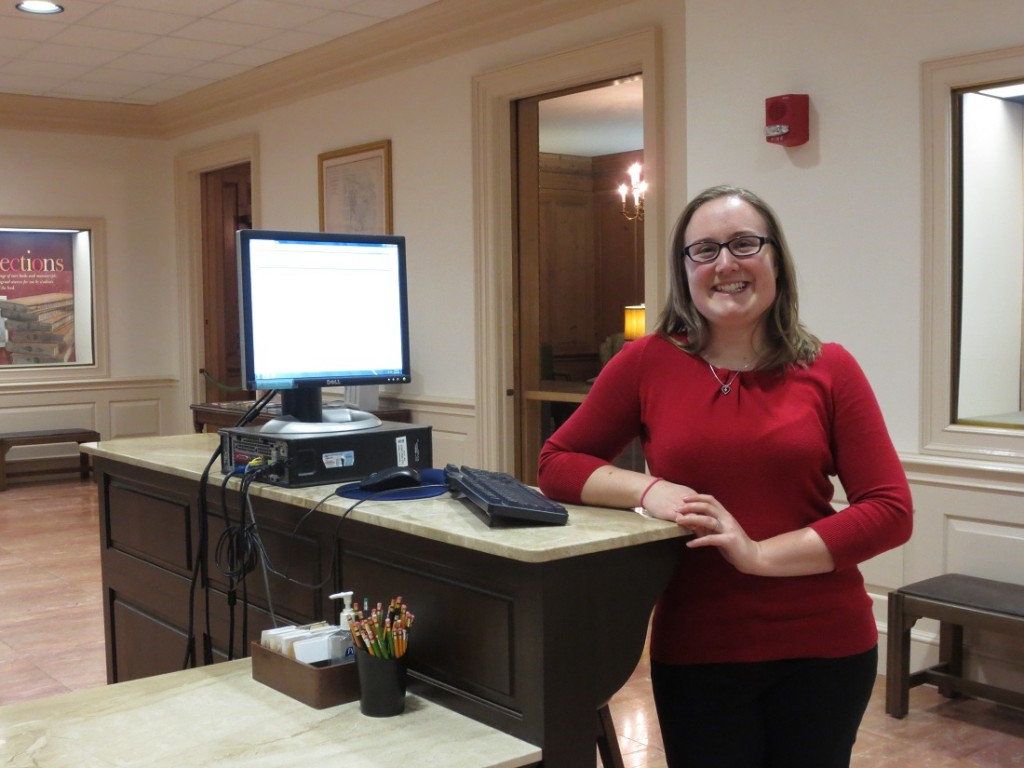 Library Assistant Mindy Babarskis where you'll find her most often: Spencer's reception desk.
Where are you from?
I'm from Berkley, Michigan, but I was living in Tallahassee, Florida, before I moved to Lawrence.
What does your job at Spencer entail?
I oversee the reception desk at Spencer. This means I am the first point of contact for patrons and visitors. I make sure they feel welcome and help them register to enter the Reading Room. Besides reception, I'm also responsible for ordering office supplies for the library and maintaining the staff schedule for reference desk duty. Also, I'm currently being trained on providing reference assistance to researchers in the Reading Room.
How did you come to work in special collections and archives?
I have my Master of Library and Information Science degree, and I've previously worked in public and academic libraries. I also have a bachelor's in history, so this library and its collections fascinated me. Therefore, I applied for this position and they decided to hire me!
What is the strangest item you've come across in Spencer's collections?
There are a lot of interesting items in Spencer, but one of the strangest to me is an open letter written to President Ronald Reagan from our Wilcox Collection. In this letter the author is berating Reagan for being too old and falling asleep during Cabinet meetings. I just found that to be an odd reason to be angry at Reagan.
What part of your job do you like best?
I love interacting with visitors and discovering where they're from and what brought them to Spencer Library. Some people have fascinating stories! Two of my favorite patrons were a couple of researchers from Mexico City who were using our Griffith collection and specifically studying our documents from Guatemala. They were here for two weeks during the winter and got to experience snow for the first time! It was wonderful to see how invaluable our collections are to people around the world.
What are your favorite pastimes outside of work?
I'm a voracious reader. Lately, I've been heading back to my roots and catching up on science fiction and fantasy classics. I also love to bake and garden, although unfortunately I'm without a garden right now.
What piece of advice would you offer a researcher walking into Spencer Research Library for the first time?
Don't be afraid to ask for help and make sure you give yourself enough time for research. I think most people underestimate the research process and how time-intensive it is. Luckily, there is always a reference librarian at the desk to help you navigate the process, so don't be afraid to ask for assistance.
Mindy Babarskis
Library Assistant and Supply Coordinator
Tags: About Us, Behind the Scenes, Careers in Libraries, Meet the Staff, Mindy Babarskis, Public Services