Meet Caitlin Donnelly, Spencer's New Head of Public Services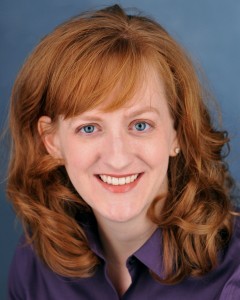 Caitlin Donnelly, Head of Public Services
I am absolutely thrilled to be the new Head of Public Services at Kenneth Spencer Research Library! In this position, I'll be working with students, faculty members, scholars, and other patrons and visitors who come to the library to conduct research, attend class, or tour the North Gallery and exhibit area.
I have long been especially passionate about access, reference, instruction, and outreach in special collections. Early in my career, my personal interest in history matured into a professional enthusiasm for helping patrons connect with historical resources and the past in ways they find meaningful. More recently, my interest has evolved to focus on facilitating and expanding the use of special collections; demonstrating the relevance of history and special collections to a variety of scholarly disciplines and groups of non-academic users; and helping researchers become comfortable and competent users of special collections materials.
A native of St. Louis, Missouri, and sister of a KU alumnus, I have a BA in Humanities–American Civilization from the University of Illinois at Urbana-Champaign (2004), an MA in public history from North Carolina State University (2006), and an MSLS from the University of North Carolina at Chapel Hill (2008). Before joining the team at Spencer, I was the Archivist at the Daughters of the Republic of Texas Library at the Alamo (2008-2012), where I was responsible for all duties associated with managing the archival collection. I also have additional professional experience with the Missouri State Archives-St. Louis, UNC's Documenting the American South, the NCSU Special Collections Research Center, the UIUC Government Documents Library, and the National Park Service.
I look forward to helping improve patrons' experiences at Spencer Research Library. Have a question about our collections, services, or procedures? Feel free to give me a call at (785) 864-4456 or drop me an email at cdonnelly@ku.edu. I look forward to hearing from you!
Caitlin Donnelly
Head of Public Services
Tags: About Us, Behind the Scenes, Caitlin Donnelly, Careers in Libraries, Head of Public Services, Kenneth Spencer Research Library, Meet the Staff, Outreach, Public Services