The Streetcar of Old K.U.
Streetcars once scaled Mt. Oread. From 1910 until 1933 the electric streetcar carried students and faculty up, across, and down the campus. The date of the first complete trip was May 26, 1910, when the Kansan reported, "The first car to complete the circuit on the Tennessee-Mississippi line carried a party of citizens and newspaper people over the Hill this afternoon." There are reports of earlier trips on April, 9, 10, or 19, but these trips were most likely not a complete trip like that of May 26th.
Left: Front of a streetcar on Mississippi St. looking north. Right: Streetcar line up Mississippi Street. Call number 0/24/1/Streetcars.
From KU Luna image collections.
At the height of streetcar popularity, there were three service routes. Known as the KU Loop, the run started at 8th and Massachusetts, ran west to Mississippi St., then south to McCook Field (near present-day Memorial Stadium). There was a single track from McCook Field to the top of the hill, and a double track switch near the old Robinson Gymnasium. The cars came down by the same route, running on a single track. Two cars on this line provided service to KU every 15 minutes.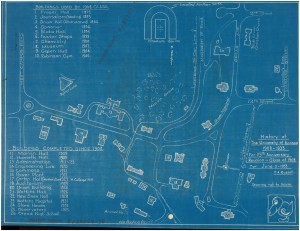 A 1933 campus map created by F.A. Russell for the 25th Anniversary Reunion of the Class of 1908.  The streetcar line is shown running from north to south along Mississippi St.
Call number 0/24/Campus Map/1933.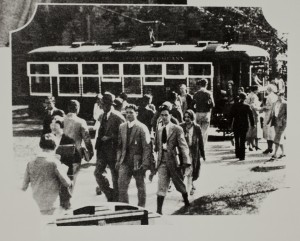 Students exiting and entering a streetcar. Call number 0/24/1/Streetcars/1925.
From KU Luna image collections.
With the advent and popularity of buses in the 1930s, the streetcar system was no longer in use by 1933. The streetcar then entered into popular university lore, with stories of mischief and adventure told by those who got to experience a unique part of campus history.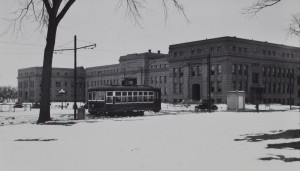 Streetcar in front of Strong Hall after it crossed over Jayhawk Boulevard in 1925. Call number 0/24/1/Streetcars/1925.
From KU Luna image collections.
Just recently some pieces of that history were uncovered when construction began on Phase 2 of the Jayhawk Boulevard reconstruction in the summer of 2014. Sections of the track were found and a few pieces are now housed in the University Archives, with a large piece of the track on display in the Kansas Union.
Left: KU streetcar token. Right: KU streetcar nail spikes found in 2014.
Two views of a KU streetcar rail fragment uncovered in 2014.
JoJo Palko
KU Sesquicentennial Research Assistant
University Archives
Tags: JoJo Palko, KU Loop, Streetcar, University of Kansas