February 12th, 2020
Theodore Sturgeon, Isaac Asimov, Octavia E. Butler, Kurt Vonnegut, Ursula K. Le Guin, Ray Bradbury, Joanna Russ, William F. Wu, John Kessel, Mary Shelley, and KU's own James E. Gunn and Kij Johnson are just a few of the writers featured in Spencer Research Library's new exhibit, Imagined Worlds: Writers and the Process of Speculative Fiction.
While it's true that all fiction is imagined (at least in part), writers working in the genres of science fiction and fantasy achieve their dramatic interest, pose their philosophic and scientific inquiries, and address social and political issues by playing with and re-configuring the confines of reality. In writing of other worlds, different times, alternate societies, new technologies, and fantastical circumstances, these writers can transfix readers and, in the words of Ursula K. Le Guin, offer a "convincing picture of alternative ways of doing and being, which can shake readers out of fixed mindsets, knock the blinkers off them."
But how do they do it?
Imagined Worlds offers a peek behind the scenes to explore the messy, impassioned, deliberative, contentious, and inventive processes of speculative fiction (an umbrella term for those genres–including science fiction, fantasy, and horror–that diverge from reality and realism). Materials drawn from Spencer's collections offer various points of entry into the writer's experience. There are cases dedicated to:
conversations on the page (correspondence between authors)
influence and inspiration
from idea to book: the process of writing
page to screen (adaptation and writing for film and television)
the business of speculative fiction
There are also additional cases devoted to awards in speculative fiction and reading recommendations from KU faculty members, addressing SF books that have been significant to them. There are also paintings by two of the best-known science fiction and fantasy artists of the 1950s and 1960s, Ed Emshwiller and Frank Kelly Freas.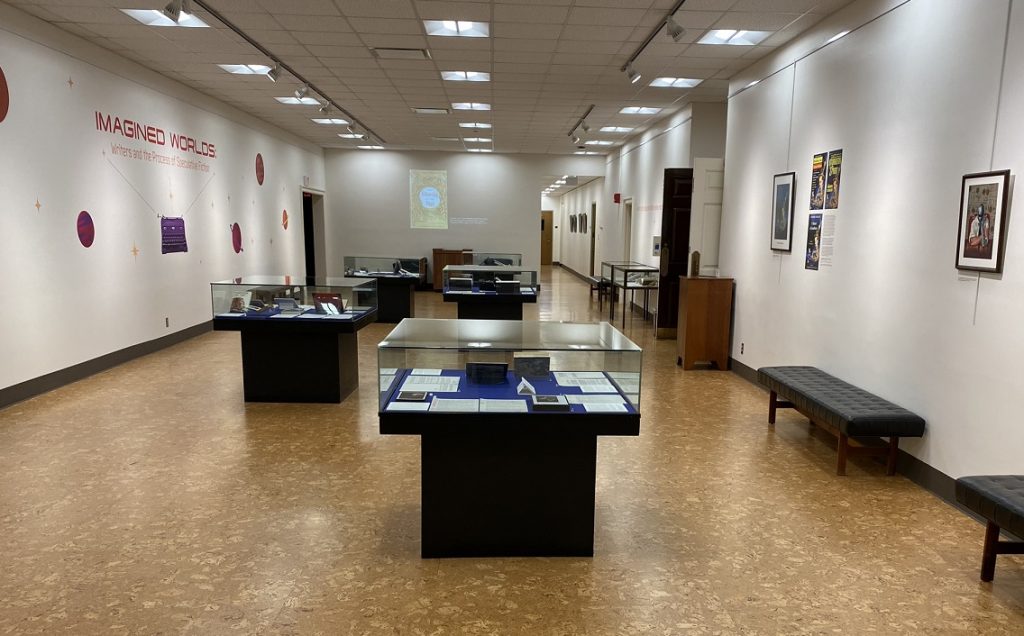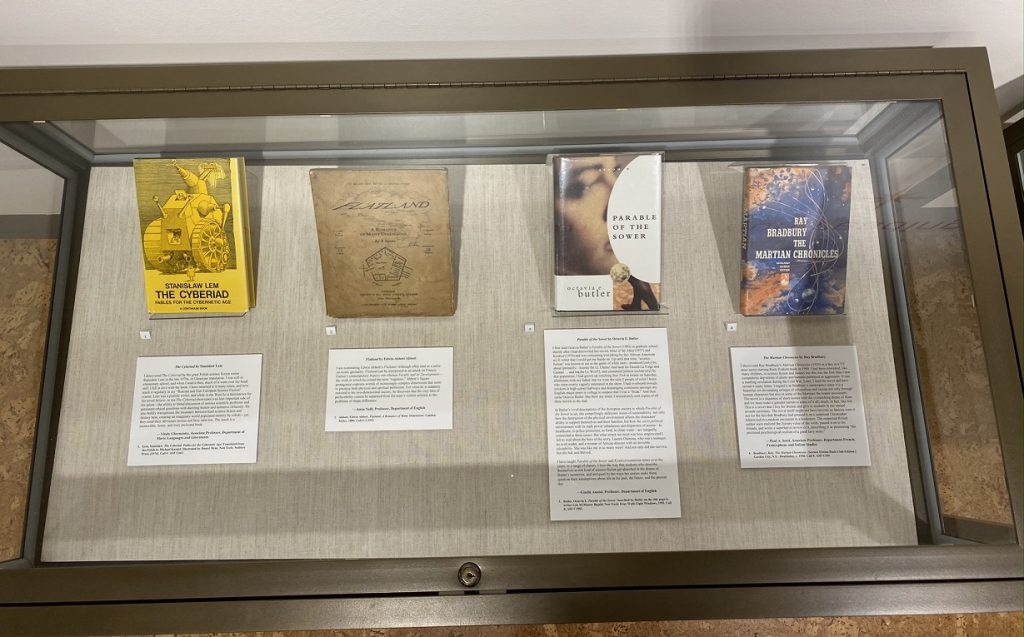 The books and manuscripts on display reflect Spencer Research Library's historic strength in the science fiction of the 1930s-1960s, with the addition of materials from more recent collections of writers' papers. Since the exhibition focuses primarily on correspondence and manuscripts, a slideshow in the exhibition gallery also shares over 50 covers of speculative fiction volumes from Spencer's collections.
Left: Clarke, Arthur C. Childhood's End. New York: Ballantine Books, ©1953. Call #: ASF B294; Right: Okorafor, Nnedi. Lagoon. London: Hodder, 2014. Call #: ASF C1260
To give a sense of the exhibit, we share something we had we couldn't quite fit, a memo from Star Trek creator and producer Gene Roddenberry to writer Theodore Sturgeon about Sturgeon's script draft for "Shore Leave." One of the more surreal episodes in Star Trek's original TV run (1966-1969), "Shore Leave" sees the thoughts of crew members come to life when they beam down to a planet for some rest and relaxation. Roddenberry's memo suggests the collaborative process involved in making the episode, and it reveals the mix of frankness, humor, and knowing cynicism he employed in guiding his writers.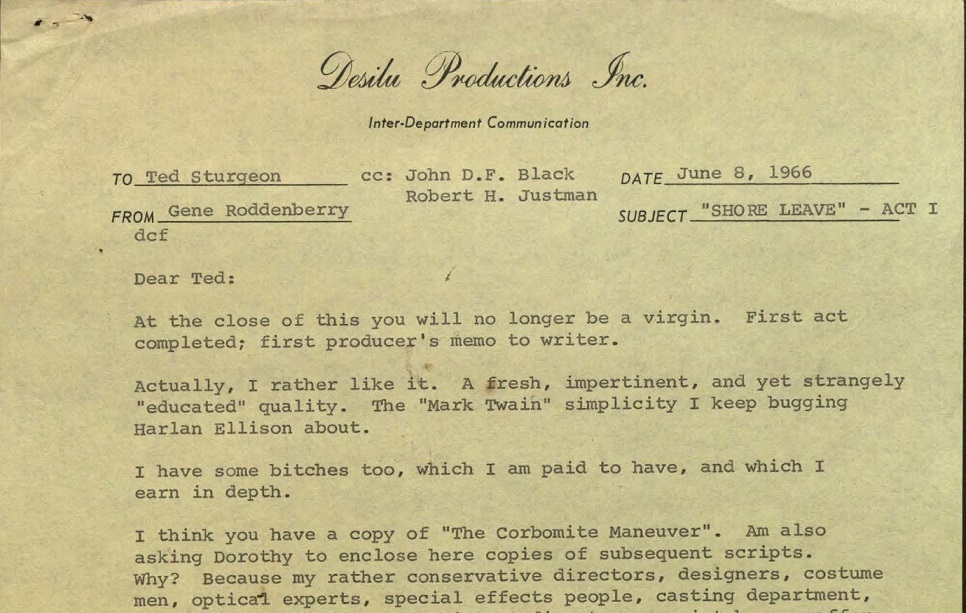 He balances praising Sturgeon for his successes, with addressing logistical matters—such as the necessity of breaking down the script shot by shot for the sake of the costume, casting, and special effects departments—and then pushes Sturgeon toward what he judges will connect best with viewers. "Wouldn't your teaser be richer if just one person saw Alice and the rabbit, say McCoy?" Roddenberry asks, "When two people see it, you've got a witness. But the poor devil who sees it alone, he's got trouble."
Of course, writers like Sturgeon might also push back regarding script changes. During the shooting of "Shore Leave," Sturgeon would complain about a scene in which the resurrected Dr. McCoy enters with a woman on each arm. This is a "first order vulgarism," Sturgeon wrote to Roddenberry, arguing that it undercut the emotional development of McCoy's relationship with the character of Tonia. Roddenberry's own memo to Sturgeon ends with a serio-comic sign-off that highlights the blend of art and business that television entails: "You're lovely, inventive, wonderful. Now be commercial."

Founded in 1969 by a financial gift from a student who thought KU should be collecting science fiction, Spencer Research Library's SF collections continue to be built largely by donation. Over the decades, they have grown appreciably thanks to the support of James E. Gunn (writer, critic, Professor Emeritus, and founder of KU's Gunn Center for the Study of Science Fiction). He has not only donated books and periodicals, but has encouraged others to make gifts as well, including fellow writers, whose papers now reside at KU. These efforts have been continued in recent years by writers Chris McKitterick and Kij Johnson (the current Director and Associate Director of the Gunn Center, respectively). We hope to continue to grow our science fiction and fantasy collections to better reflect the diversity of voices writing in the field.
Imagined Worlds: Writers and the Process of Speculative Fiction is free and open to the public and will be on display in Spencer's Gallery through July 31st, 2020. We invite you to visit and explore the forces at work as writers imagine worlds!
Elspeth Healey
Special Collections Librarian