November 28th, 2016
This book from Special Collections is really two volumes in one, in what is called a dos-à-dos binding, from the French, "back to back." As the name implies, these two books share the same back covers, so that no matter how it is held, the reader opens to a front page of text. Geoffrey Glaister in The Encyclopedia of the Book (New Castle, DE: 1996) notes that this style was particularly popular in England in the period from 1600-1640.
  Dos-à-dos Binding with green textile tie. Call number A234. Click images to enlarge.
As noted by Matt Roberts and Don Etherington in Bookbinding and the Conservation of Books, these books were "usually small and frequently of a complementary nature." This is true in the case of this dos-à-dos volume, although there are in fact three titles contained within:
1. The New Testament of our Lord and Sauiour Iesus Christ : London: 1620.
2. The Psalter or Psalmes of David. London : Companie of Stationers, 1625.
3. The whole booke of Psalmes. London : Companie of Stationers, 1620.
This small object would have been handy to take to church to have relevant texts close at hand.
Left: New Testament. Right: Psalter or Psalmes. The Whole Book of Psalmes follows this text. Click images to enlarge.
The volume is bound in leather, with gold-tooled patterns. The edges are gauffered, which is a decorative effect achieved by placing a heated tool or roll on the edges of the paper.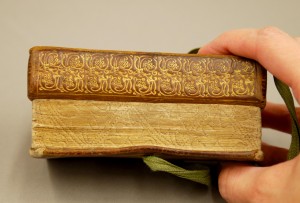 Gauffering on the fore-edge of the paper, made by using a heated tool. Click image to enlarge.
Whitney Baker
Head, Conservation Services