August 3rd, 2015
Captain Dangerous, A Brother to Dragons, Romance of the Seas, and Somebody Else's Wife: The History of a Heartless Woman! Where can one find such gripping book titles? Why at the Spencer Research Library, of course! Deep within the Spencer's stacks is a series of shelves filled with a set of 459 volumes with eye-catching bindings of a style of book called the yellowback.
What are yellowbacks? They were a type of book printed from the 1840s through the early 1900s. They were often sold at railway stations. Much like the paperbacks we buy in the airport today, these mass-produced books were purchased by those boarding trains seeking entertainment during their travels. This cheap literature for the masses was produced in an equally cheap manner. Straw boards were covered in a glazed paper—usually, though not always, yellow in color—and the textblock constructed of roughly sewn or stapled, lower-quality paper. Although inexpensive in production, these books were not lacking in decorative creativity. Publishing companies hired artists to create tri-colored wood-block printed covers that correlated to the stories' subject matter, and boy, are these covers spectacular. The back cover, and front and back endpapers, were often printed with advertisements, including some for the bath product Pears Soap, featuring a somewhat disturbed looking baby as the spokesmodel.
Left: Front Cover, From Jest to Earnest, B1505.
Right: Back cover (featuring disturbed baby), Behind Closed Doors, B1577, Special Collections
The inexpensive production methods of yellowbacks might have proved profitable for publishing companies, but in terms of longevity for the books such poor construction came at a cost. After years of use, it was determined that the majority of the yellowback collection was in need of treatment. Many had loose or detached boards and spines, split hinges, abraded and flaking covers, and detached corners. It also appeared that some of the books had undergone previous conservation treatment involving a nasty hide-glue to reattach boards and spines. Over time, this treatment had proven to be more injurious than helpful. Luckily for the books, the conservation department had just the right summer intern up for the challenge of these little fixer-uppers.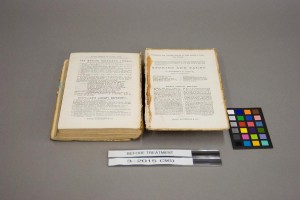 Example of detached board and extra adhesive in hinge area, Tancred, B1346, Special Collections.
After conducting an in-depth survey of the entire collection, thirty-five books were determined to be the most in need of treatment. Once treatment options were discussed with the collection's curator, work commenced. To remedy the failing hinges, a strip of kozo Japanese tissue was adhered using wheat starch paste and then dried beneath a weight. In more severe cases where the boards and spines were detached, the textblock was cleaned of any previous lining and glue using a methylcellulose poultice. If needed, the textblock was shaped with a backing hammer to create a rounder spine. A new spine lining was adhered using kizukishi Japanese paper and wheat starch paste, cut to allow for two one-inch flanges on either side of the spine. The boards were then attached using the flanges, adhering them to the interior of the cover.
Left: Spine before cleaning, Moths, B1481
Right: Spine after cleaning and lining with kizukishi paper, Moths, B1481, Special Collections.
If the spine was also missing, a modified hollow was created from a rectangular piece of tinted moriki Japanese paper, cut to the length of the book, folded three times in accordance with the book's spine width, creating a tube-like hollow. This allows for both strength and flex in the book when patrons wish to comb through the pages. The treatments performed were minimally invasive. It was important to keep in mind that the "cure" could not be more than the book could handle, and also that the treatments not be visually distracting. After treatment, a custom-fitted Mylar wrapper was made for each volume for added protection. During my internship, thirty-five books were treated in four weeks.
Left: Example of detached spine.
Right: Same book after spine reattachment. Moths, B1481, Special Collections.
These simple but sturdy fixes extend the life span of these books and allow for easier patron use. I implore you to go visit the Spencer Research Library, not only to view my handiwork, but to admire, and also find humor, in these wonderful books.
Left: Before treatment image featuring previously repaired spine, The Mariner's Compass: a Novel, B1433.
Right: After treatment, with newly repaired spine, The Mariner's Compass: a Novel, B1433, Special Collections.
Allison Brewer
2015 Ringle Conservation Intern
Conservation Services