October 19th, 2012
One challenging thing about conducting research in a special collections library and archives is that you can't "browse" the stacks as you might in a circulating collection.  There are plenty of fortuitous discoveries to be made at Spencer, but they don't come from your eye alighting on the volume two books down from the one that you went to the shelf to retrieve.
However, thanks to a new functionality in the KU Libraries online catalog, there is now a way to "browse" some of the Spencer Library's collections.  This exciting new functionality bears a descriptive–if technical-sounding–name:  the "left-anchored call number" search (see below for a screenshot).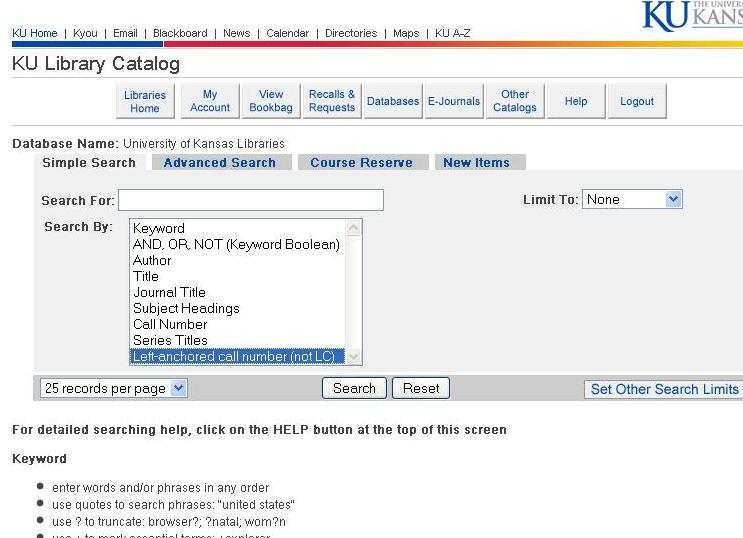 The term "left-anchored" refers to the fact that the catalog will retrieve any items whose call numbers begin with the word or series of letters that you enter into the search box.  This is useful because many of the Spencer Library's discrete collections (such as the William Butler Yeats Collection or the Wilcox Collection of Contemporary Political Movements) have distinctive call numbers that begin with a common word or series of letters.  For example, all items in the named Yeats collection have call numbers that begin with "Yeats," and all items in the Wilcox Collection have call numbers that begin with "RH WL" (or, even more specifically, the manuscripts that are in the Wilcox collection begin with the call number "RH WL MS" ).  Thus, if you enter those words or series of letters and select "Left-anchored call number"  from the search options, you will be able to "browse" the catalog records for the items in the collection.
You can then use the "sort results by" function (which is found at the top left of the results page) to sort the results by date (either earliest or most recent first), author, or title.  Read the rest of this entry »